Rank 'Em: Super Bowl XLIV Players
Created: January 24, 2010, 4:41 PM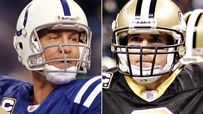 Who is the best player in this matchup?
The Colts and the Saints will face off in this year's Super Bowl. Both teams are chock full of stars, but who is the best player remaining?
Drew Brees and Peyton Manning could battle it out for the top spot, but each team features several playmakers who could take the crown. Dwight Freeney and Darren Sharper are defensive standouts, while Marques Colston and Reggie Wayne are constant threats at wide receiver. Which player is the best? Cast your vote now!
You must submit at least FIVE for your vote to count.
Vote: Matchups | Storyline | Fan Experience

Rank 'Em: Super Bowl XLIV Players

Loading...

&nbsp