Rank 'Em: 2010 NFL Draft Linemen
Created: February 1, 2010, 2:40 PM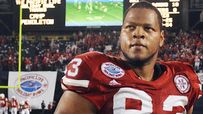 Is Ndamukong Suh the best lineman in the draft?
Mel Kiper and Todd McShay have obviously strong opinions about this year's class of linemen, but now they're looking for your opinions. Mel and Todd will be appearing on SportsCenter's Draft Lab from February 15-20, breaking down the top prospects. They'll also appear on ESPN.com to discuss your choices for the best of this best.
Nebraska DT Ndamukong Suh is widely considered to be at the top of this class, but does Gerald McCoy give him a run for his money? What about Russell Okung, who could find himself lined up against Suh in the NFL? Cast your vote now!
You must rank at least FIVE for your vote to appear.
Rank: QBs | WR/TE | RBs | LB/CB/S
Rank 'Em: 2010 NFL Draft Linemen

Loading...

&nbsp