Rank 'Em: 2010 NFL Draft Back 7
Created: February 1, 2010, 3:18 PM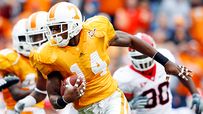 Is Eric Berry the best LB, CB, or safety in the draft?
Mel Kiper and Todd McShay have obviously strong opinions about this year's class of linebackers, cornerbacks, and safeties, but now they're looking for your opinions. Mel and Todd will be appearing on SportsCenter's Draft Lab from February 15-20, breaking down the top prospects. They'll also appear on ESPN.com to discuss your choices for the best of this best.
Cornerback Eric Berry might be the best player in the draft, but fellow CB Joe Haden is at the top of a number of draft boards. Rolando McClain is making a case as the best of all these players, but what do you think? Cast your vote now!
You must rank at least FIVE for your vote to appear.
Rank: QBs | WR/TE | RBs | Linemen
Rank 'Em: 2010 NFL Draft Back 7

Loading...

&nbsp