Rank 'Em: Texas Stadium's most memorable moments
Created: April 7, 2010, 6:19 PM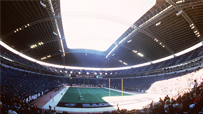 Texas Stadium served as home field of the Dallas Cowboys for 37 seasons. Before its hole in the roof is turned into a hole in the ground, let's pause to reminisce.
The Dallas Cowboys are one of the more storied franchises in sports history.
ESPNDallas.com has culled together some of the most memorable moments the stadium has seen in its 37 years of glory. Now it's your turn to tell us where they rank.
Click here to view the gallery.
Weigh each moment and cast your vote now!
You must rank at least FIVE for your vote to count.
Rank 'Em: Texas Stadium's most memorable moments

Loading...

&nbsp