Rank 'Em: Greatest Sports Collapses
Created: May 14, 2010, 10:22 PM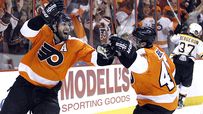 Did the Bruins just have the worst collapse ever?
Boston is no stranger to teams coming back from 3-0 deficits, but this time, it's on the wrong side of that peculiar accomplishment.
The Boston Bruins have completed one of hockey's most epic collapses, losing four games in a row to the Philadelphia Flyers after being up 3-0 in the series. Boston lost overtime matches, close games and blowouts, running the gamut of terrible ways to blow a huge lead. The Bruins have now joined an ignominious club of teams and players who let a certain victory disappear into the distance.
Are the Bruins the victims of the worst sports collapse ever? Cast your vote now!