Rank 'Em: NFL Passing Attacks
Created: July 28, 2010, 9:34 AM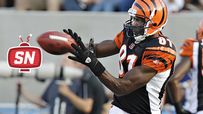 Do the Bengals have a Top 5 passing attack?
Which NFL teams have the best passing attacks?
By signing Terrell Owens to a one-year contract loaded with incentives, the Bengals all but guaranteed themselves the most intriguing passing attack in the NFL in 2010. Whether adding Owens to Chad Ochocinco helps the Bengals climb significantly from the league's No. 26 passing attack in 2009 remains to be seen.
Below you'll find the league's top 10 passing offenses from the 2009 season, along with five teams that, like the Bengals, added significant pieces to their own passing arsenals during the offseason. Which teams will air it out best this season?