Rank 'Em: 2011 NFL draft receivers
Created: January 20, 2011, 11:41 AM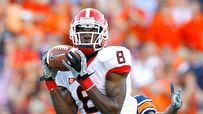 Is A.J. Green the best WR or TE in the draft?
Mel Kiper and Todd McShay obviously have strong opinions about this year's class of wide receivers and tight ends, but we're just as curious to know what SportsNation thinks of this future crop of NFL stars.
A.J. Green has been lighting up stopwatches, scoreboards and cornerbacks for his entire career at Georgia, but just one state over in Alabama, Julio Jones used his skills to propel the Crimson Tide to an undefeated season and a BCS championship in 2009. Which player is higher on your draft board? Cast your vote now!
You must rank at least FIVE for your vote to appear.
Rank: QBs | RBs | Linemen | LB/CB/S
Rank 'Em: 2011 NFL draft receivers

Loading...

&nbsp