Rank 'Em: Sports-celebrity couples
Created: February 8, 2011, 7:51 PM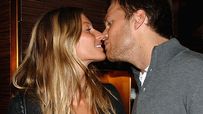 Are Tom Brady and Gisele Bundchen the dream team of sports-celebrity couples?
Ah, love. There's nothing quite like it; especially when it's between a high-profile athlete and an A/B/C-list celebrity. Call it a guilty pleasure, but who doesn't love seeing a Kardashian courtside at a beau's game? Or catching Cameron Diaz feeding popcorn to Alex Rodriguez?
So with Valentine's Day right around the corner we've decided to compile a list of some of the dreamiest sports-celebrity duos around. Are Tom Brady and Gisele Bundchen still the ultimate power couple? What about the low-key love of Derek Jeter and Minka Kelly? And how does Kim Kardashian and her new Nets sweetheart fit into the mix?
View the glamorous couples below and click each one to set your rankings.