Rank 'Em: NFL Power Rankings
Created: October 12, 2009, 4:11 PM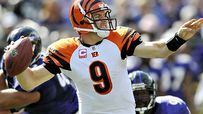 Will the Bengals rise up in your rankings?
How do all 32 NFL teams rank?
When you pass the Week 5 mark in the NFL, you can usually gauge where each team stands for the season. For example, we are fairly confident in saying the Bills, Rams and Raiders are probably not Super Bowl-bound. But other teams this season have been a little harder to figure out. Football dynasties we always think of as "great" are all of a sudden not so perfect (Patriots), and teams we think of as "bad" or "preseason train wrecks" are actually contenders (Bengals, Broncos).
So how does this affect your rankings, SportsNation? Do you continue to rank teams such as the Cowboys (who squeaked by the Chiefs) high? Or do you take a chance on the Bengals' rising stock?
Be sure to tune into "SportsNation" (weekdays on ESPN2 at 4 p.m. and midnight ET) to see which teams make the top five!
Rank 'Em: NFL Power Rankings

Loading...

&nbsp

YOUR RANKINGS

1.
2.
3.
4.
5.
6.
7.
8.
9.
10.
11.
12.
13.
14.
15.
16.
17.
18.
19.
20.
21.
22.
23.
24.
25.
26.
27.
28.
29.
30.
31.
32.