Rank 'Em: College Basketball Power 16
Created: February 22, 2010, 7:01 AM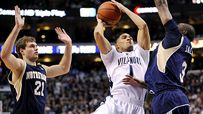 Should Villanova have fallen so far in the polls?
How do you size up the top 16 teams in the country?
Kansas and Kentucky are holding steady, but a close loss to Pittsburgh has dropped Villanova out of the top five. Purdue, Syracuse, and Duke have all taken advantage, and the Panthers have snuck into the top sixteen. Should 'Nova have suffered such a drop?
Do you agree or disagree with the most recent ESPN/USA Today poll? It's time for you to put the top 16 college hoops teams in the order you think is right.
Rank 'Em: College Basketball Power 16

Loading...

&nbsp