Rank 'Em: NFL Power Rankings
Created: November 8, 2010, 8:23 PM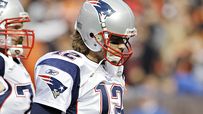 Where do the Patriots rank?
What do your NFL Power Rankings look like at the season's halfway point?
With the Patriots getting a reality check from the Browns this week, one-loss NFL teams are a thing of the past. Meaning it's time to focus on which of the six two-loss teams (the Giants, Falcons, Jets, Patriots, Steelers and Ravens) deserves to climb to the top of your standings. Do the Giants make a good case with their romp of the Seahawks on Sunday? What about the Falcons with their big division win against the Buccaneers? And where do the Patriots fall after being upset by the Browns?
It's time for you, SportsNation, to tackle these questions and decide.
More: Which team will win each division?
Ratings: Which coaches have performed the best?
Vote: Who are your All-Pros? | Which teams are for real? | Surprise teams?
Rank 'Em:
Who are your midseason MVPs?
Rank 'Em: NFL Power Rankings

Loading...

&nbsp

YOUR RANKINGS

1.
2.
3.
4.
5.
6.
7.
8.
9.
10.
11.
12.
13.
14.
15.
16.
17.
18.
19.
20.
21.
22.
23.
24.
25.
26.
27.
28.
29.
30.
31.
32.