Rank 'Em: College Basketball Power 16
Created: March 8, 2010, 1:28 PM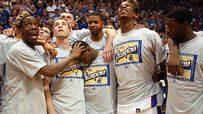 Should Kansas be ranked No. 1?
How do you size up the top 16 teams in the country?
Syracuse's position at the top of the college basketball rankings was short-lived; you can't lose to an unranked team like Louisville and expect to remain No. 1. Still, the Orange have only fallen to No. 3, close on the heels of both Kansas and Kentucky, so it's anybody's game at this point.
Do you agree or disagree with the most recent ESPN/USA Today poll? It's time for you to put the top 16 college hoops teams in the order you think is right.
Rank 'Em: College Basketball Power 16

Loading...

&nbsp