Premier League: Manager Rater
Created: November 2, 2009, 11:58 AM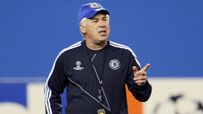 Carlo Ancelotti has Chelsea playing at the top of their game.
Each month, ESPNsoccernet and SportsNation will give users the chance to rate the managers of each Premier League club. Not happy with the job your Premier League boss is doing? Give him a low rating and have your opinion heard!
Chelsea are on top of the league, but it has been a bad month for all concerned as the big four all have work to do, especially Rafa Benitez. Phil Brown, Gianfranco Zola and Sam Allardyce must be worried that Paul Hart appears to be turning Portsmouth around.
Click on each manager's image to submit your rankings!
Information correct as of Nov. 2.
Premier League: Manager Rater

Loading...

&nbsp