Rank 'Em: NFL Power Rankings
Created: November 29, 2010, 6:36 PM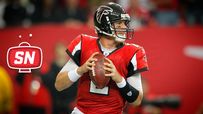 Will the Atlanta Falcons soar to the top of your rankings?
Which are the best teams in the NFL?
It's been all about the AFC, AFC, AFC this season. And considering the Patriots, Jets, Steelers and Ravens each have eight-plus wins, it's easy to see why. Yet is it time for someone to start paying attention to the NFC-best Falcons? Atlanta's team is 9-2, is undefeated at home and just recorded a monster win against the Packers on Sunday. So are Matt Ryan's Falcons worthy of a No. 1 ranking this week? Or is the AFC East still the beast of the league?
It's time for you, SportsNation, to tackle these questions and decide.
Rank 'Em: NFL Power Rankings

YOUR RANKINGS

1.
2.
3.
4.
5.
6.
7.
8.
9.
10.
11.
12.
13.
14.
15.
16.
17.
18.
19.
20.
21.
22.
23.
24.
25.
26.
27.
28.
29.
30.
31.
32.



Total SportsNation Votes:

9,041
How are the points calculated?
On a poll with 10 options, a No.1 ranking equals 10 points, a No.2 ranking equals 9 points, etc. The item with the most points will be ranked first.