Rank 'Em: 2010 MLB Power Rankings
Created: July 12, 2010, 8:15 AM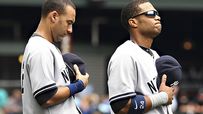 Where do the Yankees rank?
Which teams are the best in baseball?
The New York Yankees finished the first half with the best record in baseball (no doubt aided by having the team with the worst record in baseball -- the Orioles -- in the same division), but they can't rest easy with the Rays and Red Sox nipping at their heels. The Braves have a similar problem in the National League, with the Mets and Phillies one good week away from overtaking them.
How do the leaders in each league stack up against the rest of Major League Baseball? It's time for you, SN, to rank 'em!
You must rank at least FIVE for your vote to count.
Rank 'Em: 2010 MLB Power Rankings

YOUR RANKINGS

1.
2.
3.
4.
5.
6.
7.
8.
9.
10.
11.
12.
13.
14.
15.
16.
17.
18.
19.
20.
21.
22.
23.
24.
25.
26.
27.
28.
29.
30.



Total SportsNation Votes:

6,544
How are the points calculated?
On a poll with 10 options, a No.1 ranking equals 10 points, a No.2 ranking equals 9 points, etc. The item with the most points will be ranked first.