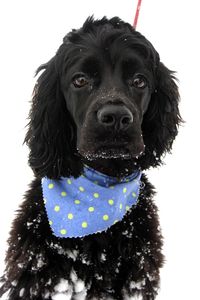 Bailey would have 22-1 odds to win Best in Show according to the Wynn Las Vegas.
The 135th Westminster Kennel Club Dog Show, taking place at Madison Square Garden in New York on Monday and Tuesday, will highlight some of the nation's most pampered and primped dogs. To show just how popular pooches have become, Las Vegas is giving odds on which breed will run away with Best In Show honors.
We did some research (if by research you mean looking at the American Kennel Club's ownership registration statistics) and found 2010's most popular dog breeds.
Familiar faces like the Yorkshire terrier and the poodle made the list, as well as our good friend the Shih Tzu. But which breeds are your favorites? The Labrador retriever is the dog owned by the most people in the United States, but the French bulldog has seen the biggest rise in popularity since 2000, climbing from No. 71 to No. 21 in the rankings. The regally named Cavalier King Charles spaniel jumped 31 spots to No. 23.
We've listed the top 25 breeds below. Tell us which are your favorites!
You must rank at least five breeds before casting your ballot. Simply click on the photos to begin.
Click here for more from SportsNation!
Rank 'Em: Top Dogs!

Loading...

&nbsp

YOUR RANKINGS

1.
2.
3.
4.
5.
6.
7.
8.
9.
10.
11.
12.
13.
14.
15.
16.
17.
18.
19.
20.
21.
22.
23.
24.
25.