Rank 'Em: College Football Top 25
Created: September 6, 2009, 6:03 PM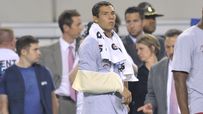 How much does an injured Sam Bradford hurt OU's ranking?
It only took one game, one tackle and one injury to change the entire face of college football. With Sooners star quarterback Sam Bradford suffering an injury during the first half of the game, BYU seized the opportunity and not only defeated Oklahoma by a point on Saturday, but perhaps sidelined the Sooners' chances of a bid to the BCS National Championship Game.
How does the BYU-Oklahoma game and the rest of college football's first week of action affect your Top 25 standings? Which teams impressed you, and which teams had you saying, "Overrated!"? It's time for you to re-rank college football's Top 25.
Watch "SportsNation" (Monday-Friday at 4 p.m. and midnight ET on ESPN2! But ... Aug. 31-Sept. 11 we move to ESPNEWS at 4 ET to make way for the U.S. Open!) to see which teams make the Top 5!
Rank 'Em: College Football Top 25

Loading...

&nbsp

YOUR RANKINGS

1.
2.
3.
4.
5.
6.
7.
8.
9.
10.
11.
12.
13.
14.
15.
16.
17.
18.
19.
20.
21.
22.
23.
24.
25.