Alice In Chains Charity League
Created: September 8, 2010, 1:33 PM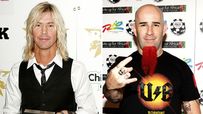 Duff McKagan and Scott Ian have a common goal; take down last year's champ, Matt Willig.
It's football season. Let's rock 'n' roll! Literally!
Jerry Cantrell of the legendary rock band Alice in Chains is back for an encore performance of his all-star league of rock heavyweights that will go head to head this season in fantasy football. Scott Ian of Anthrax, legendary axeman Zakk Wylde and former Guns N' Roses bassist Duff McKagan are back and joining the fun this season is all-around entertainer Meat Loaf. Follow the league and trash talk all season by clicking over to The Life.
Off the field, the gang will playing for very worthwhile causes and each participant will donate some valuable rock- or sports-related items to be auctioned off after the season. The fantasy league champion's chosen charity then receives all proceeds from the auction. Stay tuned for more details.
Below you will find all nine celebrity members of the Alice in Chains Charity League as well as ESPN SportsCenter host Jay Harris, who makes it an even 10. Scroll over the photos to see the players they selected, and submit your rankings for which person drafted the best team!
Did Mike Inez guarantee success by grabbing a QB-RB combo of Peyton Manning and Michael Turner? Will Duff McKagan ride his Ravens defense into the playoffs? Rank the teams!
Alice in Chains Charity League: Click here for full rosters and league standings
Alice In Chains Charity League

Loading...

&nbsp