Rank' Em: 2010 NFL Draft RBs
Created: February 3, 2010, 10:02 AM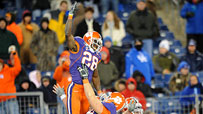 Is C.J. Spiller the best running back in the draft?
Mel Kiper and Todd McShay have obviously strong opinions about this year's class of running backs, but now they're looking for your opinions. Mel and Todd will be appearing on SportsCenter's Draft Lab from February 15-20, breaking down the top prospects. They'll also appear on ESPN.com to discuss your choices for the best of this best.
Clemson running back C.J. Spiller proved a threat in multiple facets of the game, but will his triple threat style translate to the NFL? Ben Tate and Charles Scott made waves at the Senior Bowl practices, but was it too little, too late? Both Kiper and McShay were very impressed by former sleeper Dexter McCluster, so we've added him to our list. Which of these players is the best running back prospect? Cast your vote now!
You must rank at least FIVE for your vote to appear.
Rank: QBs | WR/TE | Linemen | LB/CB/S
Rank' Em: 2010 NFL Draft RBs

Loading...

&nbsp