Rank 'Em: 2010 MLB Power Rankings
Created: August 23, 2010, 8:07 AM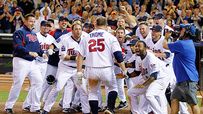 Which teams are the best in baseball?
There may still be two weeks left until Labor Day and the unofficial end of summer, but there is already some autumn in the air in baseball's playoff chase.
Thanks in no small part to some hot hitting from Jim Thome, cast aside by the White Sox after last season, the Twins are starting to make some space for themselves atop the AL Central. The same can't be said for the Yankees, who can't seem to shake the Rays in the AL East. And over in the NL, all three second-place teams start the week within two games of each other in the wild-card race. How do all the contenders stack up as we hit the last full week of August? Rank 'em!
See how SportsNation's rankings compare to ESPN.com's Power Rankings.
Rank 'Em: 2010 MLB Power Rankings

Loading...

&nbsp

YOUR RANKINGS

1.
2.
3.
4.
5.
6.
7.
8.
9.
10.
11.
12.
13.
14.
15.
16.
17.
18.
19.
20.
21.
22.
23.
24.
25.
26.
27.
28.
29.
30.