Rank 'Em: 2009-10 NBA Power Rankings
Created: February 28, 2010, 9:47 PM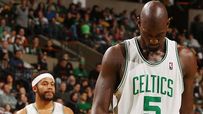 Will a loss to the Nets cause the Celtics to drop in your rankings?
Who are the best and worst teams in the NBA?
The Nets lost 18 games before finally winning their first. They won only one game in January -- and it was to the Clippers. And since the start of the season in October, they've only been victorious six times. Does this sound like a team that would go on the road and take down the division-leading Boston Celtics? Of course it doesn't. And yet, the Nets did just that.
How will this unexpected loss affect the Celtics in your rankings? Was it just a fluke, or does it expose some deeper issues with the C's? It's time for you, SportsNation, to rank the Celtics and the NBA's other 29 teams.
Rank 'Em: 2009-10 NBA Power Rankings

Loading...

&nbsp

YOUR RANKINGS

1.
2.
3.
4.
5.
6.
7.
8.
9.
10.
11.
12.
13.
14.
15.
16.
17.
18.
19.
20.
21.
22.
23.
24.
25.
26.
27.
28.
29.
30.