Rank 'Em: College Football Top 25
Created: September 13, 2009, 1:19 PM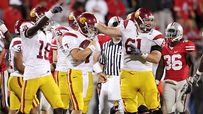 Are the Trojans a threat with Matt Barkley under center?
For all but the last two minutes, it looked like Ohio State was going to finally break through against USC. Then, Matt Barkley stepped up.
The freshman QB came into his own, leading a last-minute drive to put the otherwise listless Trojans over the top versus the Buckeyes in Columbus. USC moved up in the rankings as a result, while Ohio State experienced the inevitable drop.
How does the USC-Ohio State game and the rest of college football's second week of action affect your Top 25 standings? Which teams impressed you, and which teams had you saying, "Overrated!"? It's time for you to re-rank college football's Top 25.
Watch "SportsNation" (Monday-Friday at 4 p.m. and midnight ET on ESPN2) to see which teams make the Top 5!
Rank 'Em: College Football Top 25

Loading...

&nbsp

YOUR RANKINGS

1.
2.
3.
4.
5.
6.
7.
8.
9.
10.
11.
12.
13.
14.
15.
16.
17.
18.
19.
20.
21.
22.
23.
24.
25.