Rank 'Em: Heisman Watch 2009
Created: September 15, 2009, 9:57 AM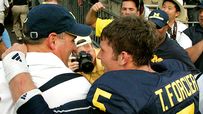 Is Michigan's Tate Forcier in the Heisman race?
Who are the top Heisman candidates after Week 2?
ESPN's experts have put together a new 14-person Heisman Watch poll of players they think have the best shot at Heisman glory. The names at the top are no surprise, but it hasn't take long for a group of sleepers to emerge behind Tim Tebow and Colt McCoy.
How does the Heisman field look to you? Did Joe McKnight's effort at Ohio State boost him into contention? Is Tate Forcier in the mix? It's up to you, SportsNation, to rank these Heisman hopefuls.
Rank 'Em: Heisman Watch 2009

YOUR RANKINGS

1.
2.
3.
4.
5.
6.
7.
8.
9.
10.
11.
12.
13.
14.



Total SportsNation Votes:

16,934
How are the points calculated?
On a poll with 10 options, a No.1 ranking equals 10 points, a No.2 ranking equals 9 points, etc. The item with the most points will be ranked first.