Rank 'Em: 2010 NFL Draft Prospects
Created: March 29, 2010, 7:56 PM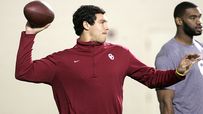 Where does Sam Bradford rank after his impressive pro day?
Shoulder injury? What shoulder injury? During Sam Bradford's pro day on Monday, the NFL prospect silenced critics by throwing a perfect 13-for-13 in warm-ups, and then connecting on an almost flawless 49 of 50 passes. Not too shabby for his first public workout since undergoing surgery.
Did his performance impress you enough to give him the "No. 1 prospect" tag, or is that title still reserved for former Nebraska DT Ndamukong Suh? It's time for you, SportsNation, to rank 'em!
Be sure to tune in to "SportsNation" (weekdays on ESPN2 at 4 p.m. and midnight ET) to see which prospects make the top five!
Rank 'Em: 2010 NFL Draft Prospects

Loading...

&nbsp