Rank 'Em: College Football Top 25
Created: September 20, 2009, 1:16 PM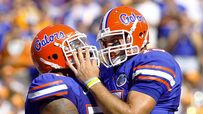 Are Tim Tebow and the Gators the best team in college football?
It seems like the upsets are coming earlier and earlier every year in the pressure cooker that is the Football Bowl Subdivision.
USC, down to Washington in a shocker. Georgia Tech, falling to a resurgent Miami squad. BYU, falling to unranked Florida State. It seems like only Tim Tebow's Gators are immune to this sort of thing, but even they had a relatively close-fought game against Eric Berry and Tennessee.
Which team is the best in college football? Cast your vote now!
You must submit at least FIVE for your vote to count.
Rank 'Em: College Football Top 25

YOUR RANKINGS

1.
2.
3.
4.
5.
6.
7.
8.
9.
10.
11.
12.
13.
14.
15.
16.
17.
18.
19.
20.
21.
22.
23.
24.
25.



Total SportsNation Votes:

46,812
How are the points calculated?
On a poll with 10 options, a No.1 ranking equals 10 points, a No.2 ranking equals 9 points, etc. The item with the most points will be ranked first.