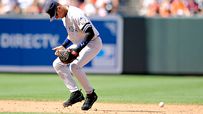 Where do Derek Jeter and the Yankees rank after Week 1?
The beginning of April means the start of the 2009 baseball season. As all 30 teams try to work out their kinks, which squads lead the pack, and which ones are off to slow starts? It's time to submit your first MLB Power Rankings of the season, SportsNation!
The Yankees spent a substantial amount of money bringing in big-name players this past offseason but have gotten off to a sluggish start. After winning last year's World Series, the Phillies started with two tough losses before pulling off a two-game win streak, while the runner-up Tampa Bay Rays took their first series from the Red Sox but then struggled against Baltimore. Where would you rank these teams after the first week of the season? Size up the entire field!
(All records through Sunday's games)

Rank 'Em: MLB Power Rankings

YOUR RANKINGS

1.
2.
3.
4.
5.
6.
7.
8.
9.
10.
11.
12.
13.
14.
15.
16.
17.
18.
19.
20.
21.
22.
23.
24.
25.
26.
27.
28.
29.
30.



Total SportsNation Votes:

12,965
How are the points calculated?
On a poll with 10 options, a No.1 ranking equals 10 points, a No.2 ranking equals 9 points, etc. The item with the most points will be ranked first.