Rank 'Em: College Football Top 25
Created: October 11, 2009, 1:16 PM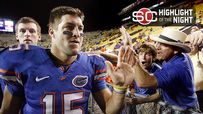 Where do Tim Tebow and the Gators rank?
Many questioned Urban Meyer's decision to start Tim Tebow after the Florida quarterback's frightening concussion, but at least for the short term, it seems to have paid off.
Tebow threw for Florida's only touchdown in the Gators' 13-3 win over the LSU Tigers. The low-scoring affair cemented Florida's hold on the No. 1 spot, but there was some movement in the top 5, with Alabama taking the No. 2 spot after a dominating win over formerly ranked Ole Miss. Boise St. finally took its place at No. 5, displacing LSU.
Which team is the best in college football? Submit your rankings now!
You must submit at least FIVE for your vote to count.

Rank 'Em: College Football Top 25

Loading...

&nbsp

YOUR RANKINGS

1.
2.
3.
4.
5.
6.
7.
8.
9.
10.
11.
12.
13.
14.
15.
16.
17.
18.
19.
20.
21.
22.
23.
24.
25.