Rank 'Em: NFL Power Rankings
Created: September 28, 2009, 6:13 PM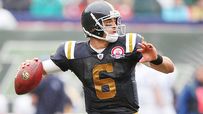 Are Mark Sanchez and the Jets the toughest team in the NFL?
After a bizarre week of football that had the Steelers losing to the Bengals, Kevin Kolb putting up better numbers than Drew Brees and the New York Jets emerging as the early '09 team to beat, we really don't know what to expect from this season anymore. Therefore, we need your help SportsNation.
We want to know how you think all 32 NFL teams rank after three weeks of action. Will SportsNation hit the panic button and send the Steelers, Titans and Dolphins to the bottom of the pile? Or will they give last year's playoff contenders the benefit of the doubt? There's only one way to find out -- rank!
Be sure to tune into "SportsNation" (weekdays on ESPN2 at 4 p.m. and midnight ET) to see which teams make the top five!
Rank 'Em: NFL Power Rankings

Loading...

&nbsp

YOUR RANKINGS

1.
2.
3.
4.
5.
6.
7.
8.
9.
10.
11.
12.
13.
14.
15.
16.
17.
18.
19.
20.
21.
22.
23.
24.
25.
26.
27.
28.
29.
30.
31.
32.