Rank 'Em: NFL Power Rankings
Created: October 5, 2009, 5:16 PM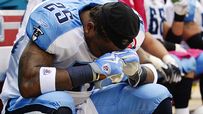 After a crushing loss to the Jags, will the Titans tumble down the rankings?
How do all 32 NFL teams rank?
Last week, SportsNation refused to throw in (or stomp on) the towel when it came to the Titans. Despite an 0-3 record, SN turned a blind eye to the early regular-season woes of the usually tough Titans, and ranked teams like the Jags, Dolphins and Redskins below Jeff Fisher's group.
Yet with a 37-17 pounding by a suddenly spectacular David Garrard and the Jacksonville Jaguars, will SportsNation reconsider the Titans' credibility? Or is the jury still out on the Titans' season? It's time for you, SportsNation, to rank the Titans and the other 31 NFL teams!
Be sure to tune into "SportsNation" (weekdays on ESPN2 at 4 p.m. and midnight ET) to see which teams make the top five!
Rank 'Em: NFL Power Rankings

YOUR RANKINGS

1.
2.
3.
4.
5.
6.
7.
8.
9.
10.
11.
12.
13.
14.
15.
16.
17.
18.
19.
20.
21.
22.
23.
24.
25.
26.
27.
28.
29.
30.
31.
32.



Total SportsNation Votes:

23,208
How are the points calculated?
On a poll with 10 options, a No.1 ranking equals 10 points, a No.2 ranking equals 9 points, etc. The item with the most points will be ranked first.