Rank 'Em: College Basketball Power 16
Created: February 15, 2010, 4:28 PM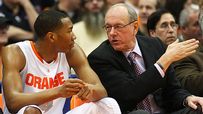 Should Syracuse be ranked higher than Purdue?
How do you size up the top 16 teams in the country?
While Kansas and Kentucky held steady at No. 1 and No. 2, respectively, the No. 3 team, Syracuse, was not so lucky. The Orange suffered their second defeat of the season Sunday, losing at home against Lousville and dropping two spots in the ESPN/USA Today poll. Other notable movement in the rankings includes No. 5 Villanova jumping up to No. 3 (before Monday's loss at Connecticut), and No. 8 Georgetown sliding down to No. 10 after its loss to Rutgers.
Do you agree or disagree with the most recent ESPN/USA Today poll? It's time for you to put the top 16 college hoops teams in the order you think is right.
Rank 'Em: College Basketball Power 16

Loading...

&nbsp