This piece is a response to Paul Lukas' Uni Watch Power Rankings: NBA.
It's hard to look good in the NBA these days.
The league has its share of uniforms, like the ones sported by the Celtics and Lakers, that thankfully will never go out of style. And a handful of other teams have nailed down some decent sets, too.
But it's a good thing most players put so much thought into their off-the-court garb, because what some teams are trotting out these days is worse than anything Russell Westbrook can pull out of his funhouse of terror.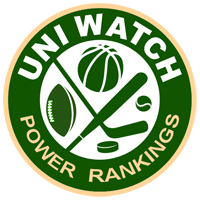 Which I'm sure Paul Lukas would agree with. But while I concur with a lot of what the uni guru laid out in his NBA list, a few exceptions stood out. So here are a few minor adjustments I would make, as well as my own attempt at ranking each team:
Overrated -- San Antonio Spurs (No. 3): I love the concept behind the Spurs' "U," but I don't get why they've been so loyal to that 3-D design. It always reminds me of a Dire Straits video, which probably doesn't help stop the casual fan from constantly hitting the snooze button on them. The silver alts are at the other end of the spectrum, though -- it's far too radical, especially for the Ma and Pa shop of the league. (Suggestion: Scrap the all-whites in favor of the old Silver Saturdays unis as the standard home look, like the Lakers do with their yellow ones.) It's a top-10 set for sure, but No. 3 is too high.
Underrated -- Chicago Bulls (No. 10): Maybe all those Jordan pull-ups in my youth left more of an imprint than it would on others, but to me, the Bulls have the type of classic, no-frills design that deserves to rank among the elite. They've meddled a bit too much since the MJ era -- the bull head above the nameplate is an eyesore, and those St. Patrick's Day greens are pretty unnecessary. But the bold block lettering matches the vibe of the color scheme and the city, and the shorts design is a nice callout to one of the few notable floor designs in the league. This is a top-five set, especially now that the material no longer looks like satin pajamas.
Overrated -- Philadelphia 76ers (No. 15): Just try. Even a little bit. I'm glad we've gotten past the black and that busy logo from the Iverson years, but these new ones, despite such a great color scheme, are just lifeless. Being named after a year doesn't help much in terms of creativity, but how about some stars? Maybe outline the typeface on the roadies and alts with blue and red, even? They need something. Also, if you're abbreviating your own nickname on your jerseys, maybe you're better off with a different nickname. For now, this is in the bottom third of the league for me.
Underrated -- Portland Trail Blazers (No. 9): The design really isn't much -- just three lines wrapped, rather crudely, around the midsection. But in a league so devoid of pizzazz, it really pops, especially on those new red alternates. Not crazy about the fonts on the home and away versions, and the five stripes on the alt is a bit sleeker than the three on the classic set, but the whole look superbly conveys both tradition and trendy, which is pretty much the ideal.
Overrated -- Fauxbacks: Whenever a look ceases to work, sports team these days have a tendency to reach back into their history and revert to something that did. It isn't a bad idea in theory, especially when you see the fresh concoctions whipped up for the Timberwolves, Bobcats, Hawks and the like. But instead of sticking to the throwbacks that were/are so wildly popular, teams try to put a new spin on it. It's worked for the Jazz and Warriors, who unearthed certain elements or styles from their past more so than trying to recreate a specific jersey. But you can't say the same for the Knicks (meh) and Suns (blah), or the Rockets' Ronald McDonald alternates. And Washington's revamped unis look great, but it looks a bit silly to see "Wizards" across the chest of an obvious Bullets callback, no? It's a bizarre mash-up that doesn't really serve either identity.
One Man's Top 30
(1) Celtics; (2) Lakers; (3) Heat; (4) Bulls; (5) Jazz; (6) Trail Blazers; (7) Warriors; (8) Spurs; (9) Thunder; (10) Wizards; (11) Nets; (12) Pacers; (13) Pistons; (14) Knicks; (15) Nuggets; (16) Grizzlies; (17) Cavaliers; (18) 76ers; (19) Mavericks; (20) Raptors; (21) Hawks; (22) Suns; (23) Pelicans; (24) Clippers; (25) Rockets; (26) Magic; (27) Timberwolves; (28) Bucks; (29) Kings; (30) Bobcats.
Now it's your turn to make your picks: Rank the NBA's uniforms 1-30!