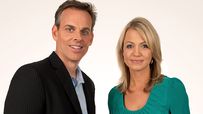 Can Colin Cowherd and Michelle Beadle, hosts of ''SportsNation" on ESPN2 (weekdays, 4 p.m. ET), pick more conference tournament winners than their viewers?
The NCAA tournament is fast approaching, and many of the teams will earn their trip to the Big Dance by winning their conference tournament. Pick the winners below, and see how your expertise compares to that of our hosts!
SportsNation's pick finalized prior to start of the tournament.
Final Records: Cowherd 11-20 | Beadle 8-23 | SportsNation 11-20
2011 College Basketball Conference Tournament Pick 'Em Challenge!