Welcome to ESPN The Magazine's ninth-annual Ultimate Standings, in which we measure how much MLB, NBA, NFL and NHL franchises give back to the fans in exchange for all the time, money and emotion the fans invest in them.
The Super Bowl champion Green Bay Packers jumped from No. 9 last year to the top spot in 2011, due in part to star quarterback Aaron Rodgers officially turning the page on the Brett Favre era at Lambeau Field. But below-average ticket prices and unmatched customer service were also a key point among fans as evidenced by the Packers finishing first in such categories as "fan friendly environment at games" and "provides an avenue for fan feedback."
The eight major categories that make up the Ultimate Standings were created based on feedback from fans about what they want most from their favorite teams (click here for a more detailed account of the method to our madness.) The categories: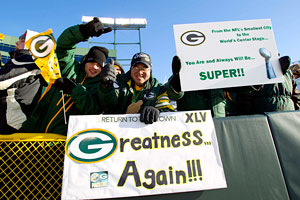 Bang For The Buck (BNG): Wins during the past three years (regular season plus postseason) per revenues directly from fans, adjusted for league schedules.
Fan Relations (FRL): Openness and consideration toward fans by players, coaches and management.
Ownership (OWN): Honesty and loyalty to core players and local community.
Affordability (AFF): Price of tickets, parking and concessions.
Stadium Experience (STX): Quality of arena and game-day promotions as well as friendliness of environment.
Players (PLA): Effort on the field and likability off it.
Coaching (CCH): Strength of on-field leadership.
Title Track (TTR): Championships already won or expected in the lifetime of current fans.
Below you will find a sortable table of this year's Ultimate Standings as well as previous results going back to 2003. Subcategories that make up the overall ranking for that category are available for the 2009-11 results. Insiders can click on team names for a more detailed breakdown of the rankings.

Financial analysis by the Warsaw Sports Marketing Center at the University of Oregon (Steve Acampa, Andrew Behl, Cally Deal, Michael DeMartini, Timothy Dobyns, Patrick Haas, Travis Hanson, Peter Raschio, Carolyne Wood and Bill Zachry). Fan surveys by Maddock Douglas and NetReflector.