Reaction: Men's final
Djokovic eases to 13th major win
Nico Pereira recaps Novak Djokovic's straightforward win over Kevin Anderson to claim his first major in two years.
Anderson: Incredibly proud to make top five
Kevin Anderson says he's come out of Wimbledon with a lot of positives, having reached the finals and moved up to a career-high fifth in the world rankings.
Djokovic finishes off Anderson to win 4th Wimbledon title
Novak Djokovic wins his 13th major championship after defeating Kevin Anderson for the 2018 Wimbledon men's title.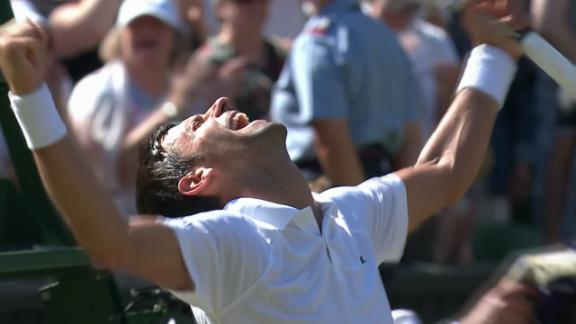 Wimbledon: Women's final reaction
Kerber: I've always dreamed of this moment
Angelique Kerber reflects on her stunning 6-3 6-3 win over 23-time Grand Slam champion Serena Williams for her first Wimbledon title.
Kerber meets Meghan Markle, Kate Middleton after win
2018 Wimbledon women's champion Angelique Kerber was congratulated by duchesses Meghan Markle and Kate Middleton after the German's win over Serena WIlliams.
Kerber: One of the best moments of my career
2018 Wimbledon women's champion Angelique Kerber was happy that she could win her first title at the All England Club against Serena Williams.
Serena: 'I'm literally just getting started'
Serena Williams reflects on her Wimbledon journey and what lies ahead after losing to Angelique Kerber in the Wimbledon final.
Serena Williams: My journey has just begun
Serena Williams reflects on her two weeks at Wimbledon after losing to Angelique Kerber in the women's final.
Nothing like walking through main gates at Wimbledon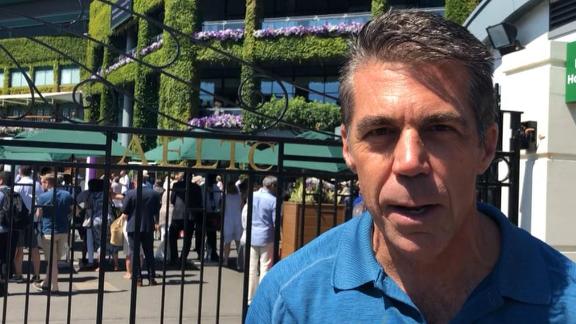 Wimbledon: Latest player interviews
Federer: Disappointed I couldn't take my chances today
Eight-time Wimbledon champion Roger Federer laments his missed chances but credits his opponent for his consistency and high level of play.
Nadal: I'm happy with the way I survived big points
Rafael Nadal praises Juan Martin del Potro for taking him to the limit in his five-set win over the Argentine.
Djokovic: Feels great to be back in the last four at a Slam
Novak Djokovic discusses what it means to return to the Wimbledon semifinals and the cause of his frustrations with the chair umpire in the second set.
Del Potro: Rafa always digs a little deeper than others
Juan Martin del Potro lamented his inability to take chances, but also credited Rafael Nadal for making things difficult following their five-set thriller.
Isner: This is by far the best I've played in a major
No. 9 seed John Isner says he's elated to be in the Wimbledon semifinals for the first time after playing some of his best major tournament tennis.
Anderson: I kept telling myself today was going to be my day
An emotional Kevin Anderson says he never lost hope, after coming back from two sets down to defeat Roger Federer in a thrilling quarterfinal.