Federer upset by Tsitsipas at Australian Open
Defending champion Roger Federer loses in four sets to Stefanos Tsitsipas in the fourth round of the Australian Open.
Federer falls, but who's looking good for week two?
Stephanie Brantz and Nico Pereira recap the first week of Australian Open action, and ask who's stood out so far.
Tsitsipas: 'I'm the happiest man on Earth right now'
Stefanos Tsitsipas reacts to defeating Roger Federer in the fourth round of the Australian Open.
Stephens upset in 4th round of Australian Open
Sloane Stephens is unable to take down Anastasia Pavlyuchenkova and loses in four sets at the Australian Open.
Svitolina takes down Keys advances to quarterfinals
Elina Svitolina knocks out American Madison Keys to advance to the Australian Open quarterfinals.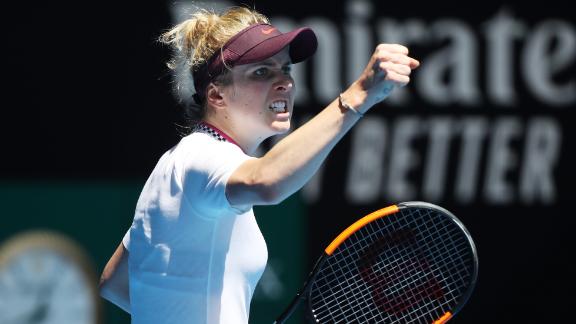 Barty defeats Sharapova to reach first career Grand Slam quarterfinal
On her fourth match point of the third set, Ashleigh Barty hits an ace that Maria Sharapova can't return as she advances to the Aussie quarterfinals.