If today's youths don't sit still for a minute under normal circumstances, just try to get them to pay attention to the often protracted game of tennis for more than a double fault. 
From the shot clock between points to coaching from the stands and shorter scoring formats and even a black tennis court at the recent Laver Cup, the game is willing to experiment as it tries to grab the attention of this notoriously hard-to-reach group: the millennials.
This is especially important considering the newest crop of tennis players, eight of whom will compete in this week's Next Gen ATP Finals, is arguably as strong as it has been in years. And wouldn't it be nice if they could appeal to people their own age. 
As the first generation to have grown up in the digital age, the 2 billion millennials worldwide "are much more demanding; their attention is much more difficult to earn and tennis is playing catch-up," Tim Crow, former chief executive officer of London-based sponsorship consultant Synergy, which has worked on Olympic programs for more than two decades, told ESPN. "What tennis is experiencing, and what a lot of other sports are experiencing is, how do you attract a new generation of fans?"
Here are some of the endeavors:
Easy viewing access
In China, millennials make up 31 percent of the population.
Two years ago, the WTA Tour struck a 10-year deal with iQIY, China's largest online streaming platform, to show all of its 2,000 matches on personal computers, smartphones and television for free. Sportmedia reported at the time the agreement, which started this year, was worth $120 million.  
"It's a great platform for us," said Fabrice Chouquet, tournament director of last month's Dongfeng Motor Wuhan Open, which is held in the birthplace of Asia's first major singles winner, Li Na. "Fans who can't come on site can still see it, and that provides exposure for our sponsors."
Wuhan Open organizers are also connecting with millennials in a different way by using its global brand ambassador, Li, to spearhead its volunteering recruitment drive.
For this year's event, which was played last month, the tournament received 7,000 applications from college students for 700 volunteering jobs, ranging from handing out towels to players to looking after the international press.
"There are 1 million students in Wuhan," Chouquet said. "We give them an opportunity to be part of this event. They are very active on social media and will post pictures and tell their friends about it. It's one way of creating a fan base." 
Speed up the game  
Although tennis is not a sport that has been at the forefront of innovation, it has been trying to push through changes in the past year or so.
Twelve months ago, WTA boss Steve Simon told reporters at the Wuhan Open he wanted to introduce no-ad scoring and super-tiebreaks (first to 10) in the deciding third set.
"The attention spans of the audience today is shrinking," Simon warned, adding that none of the changes would be implemented before 2019 or even 2020.
During the US Open qualifying event, tournament organizers tried out a shot clock to speed up play and also experimented with coaching from the stands in an attempt to make the sport more attractive to fans. 
Starting on Tuesday, the ATP World Tour will be testing a new, shorter scoring format including no lets or ad-scoring at the inaugural Next Gen finals in Milan, Italy, for the world's best players aged 21 and under.
"This event is not only about the next generation of players, but also about the next generation of fans," ATP chief Chris Kermode said on the ATP website. "We've created this new tournament precisely to allow us to look at some potential new elements, in a high-profile environment."
Laver Cup
In September, the inaugural Laver Cup in Prague, an exhibition event between Europe and the rest of the world, was introduced to the tennis community. Partly organized by men's Grand Slam record holder Roger Federer, it was played on a black tennis court and had a shorter scoring format. It also leveraged new and different viewing angles, including net and coaching cameras.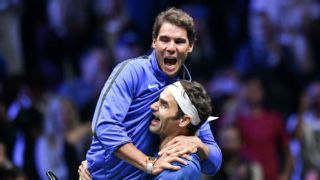 Event organizers also tried to create social media buzz by showing behind-the-scene footage of players, including Federer and 16-time major winner Rafael Nadal discussing doubles tactics.
"Like everybody else, we want the millennials, we do," Tony Godsick, Federer's long-time agent and business partner, told Sport 360.
But it wasn't all about the young.
"Hopefully we'll be able to attract a different demographic, but we want the traditional demographic too," Godsick said. "Because those are the people that are going to actually help usher in the next generation of tennis fans."
It's still about the names in the game
Tennis is missing the point by focusing too much on speeding up the game, according to Synergy's Crow.
"There are some misconceptions about this whole idea of attention spans and that new and shorter formats are the way to go," Crow said.
"If you want to reach millennials, forget about traditional methods or media such as television but focus on different platforms such as Snapchat," he said. "How are we going to get our product into their lives? The other thing is that millennials generally would much rather watch the highlights rather than the whole thing. It's all about clever media packaging and distribution."
Having said that, tennis is better placed than some sports to reach the young because of its strong male and female characters, according to Crow.
Just imagine a Laver Cup-style event with Federer, Nadal and five-time major winner Maria Sharapova teaming up against the Williams sisters.
"The attention on women's sport and the momentum behind it has never been stronger around the world than it is now," Crow said. "Plus, Serena Williams is the absolute shining light of this millennial generation."
Not everyone on board
Although most tennis players themselves are millennials, not all aren't embracing the changes proposed by their governing bodies.
"All sports need to improve and adapt to the new things," Nadal, 31, told reporters in Beijing, when asked about plans to speed up the game. "But I am not sure if that's the way, to make the matches quicker."
No one can ever remember a one-hour match, Nadal pointed out, but it's the long, dramatic matches that resonate.
"There is a fine line between innovation, and when innovation becomes a novelty," Jared Donaldson, a 21-year-old American ranked 50th on the men's Tour, said in a recent conference call. "And I think this is something that has to be closely watched."
Still, as an avid gamer and millennial himself, Donaldson also welcomed the sport trying to adept its product to a younger audience.
"Anything that can make the game more excitable, more watchable is definitely a positive," Donaldson said, adding he was in favor of skipping the warm-up before play starts as it tends to lead to a drop in viewership.
Although Donaldson said he's looking forward to competing against his peers at the Next Gen finals, he's not expecting an easy ride.
The new scoring format tested in Milan consists of best of five sets, first to four games and a tiebreak at 3-all.
"One of the biggest tests will be mental toughness because of all the new rules, we are not used to them and we are not quite sure how to play with these rules," Donaldson said.