Caroline Wozniacki may be struggling to win matches these days, losing her last three encounters heading into the New Haven Open this week, but the world No. 1 is doing a lot better when it comes to staking a claim as the game's top socialite.
As on the court, Serena Williams has been setting a tough pace in between scooping up hard-court titles -- she's being linked to rapper Drake and was a prominent guest at the much-hyped Kim Kardashian wedding last week. But still, Wozniacki has been tennis' international woman of mystery this summer, staying secretive about her budding relationship with golfer Rory McIlroy and now refusing to reveal the identity of the coach she's bringing in to shore up her flailing game.
When it comes to meetings with friends, famous acquaintances and glamorous outings, however, things are different. The good-natured Wozniacki (as she is when not being asked about being No. 1 without winning a Grand Slam) has generally been happy to publicize the details and share pictures on a regular basis. Here's an illustrated look at her life off the court, as self-told on her Twitter account.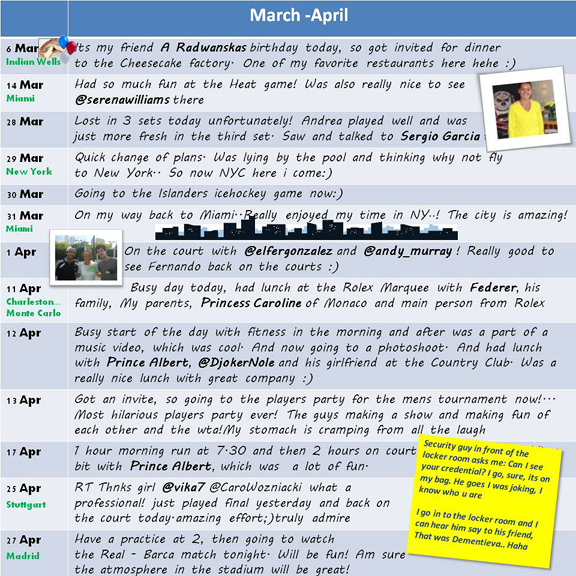 March and April were successful months for Wozniacki, coming on the heels of her semifinal finish at the Australian Open. She won Indian Wells and Charleston, sandwiched between a round-of-16 loss in Miami and a finals appearance in Stuttgart. Charleston was a last-minute entry, after which she dashed to Monte Carlo to play an exhibition match.
May and June weren't quite as productive. Though she won two small events in Brussels and her home tournament of Copenhagen, she fell in the round of 16 in Madrid, the semifinals of Rome and the third round of the French Open.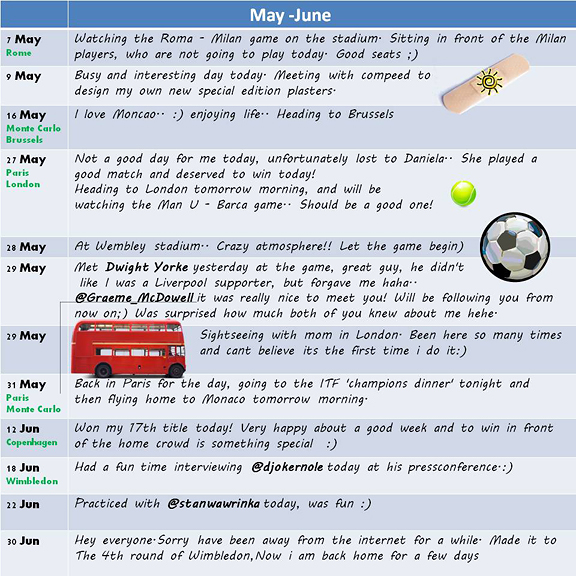 By July, Wozniacki seemed to be heading into a tailspin. After a fourth-round loss at Wimbledon, she played Bastad the following week to fulfill a prior commitment to the event, retiring in the second round with a bad shoulder. Then came first-round losses in Toronto and Cincinnati, a trend she reversed in New Haven this week before heading to the U.S. Open. But her on-court woes haven't slowed her down off the court.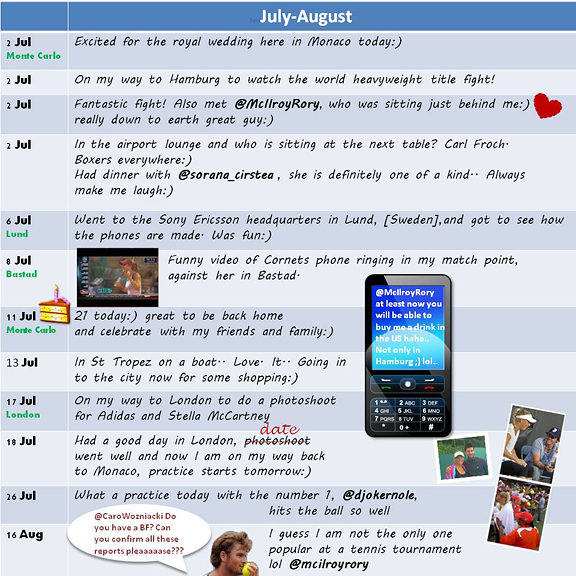 Kamakshi Tandon is a freelance tennis writer for ESPN.com.