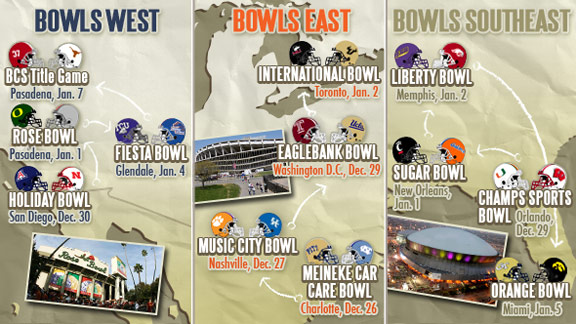 ESPN.com graphic by Eliot Krohn
Mouse over the host city for each matchup to be directed to the respective Bowl Stadium Guide.
• Photo gallery: A visual tour of our bowl-trip itinerary
• Quick clicks – A guide to your team's bowl: Alabama | Arizona | Arkansas | Boise State | Cincinnati | Clemson | East Carolina | Florida | Georgia Tech | Iowa | Kentucky | Miami | Nebraska | North Carolina | Northern Illinois | Ohio State | Oregon | Pittsburgh | South Florida | TCU | Temple | Texas | UCLA | Wisconsin
---
The time has come once again for SportsTravel's annual look at what we call The Ultimate Road Trip -- taking in four bowl games in your choice of three separate regions that you can reasonably drive to within a week's time or so.
Indeed, we're goin' bowlin'.
But before we get to the 12 destinations highlighted among the 34 bowls to be played between Dec. 19 and Jan. 7, we want to provide you with a little background and history of the longevity and lucrativeness of some of the games that compose the great tradition we know as bowl season.
---
From humble beginnings to multimillion-dollar paydays for their participants, college bowls have grown up beyond all expectations.
The Fiesta Bowl tried for three years in the late 1960s to get approved as a means for Western Athletic Conference teams -- who had been shunned by most bowls -- to play in the postseason. The Fiesta Bowl was finally played in 1971.
"I remember them saying that maybe you guys don't deserve a bowl but you sure have worked hard for one," said John Junker, president of the Fiesta Bowl.
The Fiesta Bowl became forever entrenched as a major bowl in 1987, when independents Miami (No.1) and Penn State (No. 2) agreed to meet in a game moved to Jan. 2, the first time a major bowl had been played after New Year's Day.
The lead-up to the game was punctuated when, at a dinner between the teams, the late Jerome Brown famously proclaimed, "Did the Japanese go sit down and have dinner with Pearl Harbor before they bombed them?" The Hurricanes walked out, but not before Penn State punter John Bruno retorted, "Didn't the Japanese lose the war?" The largest college football TV audience in history saw Joe Paterno's Nittany Lions prevail 14-10.
This year the Fiesta will establish another first, as unbeatens TCU and Boise State are the first two non-BCS schools to meet in a BCS bowl game. They also are the first unbeaten teams to meet outside of the championship game.
Junker is holding steadfast that the game will prove worthwhile although many are calling it the "Also-ran championship" and "David vs. David."
"This is only the 20th time in all of college football that two unbeaten teams will meet in a bowl game," Junker said.
While the game is technically sold out, reports and a perusal of ticket sites show many ducats are being returned, presumably by Iowa fans who had expected to get a bid but instead will go to the Orange Bowl. Still Junker is pleased with the matchup and said a certain buzz will be created around the Jan. 4 game.
While the Fiesta has come the furthest the fastest of the BCS bowls, other second-tier bowls have seen their names and venues change but have weathered decades of one-hit wonders. Each of these long-standing non-BCS bowls has found its own formula for success.
The Liberty Bowl started in Philadelphia in 1959 and became the first indoor college bowl game, played at the Atlantic City Convention Hall in 1964. Because of poor weather and attendance, the game was moved to Memphis, Tenn., in 1965 and has been played there since. The Liberty Bowl has outlasted every professional football team that has called Memphis home, including the Showboats of the USFL and the Mad Dogs of the Canadian Football League.
The Sun Bowl in El Paso, Texas, will likely never determine a national champion, but the game will be played for the 76th consecutive time this season, second only to the Rose Bowl in longevity. From the beginning, officials planned a whole week of activities around the football game.
It is the largest event in El Paso, annually producing a direct impact of $12 million to $15 million and indirectly adding up to $40 million to the city's economy, according to executive director Bernie Olivas. That money might be paltry to BCS bowl officials, but it makes an impact in El Paso.
"This game brings millions of dollars into our community," Olivas said. "Most of the tickets are sold locally and the community support we get is tremendous."
This year the Sun Bowl has a quality matchup with Oklahoma playing Stanford, led by Heisman Trophy runner-up Toby Gerhart.
The Sun Bowl also was the first bowl game to have a corporate sponsor in 1986, according to Olivas, when John Hancock, um, signed on.
With a prime viewing date on New Year's Eve and a pairing between the ACC and SEC, the Chick-fil-A Bowl has become one of the most watched and attended bowl games since starting as the Peach Bowl in 1968 in Atlanta. The Chick-fil-A Bowl has sold out 12 consecutive years and now has a payout of more than $6 million, making it the most lucrative of the non-BCS bowls.
"Atlanta had the plan, the building, the infrastructure, the finances and the people to turn this bowl into something special," said Tony Barnhart, longtime college football writer for the Atlanta Journal-Constitution. "And that is exactly what has happened."
The Gator Bowl has been played every year since 1956 and is the sixth-oldest bowl game. The Jan. 1 game in Jacksonville, Fla., figures to be memorable as it marks the final game of legendary Florida State coach Bobby Bowden. An extra 6,000 seats were brought in, increasing capacity to 83,500, and this season's game is expected to set a Gator Bowl attendance record.
From its beginnings as the Tangerine Bowl in 1947, Orlando's Capital One Bowl has become not only one of the most successful college football traditions but has spawned a second bowl game (Champs Sports) and an entire corporate entity, Florida Citrus Sports.
Steve Hogan, the executive director of Florida Citrus Sports, said the Capital One Bowl can attribute its long-standing success to the appealing travel destination of Orlando, a strong TV time slot as the lead-in to the Rose Bowl and the first pick of teams after the BCS bowls have made their selections. The Capital One Bowl has tie-ins with the Big Ten and SEC and this year's matchup features LSU against Penn State.
"If and when Division I goes to playoffs, it will eliminate a lot of the bowls," Olivas said. "I think it will become just another weekend game and not the celebration that it is now. I think the longevity of a lot of bowls would be in jeopardy."
That is hardly the case now, but the future of bowl season gives us pause for thought -- thought that it's time once again to make plans to go bowl-trippin'. So here, once again, are the outlays of three potential itineraries for a week on the road in celebration of college football finales:
Bowls East: Tale of Two Countries Trip
Starting with the Meineke Car Care Bowl in Charlotte, N.C., the trip goes to the Music City Bowl in Nashville, Tenn., before swinging back to the EagleBank Bowl in Washington, D.C., and ending with the International Bowl in Toronto.
Dec. 26: Meineke Car Care Bowl in Charlotte, North Carolina vs. Pittsburgh, 4:30 p.m.
(Click here for Meineke Car Care Bowl Stadium Guide and to purchase game tickets)
All times Eastern
If you're looking to chill out, the WBT Holiday on Ice in uptown Charlotte -- across from the Convention Center -- offers the area's only outdoor skating rink. It is open from 5 to 10 p.m. on Christmas and 11 a.m. to 10 p.m. on other days. You can have a special Christmas brunch at the Ballantyne Hotel & Lodge between 11 a.m. and 3 p.m.
Dec. 27: Music City Bowl in Nashville, Clemson vs. Kentucky, 7:30 p.m.
(Click here for Music City Bowl Stadium Guide and to purchase game tickets)
After spending Christmas and the day after in Charlotte, you'll have a seven-hour trip to Nashville and you can leave right after the game and spend the night near the Great Smoky Mountains National Park for a morning visit before heading to the Music City Bowl.
Dec. 29: EagleBank Bowl in Washington, D.C., Temple vs. UCLA, 4:30 p.m.
(Click here for EagleBank Bowl Stadium Guide and to purchase game tickets)
You will have an almost 11-hour drive from Nashville to the nation's capital, but you will have an extra day to pull it off. All the more time to enjoy the trip up I-81 through some of Virginia's most scenic territory.
It would be a very tight squeeze driving from Nashville, but you could possibly even see the Washington Capitals host the Carolina Hurricanes on Dec 28 at 7 p.m.
Because of the four-day rest between the EagleBank Bowl and International Bowl (Jan. 2), you can decide to ring in the New Year's either in the United States or Canada or both by staying on the border at Niagara Falls. Of course, D.C. and Toronto will offer myriad events to celebrate New Year's.
On Dec. 31, you can catch the St. John's-Georgetown game at 8 p.m. at the Verizon Center in downtown Washington, then ring in 2010 at one of the city's numerous parties and nightclubs.
Jan. 2: International Bowl in Toronto, South Florida vs. Northern Illinois, noon
(Click here for International Bowl Stadium Guide and to purchase game tickets)
If you do leave for Ontario before celebrating New Year's Eve, you can catch the Toronto Raptors' home game Dec. 30 at 7 p.m. against the Charlotte Bobcats.
To break up your nine-hour trip to Toronto, you can spend some time in Pittsburgh and watch the Buffalo Sabres host the Atlanta Thrashers on Jan. 1 at 7:30 p.m. Then you can get up and make the 100-mile trip to Toronto on Jan. 2.
If that option is cutting it too close, Niagara Falls offers a sweet respite before heading to Toronto. The Winter Festival of Lights, Canada's largest lights display, with nearly 2 million lights and more than 100 animated displays, continues through Jan. 4.
Bowls Southeast: Music, Fun and Sun Trip
Dec. 29: Champs Sports Bowl in Orlando, Miami vs. Wisconsin, 8 p.m.
(Click here for Champs Sports Bowl Stadium Guide and to purchase game tickets)
The southern swing of our three trips begins in Orlando, home to Walt Disney World and several other theme parks.
After getting your fill of Mickey & Co., you can take in the Orlando Magic's game against the Milwaukee Bucks at 7 p.m. Dec. 30 at Amway Arena.
Jan.1: Allstate Sugar Bowl in New Orleans, Florida vs. Cincinnati, 7:30 p.m.
(Click here for Sugar Bowl Stadium Guide and to purchase game tickets)
If you have made the 640-mile trip from Orlando and arrived on Dec. 30, you can watch the New Orleans Hornets host the Miami Heat at 7 p.m. at New Orleans Arena, right next to the Louisiana Superdome.
Most folks will likely have made the trip from Orlando in time to spend New Year's Eve in the Crescent City. Better Than Ezra performs Dec. 31 at 9:30 p.m. at the House of Blues. Other New Year's Eve events can be found at the official New Orleans Convention and Visitors Bureau Web site.
Jan. 2: Liberty Bowl in Memphis, Arkansas vs. East Carolina, 4:30 p.m.
(Click here for Liberty Bowl Stadium Guide and to purchase game tickets)
From Bourbon Street to Beale Street it'll be a celebration. And it doesn't get much better than that for jazz and blues fans. You won't have much time to explore Memphis before the Liberty Bowl, but you will have a few days before starting the final leg of this trip to Miami. That break provides the chance to enjoy Beale, Graceland and other sites in the River City.
Jan. 5: FedEx Orange Bowl in Miami, Iowa vs. Georgia Tech, 8 p.m.
(Click here for Orange Bowl Stadium Guide and to purchase game tickets)
It is more than 1,000 miles from Memphis to Miami, but you will have three days to get there after the Liberty Bowl.
If you leave Memphis immediately after the Liberty Bowl, you will conceivably get to Miami in time for the Steelers-Dolphins game at 1 p.m. on Jan. 3 and/or the Pittsburgh Penguins-Florida Panthers game at 5 p.m. On Jan. 4 at 7:30 p.m., the Atlanta Hawks play at the Miami Heat. If you are staying over after the Orange Bowl, the Heat also host the Boston Celtics on Jan. 6 at 7:30 p.m.
The Orange Bowl Fanfest, the game's official pep rally, runs from 2 p.m. to 7 p.m. on Jan. 4 at the Bayfront Park Amphitheater in downtown Miami.
Bowls West: Best in the West Trip
This sojourn stretches a little more than our week's worth, but we think you'll want to take the extra time since you'll get to witness three BCS bowls. Start with one of the most popular bowls (Holiday), see the oldest bowl (Rose) and finish with the two bowls featuring unbeaten opponents -- the Fiesta Bowl and the BCS National Championship Game.
Dec. 30: Holiday Bowl in San Diego, Arizona vs. Nebraska, 5 p.m.
(Click here for Holiday Bowl Stadium Guide and to purchase game tickets)
The spacing in this trip provides a variety of options from beach to desert. Because the adventure has gaps allowing for loads of time in Southern California, several opportunities arise to see the area's professional sports teams.
New Year's Eve in SoCal presents about a million alternatives, from just watching the waves on the Pacific Ocean to a chic Hollywood party. For a list of events, check out the official Web site to L.A. events.
Jan. 1: Rose Bowl in Pasadena, Oregon vs. Ohio State, 1:30 p.m.
(Click here for Rose Bowl Stadium Guide and to purchase game tickets)
You can catch both of the NBA's L.A.-based teams as the Clippers host Phoenix at 6 p.m. Dec. 31 and the Lakers host Sacramento Jan. 1 at 7:30 p.m. The Los Angeles Kings also host Alex Ovechkin and the Washington Capitals at 1 p.m. on Jan. 2.
If college basketball is more your game, UCLA opens Pac-10 play Dec. 31 against Arizona State (1:30 p.m.) at Pauley Pavilion and hosts Arizona at 10 a.m. Jan. 2. USC begins conference play Dec. 31 against Arizona (4 p.m.) at the Galen Center and meets Arizona State on Jan. 2 (7:30 p.m.).
Jan. 4: Tostitos Fiesta Bowl in Glendale, Ariz., TCU vs. Boise State, 6 p.m.
(Click here for Fiesta Bowl Stadium Guide and to purchase game tickets)
Arriving in the Valley of the Sun, you can pick between the NHL's Coyotes, who host the Detroit Red Wings Jan. 2 at 6 p.m. at Jobing.com Arena next to the University of Phoenix Stadium, or the NBA's Suns, who play the Memphis Grizzlies at 7 p.m. on Jan. 2 at US Airways Center in downtown Phoenix.
You also can get a preview of University of Phoenix Stadium on Jan. 3, when the Arizona Cardinals host the Green Bay Packers at 2:15 p.m. in the regular-season finale.
Of course, the Valley of the Sun also means year-round golf and you can check out some of the best courses in our Ultimate Golf Getaway to Phoenix.
Jan. 7: BCS National Championship Game in Pasadena, Texas vs. Alabama, 5 p.m.
(Click here for BCS National Championship Game Stadium Guide and to purchase game tickets)
After returning from the Phoenix area you have two more opportunities to see the Lakers -- Jan. 5 at 7:30 p.m. against the Houston Rockets and at the same time Jan. 6 against the Clippers -- before getting prepared for the national title game between Texas and Alabama.
Tony Guadagnoli is a freelance writer in western Washington.