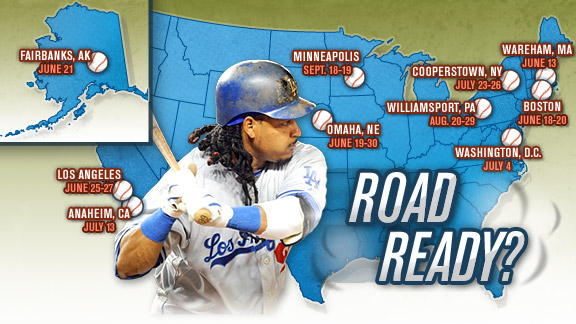 ESPN.com Illustration
Mouse over the baseballs on the map above to get to the games and cities of your choice.
• Photo gallery: Make your summer baseball travel plans
It takes 162 games to build a baseball season, and that's a lot of days to get out to the ballpark.
But every day you wait there is more you may have missed. We're barely a month into the 2010 campaign and already Dallas Braden has pitched just the 19th perfect game in major-league history, Ubaldo Jimenez has tossed a no-hitter, Ryan Howard has become a $125 million man and Jason Heyward has emerged as the game's newest phenom.
Take a closer look

To get you motivated for potential summer baseball travel plans, click here for images of venues and players that you may wish to see.
With school winding down and temperatures heating up, it's the perfect time to start planning that summer baseball trip.
Give us three months and we'll give you a baseball itinerary covering seven states and the District of Columbia, an odyssey so chockablock full of summer fun that, technically, it starts in spring.
Hey, summer is a state of mind in baseball, not strictly a season defined by calendar parameters.
So, without further ado, here is The Travel Ten's list of must-see baseball outings of summer, in chronological order:
1. Opening Day, Cape Cod League
June 13
Wareham, Mass.
Some of college baseball's best players spend their recess in Massachusetts, where Cape Cod League games are as much a part of the New England summer scene as a clambake. The season opener pits the Cotuit Kettleers against the Wareham Gatemen at Clem Spillane Field. A stellar list of alumni stretches from Atkins (Garrett) to Zito (Barry).
2. Dodgers vs. Red Sox
June 18-20
Boston
Manny Ramirez has been relatively quiet since testing positive for female fertility drugs last season. Here's guessing he makes some noise when he returns to Fenway Park for the first time since being traded to the Dodgers on July 31, 2008. (Buy tickets)
3. College World Series
June 19-30
Omaha, Neb.
It's the state fair, a summer picnic and a baseball tournament all rolled into one. It's also the perfect place to swing your way into summer proper. And this year promises to be even more memorable as Johnny Rosenblatt Stadium -- home of the College World Series since 1950 -- plays host for the final time. The CWS moves to a new, downtown Omaha stadium next year. (Buy tickets)
4. Midnight Sun Baseball Classic
June 21
Fairbanks, Alaska
Celebrate the summer solstice by staying up late to watch the Alaska Goldpanners take on the Mat-Su Miners in the 105th Annual Midnight Sun Baseball Classic. First pitch is slated for 10:30 p.m. and the game, which has ended as late as 2 a.m., is played entirely under the sun. Wrigley Field caved and installed lights back in 1988, but artificial illumination remains blissfully unnecessary during baseball season in Fairbanks. Only in Alaska.
5. Yankees visit Dodger Stadium
June 25-27
Los Angeles
The one-time crosstown rivals have squared off in the World Series 11 times. But the teams will meet in a meaningful series for only the second time (they played a three-game interleague series in 2004) since the 1981 World Series. Joe Torre's first showdown with his longtime employer gives the matchup added intrigue. (Buy tickets)
6. Fourth of July in Washington, D.C., and Mets vs. Nationals
Catch the Nationals' 1:35 p.m. matinee versus the Mets at Nationals Park. Then stroll over to the National Mall for the traditional fireworks show, slated to go off at approximately 9:15 p.m. It might be the best Fourth of July doubleheader in America. (Buy tickets)
7. All-Star Game
July 13
Anaheim, Calif.
Angel Stadium will play host to the Midsummer Classic for the third time. And if history is any indicator, it will be memorable. In 1967, Tony Perez ended what was then the longest All-Star Game ever played (since tied in 2008 at Yankee Stadium) with a 15th-inning home run. In 1989, Bo Jackson opened the All-Star tilt with a monster home run that carried an estimated 448 feet. (Buy tickets)
8. Hall of Fame Weekend
July 23-26
Cooperstown, N.Y.
Andre Dawson will join veterans committee selections Whitey Herzog and Doug Harvey in being inducted into the National Baseball Hall of Fame, as the baseball world converges on the tiny upstate New York hamlet. One of the highlights of the time-honored weekend will take place July 24, when the Connecticut Tigers square off against the Tri-City ValleyCats in the annual New York-Penn League game at Doubleday Field.
9. Little League World Series
Aug. 20-29
Williamsport, Pa.
Usher out summer in idyllic Williamsport, where Chula Vista, Calif., is the reigning champion. Famous alumni include Jason Bay, Gary Sheffield, Jason Varitek and hockey's Chris Drury.
10. Twins' new digs and their old home
Sept. 18-19
Minneapolis
Earlier this season, the Twins moved from the Metrodome into 39,504-seat Target Field in Minneapolis. Bye-bye Teflon dome; hello endless Minnesota summer nights. The ballpark has all the bells and whistles and honors the team's history -- Gate 29 is the Rod Carew Gate -- but the real highlight of the place is a 46-foot-high version of the Twins' retro logo. Whenever a Twins player smacks a home run, the logo lights up and twins "Minnie" and "Paul" shake hands. To fully appreciate the glory that is summer in the Twin Cities, compare and contrast an afternoon at Target Field with a day inside the Metrodome; make a weekend out of it and attend the Twins-Athletics game on Saturday and the Vikings-Dolphins contest on Sunday. (Buy tickets: Twins and Vikings)
Doug Ward is a Southern California-based freelance writer.