The new ESPN Passport app is now availible for download in the App Store. Once you install it, log in with your ESPN.com credentials or create an ESPN.com account from your iPhone.
iTunes Download: http://itunes.apple.com/us/app/espn-passport/id382744201?mt=8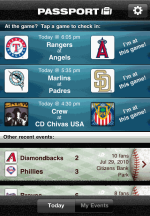 Starting The App
When you launch the application, you'll be taken to the landing screen. The app will automatically detect where you are, based on geo-location, and find games that you can check into in your area.
Below the local games, you will see the most popular Recent Events. This is a list of popular games from Today and games from the previous day that fans checked into. You can click on those games to see photos, a box score, and fan activity from that game.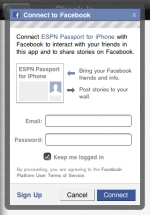 Checking In
When you open the app we recommend you tap the Settings button in the top right to log in to your Passport, or quickly create an account. Enter your Facebook and Twitter credentials to automatically turn on sharing to social networks -- don't worry, if you like, you can turn that on and off later.
Tapping "I'm at this game" will bring you to the check-in screen. Here you'll have the option to post your check-in to Facebook and Twitter.

At The Game
Once you've checked in and at the game, you'll see the Event Card. It contains your personal information-- how many times you've seen each team, where your attendance for that team ranks among fans, and each team's record when you're at the game. Clicking the rank will show you a leaderboard for the Top 25 fans for that team.
On this tab you can enter your seat information, your comments and your photos. Each time you add a comment or photo, you will have the option to turn Facebook and Twitter sharing on or off. Clicking the ESPN tab will take you to ESPN Gamecast, for quick access to game stats.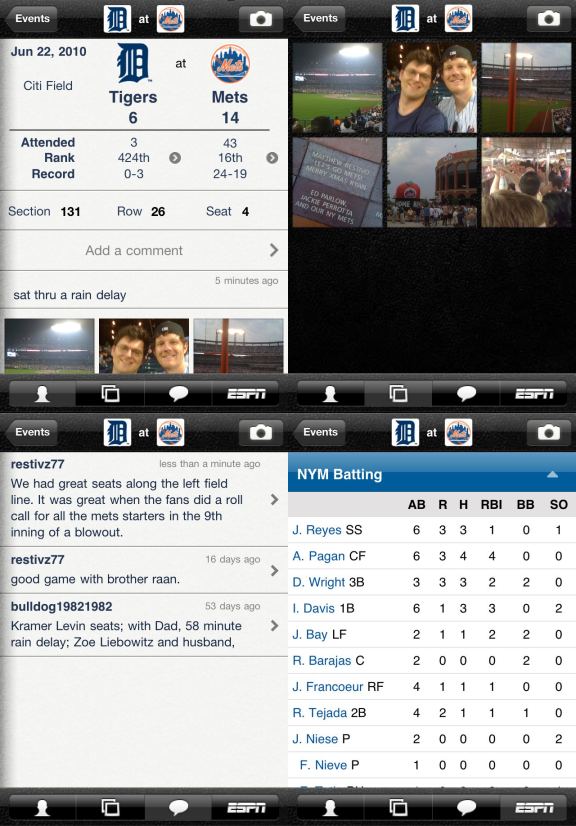 At The Game: The Event Card
Once you check in, the event card is your home base for the game that you're attending. You can see everything from your information to photos, comments and real-time stats.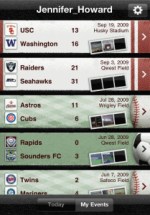 Viewing Your Passport
From the landing page, you have the option to tap Today or My Events at the bottom of the app. To view your past events and retroactively add photos and comments from your phone, tap on My Events at the bottom and tap any event in your list.
This will bring you into the Event Card for that particular game. You can add older games to your Passport by visiting the Passport Add Events page on ESPN.com.
Please send us your feedback by taking our ESPN Passport Survey
Don't have an account? Register now »