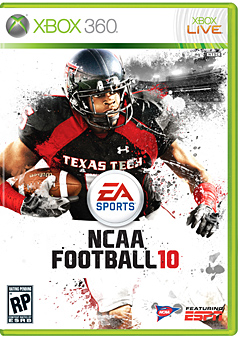 Cover athlete week continues with one of the biggest names yet, as EA Sports has signed Michael Crabtree to appear on the cover of "NCAA Football 10" for the Xbox 360.
ESPN caught up with the game's senior marketing director, Kendall Boyd, to find out his reasoning for the Crabtree selection.
"Michael Crabtree is a true phenom as a receiver," says Boyd. "He made Texas Tech such a dangerous club and led them on a magical ride as it was their best season in school history. When we talk about 'NCAA Football 10,' one of the games we always reference when discussing 'Every Game Counts' is when Texas played in Lubbock against the Red Raiders. Much like the Jared Zabransky play in the Fiesta Bowl several years earlier, that replay of the last-second touchdown Crabtree scored against Texas is the video byte that everyone will remember from the 2008 season."
Look for EA Sports' cover athlete week to end on Friday with the announcement of the "Madden NFL 10" box art live from Times Square.
Who will be next to battle the famed curse?
Here are a few guesses to keep you thinking until the cover drops tomorrow morning.