According to EA's official "Fight Night Round 4" simulation, Manny Pacquiao will defeat Ricky Hatton with an 11th round knockout when the two square off in the ring May 2.
"FIGHT NIGHT ROUND 4"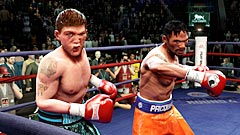 As for what led to the knockout, EA Sports breaks it down: "An aggressive attempt by Hatton to limit Pacquiao's movement early on was unsuccessful. Pacquiao used his speed and control of the ring to take advantage of Hatton's aggression, picking his punches and keeping out of range. The tide turned in Hatton's favor in Round 4 when he found some success trapping Pacquiao in the corner. With little room to work with, Pacquiao was forced to trade blows on Hatton's terms. This relentless exchange proved to be too much for Pacquiao who went down to a powerful left hook at the end of Round 6.
"The later rounds saw the revival of the quick moving Pacquiao, who outpaced and out boxed Hatton yet again. Lightning fast left jabs wreaked havoc on Hatton through Rounds 7, 8 and 9 before a commanding right hand brought him to the mat in Round 10. Badly hurt and looking sluggish, Hatton was unable to beat the count after falling to another deadly right hook from Pacquiao in Round 11."
ROUND-BY-ROUND SCORING