'TONY HAWK: RIDE' SCREENSHOT GALLERY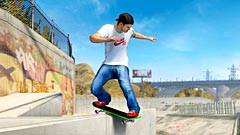 Since not everyone likes to play the Tony Hawk game as Tony Hawk (same people who don't play "Tiger Woods" as Tiger), Activision is bringing 14 other skateboarders along for Tony's ride, "Tony Hawk: RIDE" to be exact.
So who will be featured in "Tony Hawk: RIDE," a game where you're not only riding a board on-screen but in your living room? Here is the final list, although we can also expect the roster to expand via downloadable content once the game ships in October.
'TONY HAWK: RIDE' ROSTER
For more information on Tony Hawk: RIDE, check out ESPN's exclusive interview with the game's developer.