Dwight Howard's muscles flex with the strength of "Fight Night." That's right, why go to the gym when you can train in your hotel room using an Xbox 360?
"What I do is play 'Fight Night,' and after every round, I do push-ups. After every knockout, I do push-ups," Howard says with a smile as he looks down at his Hulkamania-esque pythons. "That was my summer routine when I was overseas. That's how I stay in shape. 'Fight Night' and push-ups. What else do you need?"
I'm talking to Howard at EA Sports' studio in Vancouver, British Columbia, as we prepare for a one-on-one showdown on "NBA Live 10." EA threw down a challenge, to see whether I had enough game to beat their cover boy, and it was an opportunity I just couldn't pass up.
I knew Howard would play as Orlando, so I spent a week playing my preview build on the hardest difficulty against the Magic to scout his crew. I figure I'd play as the Lakers just to get the thought of losing in the Finals back in his brain.
It's a pride thing. I play video games for a living. As ESPN's video game analyst, I know I can't lose to Dwight, just as Dwight wouldn't lose to me in a real game of hoops. Not going to happen.
But then Dwight takes the inbounds pass, dishes the rock inside to his cyber-self and throws down a wicked two-handed jam right in Andrew Bynum's polygonal mug. "Did you see that?" he screams as he jumps off the couch and pumps his fist. "And one!"
After he sinks his free throw, Howard blocks my first shot and runs the break, feeding a sweet no-look pass to virtual Vince Carter for a dunk. That's when Dwight turns to me and admires his dime: "Back in high school, I was a secondary point guard," he laughs.
But this is no laughing matter to me. I'm down 5-0 to Superman faster than, well, a speeding bullet, but, luckily for me, I have virtual Kobe Bryant on my side.
Mamba nails a 3, Ron Artest grabs the defensive rebound on the other end and Pau Gasol finishes the sequence with a nasty tomahawk on Dwight.
We're even at 5-all, but momentum clearly has shifted. A steal, a Kobe 3, a steal, a Kobe dunk, a rebound and a Kobe 3 later -- before Dwight knows what hit him, the Lakers have jumped out to a 13-5 lead.
I have to say, though, Dwight has skills. I play a lot of athletes, and a lot of them give up quick or make excuses. But even when I'm on my Kobe-inspired run, Dwight kept learning the game and trying to hit the open man. He wasn't trying to "NBA Jam" it down my throat, and as he worked the Magic offense, he staged a mini-comeback.
'NBA LIVE 10' GALLERY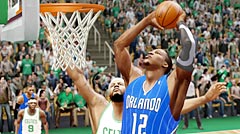 Check out our exclusive screenshot gallery from EA Sports' "NBA Live 10." Gallery »
Now think about this Magic team for a second. It has to be considered one of the best video game squads of all time. Dwight's on the cover, and that always means a serious boost to both his skills. Then Orlando traded for Mr. Half Man, Half Amazing himself, Vince Carter (does that make him Half Polygon, Half Amazing in the game?). Throw in Rashard Lewis launching 3s and slashing to the hoop, the "NBA Live" alley-oop machine, Jameer Nelson, and the video game long-bomber J.J. Redick, and you have yourself some serious cyber firepower. "Don't forget about [Mickael] Pietrus," Howard tells me. "He's one of the sickest dunkers I've ever seen. Stuff he does in the air is amazing." With praise (and hops) like that, no wonder they call him the Michael Jordan of France.
As for who is the best "NBA Live" dunker, Howard rules himself out of the mix. "Vince is one of the best video game dunkers of all time. What they do in video games is give guards the most hops. They might have my character dunk hard in the game, but it always looks better when a smaller guy in the game flies in and dunks on someone."
As Dwight talks, it's my own big man, Gasol, who swoops in for the dunk.
"Who ain't blocking out?" Howard yells at the screen, then he turns to me and says, "You're a beast on 'Live.' I'll give you that."
When he gets the ball back, Howard dishes the ball to himself down low, but he blows the easy layup.
"Does that make you mad at yourself or the game?" I ask.
"The game," he says. "Always blame the game. But when I get a big dunk, it just means even more. I used to play 'Live' all the time growing up, and I always created myself so I could play along with guys like Vince Carter. Now we're on the same team and I didn't even have to create me. It's sick. The details in the game this year are sick. When I look at my character and they got the shoes, the socks, the calf muscles in there. They even got my favorite little arm sleeve. 'Live' is tight this year."
"

I used to play 'Live' all the time growing up, and I always created myself so I could play along with guys like Vince Carter. Now we're on the same team and I didn't even have to create me. It's sick.

"

-- Dwight Howard
I grab the ball, pass to Kobe and, after a pump fake, hit the jumper and draw the foul.
"You're cheating," he laughs. "It's just like real life: Kobe gets all the calls."
As the game continues, Howard starts shaking his head. "This is what you do all day for a job, play video games? Man, I'd love to have your job.
"During the season, we bring an Xbox 360 on the team plane and a lot of guys play games together. We play a lot of 'Call of Duty.'"
As for who talks the most trash, Howard immediately says Marcin Gortat, then in some robot-sounding voice begins to imitate his fellow big man. "I told you I'm the best. I'm the best ever … ever! I'm the best."
Says Howard: "First time we played 'Call of Duty,' he was sorry, he was trash, but then we played again and we couldn't beat him. We literally put everyone against him and he was beating us. He gets good at games fast."
As Howard stops talking, I nail a couple more Kobe 3s and the game is a wrap. "Like I said, you play too much," Dwight says with that trademark smile as he puts the controller down. "I can't believe they pay you for this. You have the best job in the world."
"Funny, I can say the same thing to you," I tell him.
"You teach me how to play this game better, and you can come train with me on the real court one day," he says.
Deal.
"You don't want my job. You probably want the paycheck, though," Howard laughs. "But we can go out and run sprints together, and we'll see at the end if you still want my job."
Sprints? Think I'll stick to the turbo button.