March, 5, 2012
03/05/12
8:58
PM ET
One moment can make a team a champion. It takes years to make a program a winner.
Dayton held on for dear life to claim its first Atlantic 10 championship in a 56-53 victory against St. Bonaventure. The Flyers took a 27-5 lead in the opening 13 minutes against the regular-season champions and then scored just 29 more points in the game's final 27 minutes. Not until a potential game-tying 3-pointer from Bonnies star Jessica Jenkins missed the mark in the final second was it clear that Dayton had done enough to win.
On another day, Jenkins gets that shot to fall, the Bonnies win in overtime and the story is about resiliency and a comeback for the ages. Forty minutes of basketball proved little more than Dayton scored more points.
But Patrice Lalor, Kayla Moses, Casey Nance, Justine Raterman, Elle Queen and the rest of Dayton's seniors earned their championship over more than 40 minutes.
It's one small statistical measure of what the current group of seniors mean to the Dayton women's basketball program that when they arrived as freshmen, Flyers coach Jim Jabir had a lifetime record on the wrong side of .500 after more than two decades on the sideline of rebuilding projects and small fish in big ponds.
[+] Enlarge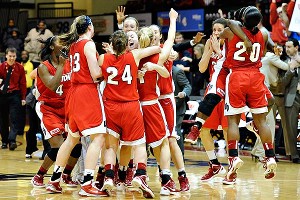 Howard Smith/US PresswireDayton lost to St. Bonaventure by one point on Feb. 11, but won Monday to clinch the A-10's automatic NCAA tournament berth.
He now has more than a full season's worth of cushion on that count.
This class didn't start the turnaround, Dayton's first 20-win season under Jabir coming the season before they arrived, but they accomplished the equally difficult task of giving it permanence. The only piece missing came Monday.
The championship game was always going to be a battle of styles. St. Bonaventure wanted to control possession, a trait that doesn't quite quality a slow-down but is definitely deliberate. That style enabled the Bonnies to commit the fewest turnovers per game in the nation and become the third A-10 champion in a row to run the table in conference play, doing so without any of the WNBA talent Xavier had in back-to-back perfect conference seasons with Amber Harris and Ta'Shia Phillips. The Bonnies thrive by seeing what teams can do in the final 10 seconds of the shot clock. The Flyers would just as soon never see the clock reach the teens, let alone single digits.
For much of the first half, Dayton had its way. They forced a team that averaged barely 11 turnovers per game during the regular season into seven before the game was even 10 minutes old. Jenkins couldn't get any open space and undersized post Megan VanTatenhove, St. Bonaventure's leading scorer in conference play, had to settle for 3-point looks with the paint closed off.
This was the Dayton team a lot of observers expected to see when the season began, a preseason co-favorite in the league that lost one key starter from the team that pushed Penn State in the first round of the NCAA tournament a season ago but returned the rest of its core -- including Raterman, the cornerstone who suffered a torn ACL in the A-10 tournament last season but rehabbed aggressively enough to be ready for the start of her final season. It wasn't the team that took the court in losses against Toledo and Cincinnati in the opening week. It took a Thanksgiving trip to a place visiting teams often dread to go for them to hit their stride -- mostly by being knocked completely off it.
"I think when we went to the Connecticut tournament and lost to Connecticut by 40, the kids had a bird's eye view of what real intense defense is about," Jabir said. "I don't know if my stats are exactly right, but I think we might have led the league in field goal defense. I think that was a real important time for us because I think we got better after that tournament at UConn. We were scoring, but we weren't defending like I really wanted to."
He was almost right. Only St. Bonaventure ranked ahead of Dayton in field goal defense. Monday, in a game that came down to one possession, Dayton shot 34.4 percent. St. Bonaventure shot 32.7.
But just as St. Bonaventure slowed the game and made a comeback when the teams met earlier this season in Dayton, rallying from an early 15-point deficit to win, the pace slowed and the margin dwindled Monday.
That the Flyers don't have one person to turn to in such moments is how they like it.
Jabir's system necessitates a liberal substitution pattern to keep up the pace he prefers. No player averages even 30 minutes per game, and the rotation of players who average double-digit minutes goes 10 deep. It's what leads the coach to say his team has a lot of heroes rather than one commanding presence, save perhaps Ratterman.
Early in the second half, St. Bonaventure cut the lead to six points at 27-21. A brief flurry from the Flyers, capped by a pull-up jumper from Lalor, extended it back to double digits. Jenkins hit a 3-pointer to cut it to seven; Raterman answered with a 3-pointer of her own. Jenkins pulled from somewhere almost as close to half court as the arc and again narrowed it to seven points. Queen got an offensive rebound and fed Lalor for another jumper.
The Bonnies eventually did take a lead, 51-50, but the Flyers collectively made them work too hard for it to hold it.
At first glance, the only twist in the story was that Dayton's final four points came from a freshman, a driving layup and two free throws from Andrea Hoover. Yet even that somehow seemed apt. The A-10's freshman of the year and a player Jabir said is too busy playing basketball to have any idea how good she is, Hoover came to a program that for much of her baseketball-conscious life had a winning tradition. It's how these seniors paved the way for a title.
"This program isn't about me, it's about them," Jabir said earlier this season. "It's their program. When we succeed, I'm happy for them. When we don't, I feel bad for them because it's their program. They're the ones putting in all the work."
Dayton's quarterfinal against St. Louis was the last game Saturday during a long day at the Atlantic 10 tournament. By the time the Flyers advanced with a comfortably easy win, the clock was creeping on toward midnight and there weren't many people waiting around to talk to Jabir about an entirely expected result. Rather than taking a seat behind the podium for the formality of a postgame news conference, he sat on the steps that led up to the stage and held court.
He joked about the mental and physical toll last year's at-large wait took on him, how the world seemed to slow around him when Dayton's time finally appeared on the television screen during the selection show. Turning slightly more serious, he started to say he thought the seniors deserved a championship. He paused, backtracked and said he wasn't really sure if anyone ever deserved anything, left unsaid that it should be earned.
Then he went ahead anyway, suggesting that if such a sentiment was ever appropriate in something like sports, he felt as though his seniors deserved a championship and the chance to keep playing the tournament title ensured.
They get that chance. And while they deserve it, they also earned it. Monday night and for four years leading up to it.