Category archive:

NCAA Softball
June, 8, 2011
06/08/11
2:03
AM ET
OKLAHOMA CITY -- Two things tend toward brutal in early June in Oklahoma City. One is the weather.
The other is the math.
[+] Enlarge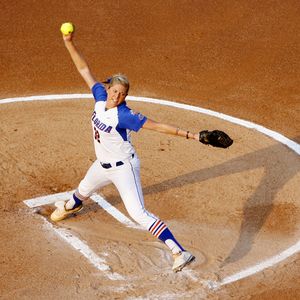 AP Photo/Sue OgrockiStephanie Brombacher and the Gators seniors end their careers as one of the most successful classes in NCAA history.
Over the course of four seasons, Florida's senior class accumulated 4 percent of its total wins during the Women's College World Series. That same group took 27 percent of its losses -- better than one of every four -- in Oklahoma City.
So it is that a class that helped put Florida softball on the map as a national power and then proved the program had staying power in taking the Gators to four consecutive World Series appearances, a first for any SEC program, exits with so much success but such fresh disappointment after being swept by Arizona State in the best-of-three championship series. In the SEC's continued pursuit of a first national championship in softball, the Gators now become the conference's first team to try and fail twice in the final round, adding this season's loss to the 2009 sweep at the hands of Danielle Lawrie and Washington.
In some ways, it leaves the program as a victim of its own success. Only a select few programs are good enough to be measured by championships. But it's a harsh life at the top.
"We've only lost 33 games in four years, so that needs to be written about, as opposed to we can't win the national championship, been here twice, we can't get it done," Florida coach Tim Walton said. "We've been here four times in the World Series. The team only lost 33 games in four years [and won 238]. That's one heck of a program, one heck of a [senior] class, arguably one of the best in NCAA history, if you go down and look at all the awards they've won.
"One thing they didn't win was the big one, and of course, that's what everybody talks about. I'm very proud of what these kids have done, and how much they've sacrificed to get here where they're at."
The scale of defeat in the championship series, losing by scores of 14-4 and 7-2, was not reflective of the team's overall body of work. More than the previous three trips to the World Series, this one came by way of both talent and resiliency. This was a very good roster, but it was a team that started two freshmen on the left side of the infield and didn't have senior pitcher Stephanie Brombacher at her best physically for essentially the entire season.
It was a team whose flaws only served to highlight its ability to overcome, most notably after the Gators lost six in a row in SEC play in late March and early April.
"I think midseason a lot of people doubted us when we had that little slump," Brombacher said. "And to come back from that, it just shows what kind of heart this team has. And then when we had to come back and beat Alabama twice [on Sunday], a lot of people doubted us then. This team has a lot of fight, and that's just a tribute to the players, the coaches, to the whole organization, that if we're down we're going to come back."
All of which made this Gators team easy to respect, which is why what happened after Game 1 of the championship series was that much more puzzling. Florida was clearly collectively upset about the work of home plate umpire Chris Drumm during that game, with apparent video justification when it came to a missed hit-by-pitch sustained by Tiffany DeFelice in the first inning and quite possibly also in the context of Drumm's strike zone. But nobody on either side came out looking better for the postgame criticism from players, particularly Kelsey Bruder, that boiled down to questioning an umpire's credibility. And candor aside, it was a distraction the team didn't need. As was the case in 2009 against Washington, all of Florida's momentum vanished in the blink of an eye.
The Gators gave us a new star this season in junior Michelle Moultrie, the outfielder who was so unstoppable in the World Series that even in defeat, she shared the award for Most Outstanding Player with Arizona State freshman pitcher Dallas Escobedo. Together with outfielder Brittany Schutte and shortstop Cheyenne Coyle, the Gators already have a foundation of three potential All-American position players to begin moving forward without Bruder, Megan Bush, Aja Paculba and Tiffany DeFelice. And as Brombacher also moves on, they found a pitcher, in freshman Hannah Rogers, who drew high marks for handling adversity.
Those who follow will be fortunate to enjoy half the success of the seniors who now exit, even if it didn't feel that way after another disappointing end in Oklahoma City.
This can be a brutal place that way.
Graham Hays covers women's college softball for ESPN.com. E-mail him at Graham.Hays@espn.com. Follow him on Twitter: @grahamhays.
Follow ESPN.com's college sports coverage on Twitter @ESPN_College and on Facebook.
June, 7, 2011
06/07/11
11:56
PM ET
Arizona State senior Lesley Rogers talks about the keys to winning a second national championship, freshman ace Dallas Escobedo and the pride Pac-10 players have in maintaining softball dominance.
June, 7, 2011
06/07/11
1:48
AM ET
Arizona State senior Kaylyn Castillo talks about her team's 14-4 win against Florida in Game 1 of the Women's College World Series final, as well as freshman pitcher Dallas Esobedo and matching up with Florida's offense.
June, 6, 2011
06/06/11
1:02
AM ET
University of Florida outfielder Michelle Moultrie talks about sweeping two elimination games from rival Alabama in the Women's College World Series, leading the WCWS in home runs and the rivalry between the SEC and Pac-10.
June, 5, 2011
06/05/11
2:09
AM ET
OKLAHOMA CITY -- What is there to say after one of the longest games in the history of the Women's College World Series?
"Good morning," Baylor shortstop Dani Leal offered as she took her seat at the postgame press conference a good few minutes beyond midnight.
Well, yeah, that about summed up Saturday night.
Baylor and Missouri traded zeroes deep into the night at Hall of Fame Stadium in hopes of earning the chance to take the field on Sunday. As it turned out, that wish came true for both, if only briefly. With two strikes and two outs in the bottom of the 13th, and the clock ticking past midnight, Baylor redshirt freshman Holy Holl lined a home run to left field for a 1-0 win and a date with Arizona State after about a 14-hour break.
Holl might seem an unlikely hero, given the winner was just her second home run in 140 at-bats this season. She might seem doubly so considering Missouri ace Chelsea Thomas had already accumulated two of her 19 strikeouts at Holl's expense by the time the final at-bat rolled around (then again, in her second start of the day after an earlier win against Oklahoma, Thomas struck out every Baylor starter at least once). But intent on at least going down swinging after she was caught looking earlier in the game, Holl lived up to her reputation within the team, even if those fans still watching in the stadium and at home wondered who she was.
"She's a lot of fun to be around," Baylor junior third baseman Megan Turk said. "She's got a lot of energy And even though she'll get frustrated and everything, you know she wants it. She's a very passionate player; she loves the game. She's always aggressive hitting. I think she's really underrated on this team. … She's just so resilient. We keep pushing through and pushing through, and Holly is a big part of this team."
It was the second win in three days by way of an extra-inning, walk-off home run for the Bears, a team that ranks 84th in the nation in home runs per game, wedged between Nevada and Georgia Southern, who it goes without saying, didn't quite make it to Oklahoma City. The first came Thursday from Kelsi Kettler, a part-time player with five extra-base hits who was in the lineup partly because regular starter Claire Hosack wasn't yet ready to return from injury.
The second game-winner was only marginally less surprising. As Turk also noted in making the case for Holl as an underrated hitter, she does lead the team with 11 doubles, the only player in double digits. But she had just the one home run before the game against Missouri and began the season fighting for playing time after redshirting last season. After the season's first weekend, Baylor coach Glenn Moore was cautiously optimistic, with an emphasis on the cautious.
"She's important. Now, I don't think she's a lock for that position," Moore said of Holl on Feb. 13. "I like the [left-handed bat], I like how aggressive she is, I like the way she's playing defense. So we've got a little depth, a few options."
Safe to say he made the right call. It's also safe to say he was a bit more effusive in his praise for her and all his players after this win.
"I'm just so stinking proud of these girls," Moore said, the extra modifier as close to a show of emotion as we're likely to see from him in public.
The true star Saturday night and Sunday morning was Whitney Canion, the ace who stood toe to toe with a brilliant performance from Thomas and held Missouri to just two hits, all the while maximizing her pitch count (strange as that sounds for someone who logged 177 pitches on the night). Whatever happens when Canion goes back to the circle Sunday against Arizona State, she has already announced herself as a top contender for USA Softball Player of the Year next season, and in turn, announced Baylor's national championship intentions behind her.
But when Baylor keep getting impromptu stars like Holl and Kettler, it's safe to wonder if the future might already be here. It sure felt like there was no end in sight to the present Saturday night.
June, 4, 2011
06/04/11
2:47
AM ET
OKLAHOMA CITY -- As what could reasonably be described as the 2011 Women's College World Series' first classic game unfolded, it came down to Arizona State's ability to wait.
Patience, opportunism and discipline are not words people often write songs about or affix as mottos on super heroes. Those honors go to action, the glory to the bold. On Friday night, the glory went to Arizona State's Annie Lockwood, the junior cleanup hitter for the Sun Devils who drove home the winning run in a 6-5 victory with a walk-off single, after having tied the score four innings earlier with a momentum-shifting home run.
"Once the count got to 2-2, I knew she was probably going to move the ball around and make me swing at something she wanted me to hit," Lockwood said of the final at-bat against Florida pitcher Hannah Rogers. "But I think the team realized the umpire wasn't calling those outside pitches, and I realized she was probably going to try to go in. My philosophy al year has been staying inside the ball, and I got an inside pitch and I tried my best to stay inside it."
If the first two days of the Women's College World Series showed anything, it's that this remains a good time of year to be the best at something. Alabama pitched better than anyone in winning its first two games. But against a Florida lineup that made a strong case for top offensive honors in both its first game and at times during Friday's game, Arizona State showed both a depth and patience at the plate that will be tough to match this weekend.
It's not that the Sun Devils wow you to quite the same degree as the Gators, who even after retooling their offense after losing their preferred bats during the season, remain capable of waiting out very good pitchers and hitting the ball a very long way. It's just that, with a lineup that is balanced with hitter who aren't going to strike out, the Sun Devils never let up.
Arizona State entered the World Series with just 187 strikeouts in 61 games. One of the nation's best hitting teams under the tutelage of one of its best offensive minds, Florida entered with 330 strikeouts, by way of comparison.
"Our philosophy is 21 tough outs and every at-bat is a quality at-bat," Arizona State coach Clint Myers said after Friday's win. "Quality at-bats don't mean that you're going to be successful. It just means you've got quality at-bats -- and the more quality at-bats you have, the more chance you have of being successful.
"Patience and good swing paths and squaring balls up clearly are part of that quality at-bat."
After replacing an ineffective Stephanie Brombacher in the second inning, Rogers held up well against her freshman counterpart, Arizona State's Dallas Escobedo. The Sun Devils had jumped out to a 4-0 lead, but Rogers kept her team in the game and gave the Gators the opportunity they seized in taking a 5-4 lead in the fourth inning. Yet time and again, the Sun Devils worked deep into counts and gave themselves scoring opportunities, collecting five hits and eight walks while striking out just three times in 5.2 innings against Rogers.
"For me to look down here and see eight walks says a lot," Florida coach Tim Walton said. "I think they obviously did a good job. But [Rogers] throws strikes. That's got to be a season high; she went probably 25 games in a row without giving up eight walks. So that's tough. It's tough to give a team like that that many extra opportunities. But they did a good job working the count. They're tough to strike out for sure."
Quick to give credit to Arizona State's hitters in that respect, Walton also appeared vocal during the game in his displeasure with the strike zone and noted after the game that it's his job to stick up for his pitcher when she feels she's throwing strikes. To his point, Rogers walked five against Auburn on April 16, the only time in 34 outings totaling 242.2 innings prior to Friday night that she walked more than three.
But the relative merits of the strike zone aside, the point is the Sun Devils, as they always do, figured it out quickly and used it to their advantage, as Lockwood noted in talking about her final at-bat.
Don't mistake the Sun Devils for automatons. They like to hit. They just don't force it. In the at-bat between her home run and her walk-off single, Lockwood drew an intentional walk.
"I was bummed on the walk; I was excited to hit again," Lockwood said. "But I was on base, and that's all we really work on is working at-bats. And given, it was kind of handed to me, but that's what we look for is getting base runners on."
Like the rest of her lineup, Lockwood waited her turn. And with the bases loaded in the bottom of the seventh (after a two-out walk from Kaylyn Castillo), she acted.
February, 8, 2010
02/08/10
6:16
PM ET
It's time to take a quick tour -- two by two this year -- through some of the best teams out there.
No. 5 Alabama
[+] Enlarge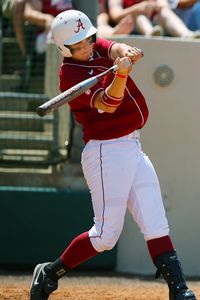 Alabama Athletics for ESPN.comPlayer of the Year candidate Charlotte Morgan could see action at first base, pitcher or designated player.
Crimson Tide fans won't soon forget last year's seniors. Kellie Eubanks, Ashley Holcombe, Kelley Montalvo, Lauren Parker and Brittany Rogers might have fallen short of bringing Alabama -- and the SEC -- its first national championship. But following in the footsetps of legends like Kelly Kretschman and Stephanie VanBrakle, the quintet cemented the program's place as a giant in the sport and one of the toughest tickets in Tuscaloosa.
But forgive Alabama fans if they push those names at least temporarily to the back of their minds; it's going to take some frontal-lobe space to follow the new team.
Alabama coach Pat Murphy can commiserate.
"We're really not even close for a cemented lineup because we lost so many kids," Murphy said in late January. "And [the graduated players] have been there -- like Brittany was the leadoff for four years -- so we've just got to pick and choose. We could have a different lineup 50 games probably. Whoever is hot or whoever is doing what they need to do, that's probably who is going to be in there."
What the five seniors meant to the team can't really be completely quantified. But we can give it a shot: 241 hits, 62 extra-base hits, 153 RBIs, 197 runs, 97 steals.
The extra-base hit mark represented 39.7 percent of the team's total -- and that was the smallest percentage of the team's totals among those five stats.
So why is Alabama still championship material and the No. 5 team here, a ranking actually lower than both official preseason polls? Because Murphy didn't stop recruiting when last year's seniors signed on, and all those lineup options he talks about are as much a sign of abundance as apprehension.
The Crimson Tide still have returning ace Kelsi Dunne in the circle and Player of the Year candidate Charlotte Morgan to pencil in at first base, pitcher or designated player. They also have Cassie Reilly-Boccia, who tied Morgan and Montalvo for the team lead in on-base percentage and led the team with 16 doubles. They still have Jazlyn Lunceford, whose grand-slam heroics in the World Series didn't come of nowhere, but instead out of a 1.075 OPS in part-time duty. And they still have Jennifer Fenton, who trailed only Morgan in batting average and Rogers in steals.
And with freshman Courtney Conley, one of a number of expected contributors in the incoming class, they have someone who sounds a heck of a lot like those who just left.
"I think mentally she is very, very good, very mature," Murphy said of Conley. "Her confidence is very good. She's one of those freshmen that, when people come to watch us, they don't believe she's a freshman. And that's what you love to hear as a coach. So she's ahead of the game in that respect. She carries herself very well. She treats it like it's her profession and she does a really good job. She works really hard. She knows she's got things to work on but she's just very prepared.
"You'll see the lights on [in the batting cages] and she's out there by herself. That's pretty good as a freshman."
No. 6 UCLA
After exiting the NCAA tournament before the World Series, formerly a place that seemed the program's birthright, in two of the last three seasons, UCLA may benefit from entering a season with at least a passable opportunity to play the "doubt" card.
On talent alone, it's difficult to argue against the Bruins. They ranked ninth in the NCAA in runs per game last season, third in slugging percentage and backed up that lineup with their best fielding numbers of the decade (the latter an especially noticeable improvement on recent seasons). They return all but one player from that mix, and as good as Amanda Kamekona was, getting Samantha Camuso back after a shoulder injury kept her out all of last season effectively negates even that loss.
And while the Bruins barely cracked the top 50 in team ERA last season and have just two shutouts in their last 17 NCAA tournament games, pitching looks like a potential strength with the additions of Washington transfer Aleah Macon and freshman Destiny Rodino. But now the Bruins need to prove the sum is equal to the parts.
Graham Hays covers softball for ESPN.com. E-mail him at Graham.Hays@espn3.com.
February, 8, 2010
02/08/10
10:33
AM ET
It's time to take a quick tour -- two by two this year -- through some of the best teams out there.
No. 7 California
Coming off a second consecutive appearance in a super regional, despite having to win back-to-back regionals on another team's field, Cal's momentum appears headed solidly in one direction. Not least because in addition to losing just two starters from last season's team, the Bears add Washington transfer Jace Williams, who managed a .914 OPS as a freshman for the Huskies in 2008, and a freshman class highlighted by the EA Sports All-America battery of Jolene Henderson and Lindsey Ziegenhirt.
[+] Enlarge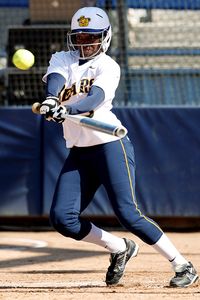 California AthleticsIn 19 conference games last season, Reid hit .377, seventh in the league, and stole 13 bases.
And you don't have to look very far in Berkeley to see that even in the country's best conference, newcomers can prosper without much of an apprenticeship.
The Pac-10 season can knock the wind out of just about any freshman. Like the SEC in football or the ACC in women's soccer, there are no easy games but ample opportunities for tailspins. So it's not without note that the conference grind is also where Cal freshman Jamia Reid caught her second wind during a successful debut for the Bears.
In 19 conference games last season, Reid hit .377, seventh in the league, and stole 13 bases, tied for the lead with Washington's Ashley Charters. The former came on the heels of a .352 batting average in her 37 nonconference games. Granted, the Pac-10 might not have featured its usual assortment of aces last season, and 19 games is a tiny sample size. But Reid still stood out, even in the company of other freshmen who wasted little time putting themselves among the elite.
In addition to Reid, five other freshman in the Pac-10 hit at least .300 for the entire season: Ashley Hansen (.400), Stanford; Kimi Pohlman (.360), Washington; Lini Koria (.352), Arizona; Katelyn Boyd (.308), Arizona State; Andrea Harrison (.303), UCLA. Of that quintet, only Pohlman's average improved during conference play, from .359 to .361.
No. 8 Oklahoma
Amber Flores spent her first three seasons at Oklahoma proving she's one of the nation's best players no matter where she plays -- second base, shortstop, outfield, wherever she's needed. Last season, her on-base percentage (.594) ranked second in the nation, trailing only Katie Cochran; Flores was seventh nationally in slugging percentage (both were career highs but right in line with her previous production).
It doesn't take very long to come to appreciate the slugger.
"She's just such a competitor," Oklahoma freshman Keilani Ricketts said of her first impressions. "And you can tell how much she loves the game; she just makes it look so easy."
Already a patient hitter, Flores will have that virtue tested without Samantha Ricketts behind her in the order (opponents intentionally walked Flores just four times last season). But just about the only thing the All-American doesn't do is pitch, and that is where Ricketts can provide some cover.
It's not entirely fair to lay Oklahoma's postseason disappointments at the feet of the pitching staff. In 2008, D.J. Mathis threw three NCAA tournament shutouts, and Mathis wasn't on the hook for the stunning 1-0, 11-inning loss against North Dakota State that threw open last year's regional in Norman, Okla. (she pitched 8.1 shutout innings in that game).
But it's also true that since Kami Keiter graduated after the 2005 season, no pitcher for the Sooners has put herself in the mix for the program's top five in career ERA. There have been some good pitchers recently; there haven't been great pitchers. That's a high bar to set, but it's what happens when you add a national championship to the trophy case.
With a four-person staff, including the much-sought freshman duo of Ricketts and Michelle Gascoigne, the resources at least appear to be in place for a change.
Graham Hays covers softball for ESPN.com. E-mail him at Graham.Hays@espn3.com.