Category archive:

Alabama Crimson Tide
May, 31, 2009
05/31/09
1:22
PM ET
Alabama vs. Florida
3 p.m. ET | ESPN
Pitching: Stacey Nelson was arguably the best pitcher in the country over the course of the regular season and first two weeks of the NCAA tournament (and it was strictly a two-pitcher argument between Nelson and Danielle Lawrie). So to say she's taken her game to another level at the Women's College World Series suggests exactly how difficult a task it will be for Alabama to win once, let alone twice, Sunday. Nelson has allowed just three hits in two starts in Oklahoma City, striking out 21 and walking just three without hitting a batter.
Things have not gone as smoothly for Kelsi Dunne, who presumably will get the start in the game Alabama needs to force a second game Sunday. But if Dunne hasn't been perfect, walking six and hitting one against Michigan in the opener and serving up a long home run to Arizona State's Katie Crabbe on Saturday, her imperfection has been revealing. A pitcher who sometimes struggles to push through squeezed strike zones, perceived or real, she took everything in stride against the Sun Devils and retired nine of the final 10 batters she faced after the Crimson Tide reclaimed the lead.
Florida handed Dunne one her worst losses of the season when the teams met in late March, piling up nine runs while managing to leave 11 runners on base. But she also bounced back the next day to beat the Gators, striking out 13. Dunne can occasionally hand out too many walks, and Florida is a team that loves to set the table for its power by taking free passes, so the size of the strike zone will be a key to the action.
Hitting: With a lineup that has power stretching from leadoff hitter Aja Paculba all the way down to Kim Waleszonia in the No. 9 hole, Florida has enough depth to pile up runs in a hurry. As it has proved in the World Series, it also has the depth to erase a lot of lean innings with one, quick swing of the bat. A lot of Gators have had success against the Crimson Tide -- they've scored 31 runs in four games against them -- but Kelsey Bruder, Aja Paculba and Francesca Enea have enjoyed particular success. There's not a long history of success against Nelson for Alabama to build on, but Charlotte Morgan's home run in the SEC tournament was the first Nelson allowed all season. Lauren Parker has also managed to pick up some hits against Florida's ace over the past two seasons.
Fielding: Nelson's dominance hasn't forced the Gators to work hard in the field -- half of the outs needed have come by way of strikeout. Alabama was uncharacteristically porous in its loss here against Michigan. It rebounded nicely Saturday but did commit four errors in four games this season against Florida.
Player to watch: Jazlyn Lunceford
The hero of Alabama's win Saturday against Arizona State, when her pinch hit grand slam gave the Crimson Tide a lead they wouldn't relinquish, Lunceford may get a chance at a few more at-bats. The positive vibes of the grand slam don't hurt, but Lunceford also has a history against Nelson. In Alabama's lone win against the Gators, the freshman had two hits, including a triple, and two RBIs.
May, 30, 2009
05/30/09
7:48
PM ET
Arizona State vs. Alabama
9:30 p.m. ET | ESPN
Alabama couldn't escape the ghosts of past first-day failures in Thursday's loss against Michigan -- it has never won an opening game in six World Series trips. But after putting up a Women's College World Series record 14 runs in an afternoon elimination game against Arizona, the Crimson Tide get an opportunity to exorcise another boogeyman in a rematch of last season's controversial epic.
Alabama and Arizona State met twice in last year's event, but it's the first game people in Tuscaloosa still see in their nightmares. In that game, with two outs in the top of the seventh, an apparent foul ball was ruled to have nicked third baseman Kelley Montalvo's glove, giving Arizona State a two-run double and eventually the 3-1 win.
In a somewhat unusual twist for Saturday night at the World Series, this rematch will come in a game between two teams with rested aces. Alabama got a shutout from No. 2 starter Charlotte Morgan against Alabama, allowing it to hold back sophomore Kelsi Dunne for the team's second game of the day.
Just about all the Crimson Tide got in on the action against Arizona, but the top of the lineup was the most productive. Seniors Brittany Rogers, Lauren Parker and Montalvo, along with junior All-American Morgan, combined for 10 hits and seven RBIs. Given the team's uncharacteristic flat performance against Michigan two days earlier, that production was a positive sign, to put it mildly, that internal leadership took hold in the wake of Thursday's loss.
Player to Watch: Lesley Rogers
The Arizona State outfielder hasn't been a constant in the lineup this season -- few players are constants in Arizona State coach Clint Myers' rotation of regulars -- but she had three of her team's six hits in the two games between the teams last season.
May, 28, 2009
05/28/09
12:35
PM ET
OKLAHOMA CITY -- As is the case a lot of places, people in Oklahoma City tell you that if you don't like the weather, just wait five minutes and it will change. But nobody ever tells you what to do if you want to keep the status quo for a while longer.
It's a perfect day in Oklahoma City, wedged between the surprisingly cool temperatures yesterday and the impending return to normalcy -- i.e., heat and insufferable humidity.
The line already forming outside the main gates an hour and a half before first pitch between Washington and Georgia looked promising. The first session is usually a good barometer of how attendance will go for the rest of the event. It's a weekday afternoon, so it's not likely to be standing room only, but when the main stands around the field filled up last year and people started trickling into the large temporary bleachers in the outfield, it was pretty clear a record-breaking total attendance was in the works.
But like anything these days, it'll be interesting to see if the economy takes a bite out of ticket sales.
The marquee games may be in the evening session, with self-proclaimed underdog No. 1 Florida taking on actual underdog No. 9 Arizona in an SEC-versus-Pac-10 showdown and a battle of top-five seeds between No. 4 Alabama and No. 5 Michigan. But it's also a good afternoon to take a long lunch (or at least surreptitiously bring up ESPN360.com at work).
Washington vs. Georgia, 1 p.m. ET: No USA Softball Player of the Year has ever won a title in the same season in which she won the award. If Washington's Danielle Lawrie wants to end that streak, she and the Huskies can't afford to let this game slip away. More than any other team here, Washington relies on one pitcher. Lawrie certainly has shown an ability to throw a lot of innings in a short period of time (most recently logging 22 innings against Massachusetts on the final day of the regional in Amherst), but slipping into the loser's bracket here would make for a long road just to get to the championship series. (Watch this game: ESPN360.com)
Arizona State vs. Missouri, 3 p.m ET: Assuming Missouri coach Ehren Earleywine doesn't throw a curve and start Stacey Delaney, which isn't beyond the realm of possibility, a freshman pitcher will win a game at the World Series when Hillary Bach and Chelsea Thomas tangle. The Sun Devils are less likely to go to the bullpen, so it'll be interesting to see if the Tigers are able to make better adjustments as the game moves along. (Watch this game: ESPN360.com)
May, 9, 2009
05/09/09
7:12
PM ET
KNOXVILLE, Tenn. -- As if to remind the two teams atop the softball RPI rankings that nothing is inevitable on the road to Oklahoma City, the remnants of a weather system moving through Tennessee delayed the start of Saturday's SEC championship game between Florida and Alabama.
And as if to suggest it won't mind waiting out anything anyone wants to throw at it during the next three weeks, Florida seized control when Megan Bush lined the 15th pitch of her first-inning at-bat over the fence in left field for a grand slam and a 5-2 lead.
[+] Enlarge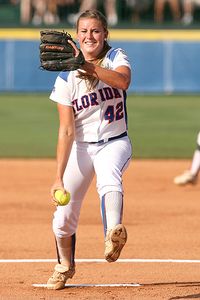 University of Florida Athletics Stacey Nelson struck out eight against Alabama.
Even Mother Nature has some work to do when it comes to slowing the Gators.
Bush's blast wasn't quite enough to provide the winning margin, but it set the day's theme early in forcing the Crimson Tide to play from behind. And when a late rally proved to be too little, too late for Alabama, Florida had an 8-5 win and its second consecutive sweep of the conference regular-season and tournament titles.
"I think Florida is by far the best team in the country," Tennessee coach Ralph Weekly said of the team that earlier eliminated the host Lady Vols by an 11-3 margin in the semifinals. "There's no question about it. It's kind of like playing the New York Yankees."
The championship game itself was anything but a classic, unless you enjoy watching an umpire handle the strike zone like a circus carny setting up the bottles on the ring toss -- no matter how wide the plate looked from the circle, it wasn't big enough to accommodate a softball. The first inning and a half took an hour to play, littered with four walks and three hit batters, as both pitchers tried to work the inside corner -- the only place anyone stood a remote chance of getting a pitch called a strike.
"I don't think I would have wanted to be a pitcher today," Alabama catcher Ashley Holcombe said. "Because sometimes you just feel like you don't know what you have to do to get a strike called. But we had the same situation the first inning -- we had bases loaded with one out. And they hit the grand slam and we didn't."
But if circumstances prevented an aesthetically pleasing show Sunday, the Gators spent their three days on the field in Knoxville shaking off any signs of competitive rust after clinching the regular-season conference title on April 18 (or such competitive rust as existed after winning their final seven regular-season games by a 60-1 margin).
Against Auburn in a quarterfinal, the Gators struck out seven times and walked just once in pulling out a 3-0 win. A day later in an 11-3 semifinal run-rule rout against host Tennessee, they walked five times and struck out once. And it's no coincidence that the one walk they drew against Auburn came to lead off the bottom of the first inning in what became a two-run frame against a quality pitcher in Anna Thompson.
It's not that the Gators necessarily rely on walks (although they did lead the SEC in free passes per game), but when they're drawing them, it's an indication they aren't getting themselves out at the plate. And so far this season, they've had more success getting themselves out than all but a handful of pitchers have fared with the same challenge.
"I thought [in the quarterfinal against Auburn,] we were taking too many good pitches and then we'd go up there and maybe swing at a couple of bad pitches," Florida coach Tim Walton said. "[Against Tennessee,] I thought we did a good job laying off the tough pitches and swinging at the good pitches. You could tell by the walks and the number of hits we had, we did a good job; when they threw strikes over the plate, we were looking for them."
And when the walks were there for the taking early against Alabama, Florida took them and made them count when Bush's shot -- the only hit of the inning -- cleared the fence.
"The hand-eye coordination, that obviously you're born [with]," Walton said. "But I think more than anything, the approach is taught. And that's the approach of our team; we're looking for pitches. You very rarely see us swing at pitches out of the zone in good counts."
The flip side of the equation is the Gators can afford to be patient more than any other team. Among major-conference teams, Arizona and Arizona State average more runs per game than the Gators, but there may not be a more balanced lineup from top to bottom.
With the exception of No. 9 hitter Michelle Moultrie, the eight other hitters in Walton's lineup entered Saturday's game with on-base percentages between .380 and .493 (and seven of them were between .419 and .493). Six starters entered with slugging percentages of .548 or better and six starters entered hitting between .329 and .387.
On and on go the numbers, but in the land of Tennessee whiskey, the truth is easily distilled.
"We've got probably 11 of the toughest outs in the country," Walton said.
Now we can only wait and hope this was only the middle act of a three-act play between these two teams, regardless of what day and what scenario might await a rematch in Oklahoma City at the Women's College World Series. Because even as Florida showed off its offense, Alabama's production hinted that its midseason funk is gone for good.
"I thought it was the best offensively we've done against [Nelson] in two years," Alabama coach Pat Murphy said. "So they should take away a lot of positives from this game."
But like the SEC regular season before it, and likely the overall No. 1 seed in the NCAA tournament ahead of it, those positives don't include the tournament title.
With Florida in the picture, the Crimson Tide will have to wait their turn for those.
April, 26, 2009
04/26/09
8:36
PM ET
Thoughts on five key results from the weekend.
UCLA 10, Arizona State 4
Gathering the Pac-10's top four teams in the desert for six games seemed like a great way to create anticipation but an even better way to produce mixed results. The former was there in abundance, but the latter was decidedly absent after UCLA's loud statement.
The Bruins swept all three of their games, winning once at Arizona and twice at Arizona State, by holding the two most prolific offenses in the country to six runs. Megan Langenfeld earned all three wins, and there's more to come on her unique roles with this team later this week.
UCLA piled up 21 runs (including a pair of home runs from Langenfeld when she wasn't busy pitching). Compare that to the first time the Bruins played the Arizona schools, when they managed 21 hits and five runs in losing two of three games at home.
Now, 21 hits in three games is far from anemic, but the onslaught that produced 31 hits away from home this weekend may corroborate something both Langenfeld and coach Kelly Inouye-Perez talked about Thursday before heading out on the road. The Bruins are loaded with pure talent, but the focus this season is on the mental approach, making adjustments and knowing what to expect from the opposing pitcher ahead of time.
"There's no question on whether this group can hit," Inouye-Perez said Thursday. "They could hit before they got here, and they're even better, I believe, for working with [UCLA assistant] Lisa Fernandez. But when you talk about attention to detail, it gives you an edge as a hitter. So if there's something you can take, if there's a tendency you can notice, if there's a placement in the box that can help give you an advantage, then those are the things that can only help your game.
"So early in a ballgame, that's one of our goals. One of our goals is to be able to expose the weakness of our opponent so that we can score early and often."
With only one road game remaining, at Washington this Wednesday, and a series still to come at home against seventh-place Oregon State and last-place Oregon, the conference title -- and likely the No. 2 overall seed in the NCAA tournament -- is UCLA's to lose.
Hawaii 11, New Mexico State 3
This isn't shaping up as a year of major drama on the NCAA tournament bubble, but there is one glaring exception looming out in the Pacific Ocean. With an RPI buried in triple digits entering the weekend, Hawaii is fighting an uphill battle. But it shouldn't be.
Consider what the Rainbow Wahine have working in their favor.
Quality neutral-site wins out of conference against Oklahoma, Ohio State and fellow potential bubble candidate Oregon State (if the Beavers get to .500).
A 3-3 record against the top two teams in conference, Nevada and Fresno State, including a pair of road wins at Fresno State.
A strong closing kick that stands at 11-2 in the past 13 games, with only a home series against Boise State, in its first season of softball, remaining before the WAC tournament.
Quality losses are the evidence that the jury is instructed to ignore -- they don't count but there's no use pretending they don't exist. And if you're trying to do the eyeball test on Hawaii, one-run losses against Alabama and Tennessee help establish a team's pedigree.
If Hawaii takes care of its business against Boise State and avoids going two-and-out at the conference tournament, it deserves to be in the NCAA tournament. And if RPI is the best argument someone has to counter that, they need to find a better argument.
Georgia Tech 3, North Carolina 2
Jen Yee's walk-off blast against North Carolina on Sunday gave Georgia Tech a sweep of the weekend's three-game series (and they had the broom to prove it in the postgame celebration). From an ACC perspective, the sweep gives the Yellow Jackets control of the regular-season race; they need just two wins next weekend at Maryland.
But perhaps of equal importance in the long run, the wins represented an impressive turnaround for a team that took a beating in two midweek home games against Alabama.
Given that reality of the losses against Alabama, it's impressive that Sharon Perkins' team maintained its focus and not only swept a North Carolina team riding a 23-game winning streak but did it by overcoming a late game-tying home run by the Tar Heels in Sunday's finale.
UNLV 7, Colorado State 6
Will Ashli Holland's grand slam go down as the blast that saved UNLV's season?
Losers of eight of their past 10 entering a weekend trip to Colorado State and New Mexico, the Rebels found themselves trailing 6-1 entering the sixth inning of the opener against the Rams. A loss would have dropped them to 2-7 in the Mountain West, and even with a strong RPI and early wins against Cal Poly, Georgia Tech, Notre Dame and Long Beach State, that would have been a pretty glaring demerit against postseason play.
Holland's blast and two more wins against New Mexico eased those concerns.
Alabama 6, Auburn 0
And surprisingly enough, that score is not because of the no-hit, 14-strikeout gem thrown by Alabama's Kelsi Dunne. (Although, is there a better advertisement for the upcoming SEC tournament than Dunne and Florida's Stacey Nelson throwing no-hitters on the same afternoon?)
With three games left for each, Auburn has a one-game lead on Mississippi for eighth place in the SEC. Only the top eight teams go to Knoxville for the conference tournament. So would Auburn, with an RPI of 29 entering the Alabama series, receive an at-large bid to the NCAA tournament, even if it misses the SEC tournament?
March, 8, 2009
03/08/09
8:51
PM ET
What happens when a game of chess breaks out at a softball tournament? Witness the Easton Challenge in Tuscaloosa, Ala., where No. 1 Washington and No. 3 Alabama split a pair of games with identical 6-0 scores that resolved little in the race to the Women's College World Series.
Other than, perhaps, showing that the SEC may be one group of Bulldogs deeper than anticipated.
Washington's Danielle Lawrie and Alabama's Kelsi Dunne both pitched shutouts against the other's team, which means, of course, they didn't get a chance to throw against each other in two games between the Huskies and Crimson Tide. Even against a lineup like Alabama's, Lawrie's four-hit shutout isn't entirely surprising. So perhaps the slight edge in "statements" goes to Dunne, who beat the Huskies with a two-hitter Friday and looks increasingly like a title-caliber ace.
Then again, should the teams meet again in a few months, Dunne will have to figure out what to do with Jenn Salling, who it turns out will be eligible for the Huskies shortly.
Salling's bat may be a welcome addition for Washington, whose offense this season falls closer to timely than prolific. I'd work out exactly how much closer, but the Huskies have disappointingly joined Oklahoma in going behind the veil of secrecy when it comes to posting statistics on their Web site. Suffice to say, take out some offensive explosions against lower-tier teams in Utah State, Portland State and Seattle University, and the Huskies are averaging 4.3 runs per game. That's still championship material, no mistake about it, but it's not quite the run-scoring juggernaut we saw with Arizona State last season (the Sun Devils topped that average in Pac-10 play alone last season).
Meanwhile, while Lawrie held serve in her turn against the Tide, she suffered her first loss of the season in a 2-0 setback against Georgia. That was the Bulldogs' second win against a dominant pitcher, as they handed Baylor freshman Whitney Canion a 9-0 run-rule loss (Canion lasted less than an inning) just a day after Canion battled Lawrie into extra innings in a 1-0 Washington win.
Since TideSports.com executive sports editor Tommy Deas was on hand in Tuscaloosa, check out what one of the best softball voices in the game had to report from his vantage point at the park for the entire event. There is also video available for all of Alabama's games in the event.
• At ASA Hall of Fame Stadium, the venue every team hopes to inhabit at the end of May, Northwestern, Oklahoma and Tennessee offered an early dress rehearsal.
Northwestern had the best weekend, and probably needed it the most, picking up a pair of wins against Tennessee and splitting a pair against Oklahoma. The Lady Vols couldn't solve the Wildcats but had no such trouble taking two from the Sooners, including one in Norman. As the math plays out, that means it wasn't a great weekend for the Big 12 favorite playing on or near its home turf.
More than the results, what stands out about the games in Oklahoma are the scores. Only once, in Northwestern's 1-0 win against Oklahoma on Sunday, did any of the teams register a shutout. The losing teams combined to score 15 runs in six games.
And it's not just those three teams. It seems that when college softball reconvenes at ASA Hall of Fame Stadium, offense may matter more than ever.
Conference play kicked off in a number of leagues around the country, at least for those teams not otherwise engaged in tournaments.
Conference USA There's conversation every season about whether or not Oklahoma will make the short trip from Norman to Oklahoma City for the Women's College World Series, but how about an intrastate showdown at the college game's signature event? All right, we're a long way from penciling in Tulsa for a trip to the final eight, but the Golden Hurricane cemented a strong start to the season by sweeping three from Central Florida.
An at-large entrant in last season's NCAA tournament (they were swept out of a regional in Norman by Oregon and Arkansas), Tulsa returned both primary pitchers and seven of the nine players in its batting order during that postseason run. Sophomore Jordan Kinard starred Saturday, striking out 13 against just one walk in a 7-2 win. Perseverance might be the better description of junior Jackie Lawrence (an Indiana native, in what will be a theme this week) earning the win in an 11-inning 7-6 win to open the three-game series, but she's a proven workhorse in the circle.
And as the run totals suggest, it's not as if the Golden Hurricane need shutouts. The team totaled just 33 home runs in 58 games last season, 15 of which came off the bat of Lauren Lindsay. She's at it again with five this season, but her teammates have tacked on nine more through 21 games, halfway to their total in support of the slugger last season.
SEC Kentucky dropped its three-game series at LSU but did earn a road win Saturday. The Wildcats won only three conference games all of last season, and while all three came away from Lexington, taking a game in Baton Rouge is a notable way to continue a campaign that has already featured wins against Oregon, Hawaii, UNLV and San Diego State.
Freshman Chanda Bell earned the win in relief against LSU after she took the loss in the first game of the day's doubleheader despite 10 strikeouts. Home runs from Rachel Mitchell and Ashley Langoni provided all of LSU's runs in that opening 3-2 win, as homers have been a bugaboo for Bell (nine allowed in 59.1 innings). But with 79 strikeouts and a .182 batting-average against entering Sunday's finale, the native Hoosier seems to be further proof that Fresno State's Morgan Melloh isn't the only quality pitching export the state of Indiana has provided recently.
March, 3, 2009
03/03/09
2:33
PM ET
• There will be a lot of talk about the top of the ticket at this weekend's tournament hosted by the University of Alabama, which features a pair of games between No. 1 Washington and No. 3 Alabama. But Baylor, along with Georgia, will also be on hand in Tuscaloosa, and the Bears are starting to look like a team to watch.
Glenn Moore's team wrapped up a perfect weekend Sunday, albeit against unranked competition in Louisiana Tech, Louisiana-Monroe and Rutgers, and sits at 17-3 overall. A year after the Bears struggled to find quality innings in the circle following Lisa Ferguson's graduation, Whitney Canion is out of the gates quickly in the race for top freshman pitching honors. Canion is 10-2 with 117 strikeouts in 81 2/3 innings, including 15 strikeouts and a win in 13 innings against then-No. 1 Florida last month. To put those numbers in some perspective, last season's staff combined for 192 strikeouts in 306 1/3 innings.
• Houston slipped out of the Top 25 last week, and a month into the season, it's still looking for its second shutout of the post-Angel Shamblin era in the circle. But the Cougars did register one of last weekend's notable results in a 3-2 win against Michigan at the weather-shortened Leadoff Classic. Bailee Lott picked up the win for the Cougars, and with an offense averaging five runs per game against a quality schedule, they still have the tools to help out a pitching staff in rebuilding mode.
[+] Enlarge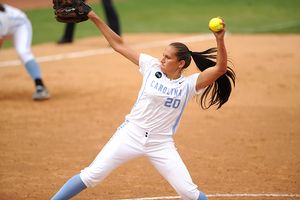 Jeff Camarti/UNC Athletic Communications North Carolina's Danielle Spaulding has struck out 98 batters in 47 innings this season.
Texas A&M visits Houston in perhaps the best midweek offering on the national schedule, with the Aggies fresh off taking two of three from Arizona.
But beyond what should be an intriguing game in the battle for Lone Star bragging rights, it's also the third annual "Striking Out Breast Cancer" game at Houston's Cougar Softball Stadium. Cougar players will wear pink jerseys and batting helmets, which will be autographed and auctioned as part of a silent auction, with proceeds going to the Houston affiliate of the Susan G. Komen for the Cure charity.
For the third time in as many events, Veronica Nordstrom will throw out the ceremonial first pitch to her daughter, Elaina. The elder Nordstrom is a cancer survivor, and in last year's event, Elaina hit a walk-off grand slam against Texas.
• It's not easy to believe (or maybe that's just me who wonders where February went), but North Carolina kicks off ACC play with an important three-game set against Florida State in just six days. That series caps off a run of seven games in five days for the Tar Heels, who play Elon, Georgetown, Michigan State and Princeton this weekend.
The Tar Heels were washed out at the Tennessee classic last weekend, costing them a marquee game against the host Lady Vols, but the team from Chapel Hill has been rolling since a pair of one-run defeats in the opening week. Even the one loss in the interim, a 4-2 setback against Fresno State at the Cathedral City Classic, couldn't stop the Tar Heels for long. Trailing Oregon State a few hours after the Fresno game, UNC rallied for four runs in the top of the seventh and secured a 5-2 win.
That doesn't seem like the sign of a team stuck on last season's postseason disaster, which saw North Carolina go two-and-barbeque on its own field in regionals.
But perhaps it is indicative of a team that knows it can count on its runs to stand up behind Danielle Spaulding and Lisa Norris. The pitchers have allowed just 11 earned runs in 92 1/3 innings this season combined, splitting duties almost exactly equally.
"They're so solid when they go out on the mound," Papa said. "They're two really quality pitchers. They could be starters on any team, the No. 1 on any team. It's just that we have a good complement. And they all like each other and they get along well."
Spaulding, in particular, has been almost unhittable, allowing just 19 hits -- and only four extra-base hits -- in 47 innings, while striking out 98. The Californian throws the ball hard enough, reaching the mid-to-upper 60s in Cathedral City when there was a gun on her, but her ability to move the ball in both the vertical and horizontal planes is what catches the eye.
"My favorite and best pitch is the rise ball," Spaulding said. "I probably throw that 85 percent of the time. … Even when it's not on, I still throw it, just because that's my pitch. I mean, I usually always get a strike with that. That and the curveball is my other go-to pitch."
• And finally, I'm going to try to aggregate the weekly award winners in this space on a regular basis, so we'll see how that goes. For the most recent week of competition:
ACC
Pitcher: Karla Wilburn, Virginia
Player: Sarah Tacke, Virginia
Atlantic 10
Pitcher: Brandice Balschmiter, Massachusetts
Player: Carly Normandin, Massachusetts
Big 12
Pitcher: Rhiannon Kliesing, Texas A&M
Player: Holly Ridley, Texas A&M
Big East
Pitcher: Brittany Gardner, Syracuse
Player: Colby Wherry, Louisville
Big Ten
Pitcher: Kim Reeder, Ohio State
Player: Lindsey Hansen, Michigan State
Big West
Pitcher: Anna Cahn, Cal Poly
Player: Kristin Pocock, Long Beach State; Nicole Matson, Pacific (shared)
Mountain West
Pitcher: Kelli Eubanks, Colorado State
Player: Jessica Camello, San Diego State
Pac-10
Pitcher: Donna Kerr, UCLA
Player: Renee Welty, Arizona State
SEC
Pitcher: Stacey Nelson, Florida
Player: Francesca Enea, Florida
WAC
Pitcher: Mallary Darby, Nevada
Player: Tanisha Milca, Hawaii
February, 24, 2009
02/24/09
3:43
PM ET
More notes from the Cathedral City Classic, which featured eight of last week's top 10 teams and 13 of the top 20.
• The more time passes, the more Florida's Tiffany DeFelice's 23-pitch at-bat at the Women's College World Series last spring seems like one of the most impressive athletic feats I've been fortunate enough to see in person. But at the same time, the more you watch the Gators, the more it seems almost par for the course.
No single Gator quite reached 20 pitches in an at-bat in Cathedral City, but they collectively made the most of their stay in the batter's box in the desert. Whether pushing Fresno State's Morgan Melloh to about 50 pitches in an inning at one point or drawing five walks against Washington's Danielle Lawrie, coach Tim Walton's team showed off a remarkable ability to work counts and wait for mistake pitches.
"We strike out a little bit too much, but we walk a lot," Walton said. "We make pitchers pitch. We make pitchers make mistakes and we punish them when they do make mistakes. I think we're just very selective. I think we have a lot of kids with a high visual recognition. … They're patient. They're not going to go up there and chase a whole lot of bad pitches."
And it's not as if opposing pitchers can hope to wait until the soft part of the Florida order rolls around. Sophomore shortstop Megan Bush had a fantastic weekend in the span of an inning against Arizona State, leading off the bottom of the fifth with a home run and coming around again to hit a grand slam. And Bush was the No. 8 hitter in that game, one spot higher than she had been when she hit a home run against Fresno State earlier in the day.
Hard to believe this was a team for which run production was a question mark entering last season.
"It's just a phenomenal thing to have the ability to hit one through nine, like the Arizonas, the Arizona States, the UCLAs," Walton said. "I think that just says a lot for where we're at as a program and having the ability -- I look at our bench, and there are just so many great players sitting there waiting for their turn. It was nice to see Megan jump up there and get after it."
• There was fantastic defense played all weekend at the Big League Dreams complex, none better than by both teams in Friday's Washington-Florida classic. Florida second baseman Aja Paculba had a couple of dazzling plays, and Washington's win had almost as much to do with the defense behind Lawrie as the pitcher's dominance in the circle. After playing Ashley Charters at shortstop and Morgan Stuart at third base for much of Campbell-Cartier Classic the previous weekend, the Huskies shifted Charters to second base and Stuart to shortstop in Cathedral City. Both came up with key plays with runners on base late, including an over-the-shoulder diving catch in short center by Stuart.
But for my money, no single play topped Hawaii center fielder Alexandra Aguirre going through the temporary fence in center field to rob Alabama's Kelley Montalvo of a game-winning home run Saturday night. Unfortunately for the Rainbow Wahine, the Tide eventually pulled out a 1-0 win in extra innings, in no small part because of their own continually overlooked defensive prowess.
With the bases loaded and one out for Hawaii in the top of the fourth, Alabama catcher Ashley Holcombe snapped a throw to second to pick off the runner straying too far from the bag. Charlotte Morgan then coaxed a popup and the scoreless draw continued.
What Katie Cochran is to hitting, and what Lawrie is to pitching, Holcombe is to defense behind the plate. In fact, if you happen to find yourself at an Alabama game, don't run to the concession stand when the Tide are warming up in the field between innings; it's worth the price of admission just to watch Holcombe snap off a throw from her knees. She led the SEC in pickoffs last season, throwing out nearly half of the runners unwise enough to try to steal on her, and remains a masked weapon.
"That just keeps the momentum on our side," Montalvo said of Holcombe's pickoff attempts. "Every time she does it, it's kind of like a big buzz kill for them. … It kind of loses their momentum and brings it back on our side. So whenever we can have that, we're begging her to do it."
Holcombe didn't get official credit for a win, or the game-winning RBI, but I wouldn't be surprised to learn she received a "skillet" on the team's unofficial stat sheet when the team made its way back to Tuscaloosa. Alabama coach Pat Murphy is one of college softball's more receptive minds in terms of his use of statistical analysis for the offensive side of the game, but the math he favors on the defensive side is simple arithmetic.
"We always say there are nine on defense and one, two, three or four on offense. The nine should always win. It's just like an attitude, a feeling, whatever you want to call it, that we try to bring to the team on the defensive part of it."
Hence the skillet, an award handed out regularly for outstanding defensive plays -- not just brilliant reaction stops, but heady plays like a shortstop faking a throw on a ground ball deep in the hole to entice a runner on second to stray too far off the base.
February, 4, 2009
02/04/09
3:05
PM ET
We've reached No. 2 in the preseason top 20, which should take a good bit of the intrigue out of the identity of tomorrow's team. No. 2 is also the jersey retired by the Denver Nuggets in honor of Alex English, who famously (or not) played Amazing Grace Smith in the 1987 movie "Amazing Grace and Chuck." English starred opposite Gregory Peck, who was in "Cape Fear" with Robert De Niro. De Niro was in "Goodfellas" with Joe Pesci, who was in "JFK" with … Kevin Bacon.
2. Alabama
Last season: 58-8 (Lost to Arizona State in the College World Series national championship series)
Preseason talking point: The SEC may still be looking for its first national championship, but that's the only experience missing in Tuscaloosa this spring.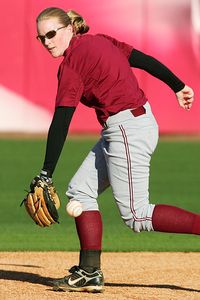 Alex Gilbert /UA Athletics Lauren Parker is ready to go after offseason shoulder surgery.
In discussing the overall increase in talent in the conference during its 12 seasons of competition, Alabama coach Pat Murphy, who is not a guy prone to hyperbole, offered a bold assessment of his current quintet of seniors.
"I can probably realistically say our five seniors we have on this year's team are the best at their position ever in our program, which -- I can't believe I'm saying it," Murphy said. "But we could have the best catcher we've ever had, we could have the best center fielder we've ever had, we have the best second baseman, the best shortstop, the best third baseman. … The talent, even like four years ago, when I look at who was in those spots, they were great kids, but athletically and talentwise, this group is even better."
For the record, that's catcher Ashley Holcombe, centerfielder Brittany Rogers, second baseman Lauren Parker, shortstop Kellie Eubanks and third baseman Kelley Montalvo, who have combined for 783 starts in their Alabama careers.
In sizing up Arizona State's returning tandem of Kaitlin Cochran and Krista Donnenwirth, we saw that that no two returning teammates on a top-tier team created more runs per game last season than Rogers and current junior Charlotte Morgan. But substitute Montalvo for Morgan, and the Crimson Tide would still have a duo that ranked third.
And if you'll pardon some excessive abuse of numbers, Rogers and Parker would have come in behind only the Sun Devils' duo, if you used Parker's 2007 numbers.
A transfer who arrived from Baylor after her freshman season, Parker hit .457 with 45 RBIs in 138 at-bats in 2007, her first season on the field with the Tide. But a shoulder injury that slowed her toward the end of that season limited her again last season. By the postseason, she was strictly a designated player -- and a banged-up one at that.
After another offseason surgery on the problematic left shoulder, she's ready to go this spring. In an attempt to keep her that way, both at the plate and at second base, Murphy is trying to alternate her between offense and defense on an every-other-day basis in practice. And while Alabama is too deep for any one player, save perhaps pitcher Kelsi Dunne, to hold make-or-break power over the season, it's difficult to understate Parker's potential impact on what could be the nation's most prolific offense.
"If we can keep her healthy for as long as possible, it's going to help us a lot," Murphy offered in a valiant stab at just such understatement.
Quick Link
If you want to write a book on how to build a championship-caliber softball program from scratch, you should first worry about folks in Tuscaloosa suggesting you plagiarized the team's media guide. Perhaps because he's been there from the beginning, first as an assistant and then as head coach since the 1999 season, Murphy is as easily identifiable with a program as any coach this side of Mike Candrea. And the scenes of players hand-delivering season tickets that Tommy Deas describes in the Tuscaloosa News are every bit as much a part of Murphy's imprint as his on-field willingness to master traditional fast-pitch strategy and at the same time think outside the box.