Category archive:

Florida Gators
June, 6, 2011
06/06/11
1:02
AM ET
University of Florida outfielder Michelle Moultrie talks about sweeping two elimination games from rival Alabama in the Women's College World Series, leading the WCWS in home runs and the rivalry between the SEC and Pac-10.
June, 3, 2009
06/03/09
2:03
AM ET
OKLAHOMA CITY -- In the end, Stacey Nelson did exactly what anyone who had watched her for the past four seasons would have expected her to do at her career's low point.
Seconds after her college career came to an abrupt and unsatisfying end with a loss to Washington in the Women's College World Series championship series Tuesday, Nelson, along with teammate Francesca Enea, comforted Ali Gardiner, the senior who had struck out to end the game.
[+] Enlarge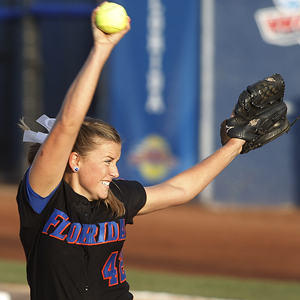 AP PhotoEnjoy seeing Stacey Nelson's No. 42 -- Tim Walton said it won't be worn by another under his watch.
Pitching is an ego business, especially in big-time college softball, in which the ace pitches almost every game and her name is the only one that gets a loss attached to it in the box score. But Nelson, always quirky, never seemed interested in staring down hitters, pouting about strike zones or generally playing the diva.
She just pitched. And won. A lot.
Before this season, Tim Walton recounted how, when he first started working with Nelson (who had been recruited before he took the job in Gainesville), he immediately knew she was a tremendous, fun-loving person. He didn't know whether she was a great pitcher. Four seasons later, he has no doubts on either count.
"Obviously, No. 42 won't be back for us next year," Walton said. "We will feel that because not only is she a great pitcher, but she is also one of the most outstanding people you will ever meet. I already told her this, but there will not be the No. 42 worn in the sport of softball as long as I'm the coach there. She just meant that much to our program, and we would have not been here in the last two years without this young lady."
Among the top 10 in wins in NCAA history, Nelson deserves a place in the game's lore. Unfortunately, Florida's exits short of a championship the past two seasons place her in an elite group of players who weren't able to cap All-American careers with success in Oklahoma City -- alongside aces such as Cat Osterman, Monica Abbott and Angela Tincher, of recent vintage.
But as with each of those pitchers, the sport is better for having had Nelson. And true to form, she seemed to appreciate that she was better for it, regardless of the past two days.
"Losing sucks, especially on this stage," Nelson said. "It's the things that you have learned playing the game that you really take into the rest of your life. And I am not going to remember -- well, I will remember that we came in second, but what I am going to remember are the 20 great girls that I had on my team, playing with them for four years, building the best relationships I've ever had, playing for a coach like Tim Walton.
"There's a lot of pain that comes with this loss, but I'm always going to remember my time at Florida as the best time of my life."
Now, like Texas after Osterman, Tennessee after Abbott and Virginia Tech after Tincher, Florida must move on. Unlike each of those programs, it will be a mild surprise if Walton's team isn't back here next season, even if it has to suffer through a season with double-digit losses like everyone else. There is a clear plan of succession in the circle, where Stephanie Brombacher will enter her junior season undefeated as a college pitcher.
More importantly, there is a coach who has stocked his roster with more talent than a lineup card can hold. Gardiner, Kim Waleszonia and all of the seniors will be missed for what they brought to the team. But from a coldly analytical perspective, the Gators have replacements ready at every position.
If Brombacher is even good -- and there's reason to think she can be great -- she should have all the support she needs from a lineup that will include Enea, Aja Paculba, Kelsey Bruder and Megan Bush, in addition to expanded roles for players such as Alicia Sisco and Michelle Moultrie.
Walton likes to keep his program insulated from the media and the outside world, but he's going to have to continue putting up with prying eyes. As long as he's around, Florida isn't a program that's going to slip off any radars.
• The whole debate about the SEC and the Pac-10 strikes me as a little pointless. Clearly, the Pac-10 has more championships and isn't going to exit the stage in Oklahoma City anytime soon. And anyone suggesting the SEC has surpassed it is out of their minds. But at the same time, anyone who suggests that just because the SEC hasn't won a national championship, it's somehow inferior is almost equally out of their minds.
Florida missed out on the SEC's best chance to date to add a title to its résumé. But the most basic truth is the SEC and Pac-10 are two really good leagues. As softball fans, it seems like savoring that ought to have more value than worrying about which one is best.
The only "best" that really matters is the team title Washington earned Tuesday.
OKLAHOMA CITY -- Florida coach Tim Walton, pitcher Stacey Nelson and third baseman Corrie Brooks looked like a group that had just been beaten soundly during the press conference following an 8-0 loss against Washington in the opening game of the championship series.
But the Gators also seemed more puzzled at their own performance than fearful of their fate.
Both Nelson and Walton used the word "uncharacteristic" to describe a performance marked by missteps across the board -- hitting, fielding and pitching -- and which doubled the total number of runs the Gators had lost by in their only three losses of the season entering Monday's game.
Nelson wasn't sharp, although it didn't help her cause that the strike zone tended to favor outside pitches, especially to right-handed batters. That's not to say the Gators were unduly burdened -- the strike zone is always an organic thing -- but Nelson is at her best when she's able to get in on the hands of batters. And it's tougher to get those swings when there's no need for batters to protect inside.
Aside from one oblique reference, Walton didn't make an issue of the zone or use it as an excuse, but it also seemed to get to the Gators at the plate. Two of the team's first three batters struck out looking, and only leadoff hitter Aja Paculba even recorded a swing in the first frame, striking out on a rise ball from Lawrie after taking two strikes. In all, five Gators struck out looking in the game.
One of Florida's greatest offensive strengths is its plate discipline. Walton said earlier this week that his staff didn't even worry about batting averages this season (although with a .324 team average, there's plenty to focus on), looking more at on-base percentage and the sheer volume of run-scoring opportunities the team could produce. But where Washington batters have more walks than strikeouts in the World Series, reversing a season-long trend for them, Florida batters have more than twice as many strikeouts as walks, also a reversal of their norm.
Don't be too patient, but don't be impatient. It's a balancing task worthy of a high-wire act, but it's one that made this Gators team such an offensive juggernaut all season.
"We just have to maintain our discipline, do the things that got us here," Walton said. "We typically will walk as many times as we'll strike out in a game, and we've just got to be able to do a good job of being selective and making adjustments with the game that's being called."
At the same time, Walton suggested, whether as a decoy or not, that he might be looking to change his approach in at least some situations against Lawrie, who has now thrown 16 shutout innings against the Gators this season. Florida has nearly twice as many home runs as sacrifice bunts, but he may be looking for a little of both to avoid falling in another hole Tuesday.
"Overall, just put ourselves in a better position to play -- you know, play a different style of game," Walton said of possible adjustments. "We're going to have to come out and try to play a little small ball tomorrow and get some runners going."
That could mean moving catcher Kristina Hilberth, one of the lineup's better small-ball options, back to the No. 2 spot she occupied at various times this season, including the super regional against California and the World Series opener against Arizona. It could also mean a look for outfielder Michelle Moultrie, second on the team in stolen bases and a regular in the lineup when center fielder Kim Waleszonia was out with an injury. Pinch hitting Monday, Moultrie had the team's only clean hit of the night (the other coming when Washington's Morgan Stuart and Jenn Salling collided on a grounder).
Responding to adversity is the only thing the Gators haven't proven they can do this season, because their own success hasn't offered many opportunities for practice. A walk-off grand slam Sunday was a start, but even then, the Gators had the cushion of another game if they lost. Monday's meltdown aside, they've shown they can do everything else a team has to do on the field to win a championship. In trying to get back to those strengths, they'll prove whether or not they really are a complete team.
"Give Washington credit," Walton said. "I thought they did a great job of capitalizing on our mistakes. We just didn't play very well at all."
June, 1, 2009
06/01/09
3:51
PM ET
OKLAHOMA CITY -- Stacey Nelson and Danielle Lawrie proved throughout the season that they are the two best pitchers in the country. It's not revisionist history to separate them from the crowd of would-be contenders now that they're squaring off for the national championship; they separated themselves by dominating two of the toughest schedules in the country.
Nelson can be overpowering by any abstract measure, but she's truly dominant because of her ability to make hitters beat themselves. She confounds them with an array of pitches and leaves them guessing at which they can hit and which will result in little more than weak pop outs or groundouts.
It's no coincidence that both Arizona's Mike Candrea and Michigan's Carol Hutchins talked after losses about their respective teams' inability to adjust to Nelson and her corresponding ability to counter any eventual adjustments, and that Alabama was the only team that has made her look mortal to this point. The Crimson Tide had faced her four times this season and numerous times during the past few seasons. Without a lot of looks and a lot of All-Americans, the odds of making Nelson sweat are lottery-long.
Lawrie is the international veteran and the more traditional postseason workhorse, bringing a slightly higher strikeout rate (10.4 per seven innings, compared to Nelson's still-elite 8.9 per seven innings) and a slightly higher risk-reward element (0.85 extra-base hits per seven innings, compared to Nelson's 0.56 extra-base hits per seven innings).
But if the two aces are equals in the results they produce in the circle, they don't enter Monday's game on equal footing.
Look at the number of pitches each has thrown in the NCAA tournament.
DANIELLE LAWRIE
Regional: 578
Super regional: 212
WCWS: 467
Total: 1,257
STACEY NELSON
Regional: 189
Super regional: 170
WCWS: 277
Total: 636
At this time of year, the fact that a softball pitcher's motion is easier on the arm than a baseball pitcher's motion tends to wildly morph into the myth that softball pitchers can throw all day and still have the arm and legs to play some ultimate Frisbee at night.
One look at all the ice on Lawrie's arm after a game ought to dispel the notion that 100 pitches take no toll on the arm, and yet that's only a weakened branch compared to the tree trunk of a pitcher's legs. Florida coach Tim Walton, a former college baseball pitcher, touched on this topic before the season, talking about the importance of Nelson's improved conditioning through her years in Gainesville to her success.
"To say the body doesn't get sore when it throws 120 pitches in a game is absolutely crazy," Walton said in late January. "It's easier on the arm, but it's not easier on the body. The body still takes a toll throwing 120 pitches, and then having to turn around and possibly throw in the next game of a doubleheader. So I give our girls -- I give every girl, but I give our pitchers a lot of credit for having the ability to be able to separate themselves from the game and the competition and really [continue] competing at a high level. And knowing the difference between being sore and being hurt.
"That's the difference between a good athlete and a great athlete is they play through pain."
Florida's dominance and the presence of Stephanie Brombacher eased Nelson's workload this season, leaving her fresh now, but Walton might as well have included some stock tips, given how precisely his comments forecasted the challenge that now faces his foe. Consider that included within Lawrie's pitch count is a pair of doubleheaders: 285 pitches in two games against Georgia on Sunday and a staggering 395 pitches in two games against Massachusetts on the final day of the Amherst Regional.
That's the storyline of this championship series, whether Lawrie talks about it or not. (And never one to publicly linger too long on the philosophical side of things, she won't dwell on any possible negatives.)
It's not so much Lawrie's taking on Nelson as Lawrie's taking on time and physiology.
Lawrie is not quite the dominant pitcher she was in February. A few more pitches per game hang in the zone (two home runs in 30.2 innings here and six in 78.2 innings in the postseason, compared to six in 260 regular-season innings). Her counts go a little deeper, and she loses the additional hitter to a walk perhaps once every game or two. But even in her production at the plate, where she's hit three home runs and driven in 13 runs in the postseason, or stepping up with a vintage effort in a tight game against Arizona State, you see a pitcher doing what she can to plug the leaks in precision.
It's the mental toughness that Washington coach Heather Tarr identified as far back as February as the biggest evolution in Lawrie's game after a year with the Canadian Olympic team.
"I think taking a year off and spending it with older players and with the national team and international softball, it helped her just be more mature, mentally stronger," Tarr said in February at the Campbell-Cartier Classic in San Diego. "Physically, I think she's pretty much what she is; she's going to be what Danielle is going to be. But I think mentally, it kind of helped her take a step back and recognize, what does she really want to do in the game?"
After pitching 22 innings in the two games against Massachusetts on May 17, a little after 1 a.m., Lawrie offered this take on the specter of fatigue.
"You've got to look at what you've done to get there," she said. "You've got to look at all the money you've put in the bank. And you're not done spending."
Matched up against her lone equal in Nelson, she'll have to go for broke.
May, 31, 2009
05/31/09
1:22
PM ET
Alabama vs. Florida
3 p.m. ET | ESPN
Pitching: Stacey Nelson was arguably the best pitcher in the country over the course of the regular season and first two weeks of the NCAA tournament (and it was strictly a two-pitcher argument between Nelson and Danielle Lawrie). So to say she's taken her game to another level at the Women's College World Series suggests exactly how difficult a task it will be for Alabama to win once, let alone twice, Sunday. Nelson has allowed just three hits in two starts in Oklahoma City, striking out 21 and walking just three without hitting a batter.
Things have not gone as smoothly for Kelsi Dunne, who presumably will get the start in the game Alabama needs to force a second game Sunday. But if Dunne hasn't been perfect, walking six and hitting one against Michigan in the opener and serving up a long home run to Arizona State's Katie Crabbe on Saturday, her imperfection has been revealing. A pitcher who sometimes struggles to push through squeezed strike zones, perceived or real, she took everything in stride against the Sun Devils and retired nine of the final 10 batters she faced after the Crimson Tide reclaimed the lead.
Florida handed Dunne one her worst losses of the season when the teams met in late March, piling up nine runs while managing to leave 11 runners on base. But she also bounced back the next day to beat the Gators, striking out 13. Dunne can occasionally hand out too many walks, and Florida is a team that loves to set the table for its power by taking free passes, so the size of the strike zone will be a key to the action.
Hitting: With a lineup that has power stretching from leadoff hitter Aja Paculba all the way down to Kim Waleszonia in the No. 9 hole, Florida has enough depth to pile up runs in a hurry. As it has proved in the World Series, it also has the depth to erase a lot of lean innings with one, quick swing of the bat. A lot of Gators have had success against the Crimson Tide -- they've scored 31 runs in four games against them -- but Kelsey Bruder, Aja Paculba and Francesca Enea have enjoyed particular success. There's not a long history of success against Nelson for Alabama to build on, but Charlotte Morgan's home run in the SEC tournament was the first Nelson allowed all season. Lauren Parker has also managed to pick up some hits against Florida's ace over the past two seasons.
Fielding: Nelson's dominance hasn't forced the Gators to work hard in the field -- half of the outs needed have come by way of strikeout. Alabama was uncharacteristically porous in its loss here against Michigan. It rebounded nicely Saturday but did commit four errors in four games this season against Florida.
Player to watch: Jazlyn Lunceford
The hero of Alabama's win Saturday against Arizona State, when her pinch hit grand slam gave the Crimson Tide a lead they wouldn't relinquish, Lunceford may get a chance at a few more at-bats. The positive vibes of the grand slam don't hurt, but Lunceford also has a history against Nelson. In Alabama's lone win against the Gators, the freshman had two hits, including a triple, and two RBIs.
May, 30, 2009
05/30/09
1:58
AM ET
OKLAHOMA CITY -- Megan Bush didn't know what pitch she hit Friday night. Opposing pitchers often don't know what hit them when they face Bush and the Gators.
Behind a one-hitter from Stacey Nelson and Bush's one big hit -- a solo home run deep into the left-field bleachers in the sixth inning -- Florida beat Michigan 1-0.
[+] Enlarge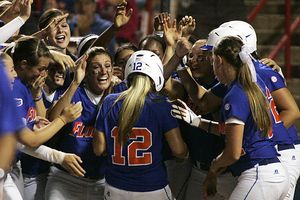 AP PhotoMegan Bush (No. 12) drove home the only run in Florida's win over Michigan on Friday night.
For the second Women's College World Series game in a row (and really the fourth game in a row, including a super regional against California), a Gators offense that averages nearly 6.6 runs per game produced considerably less than that but just enough to back up Nelson's brilliance.
And that's sort of the point. Florida's lineup is one giant fail-safe mechanism.
When all the parts are working, it's a juggernaut. When some parts malfunction, or get taken out of play by great pitchers such as Jordan Taylor and Nikki Nemitz, there are too many redundancies built into the system to ever allow for catastrophic hitting failure.
Consider Bush, the sophomore shortstop who was hitting eighth in the lineup when I first got a glimpse of this year's Gators at a tournament near Palm Springs in February (all she did from that spot was hit a three-run home run off an elite pitcher, Fresno State's Morgan Melloh, to turn a potentially tense game into a run-rule win). Coming off a big home run in Thursday's win against Arizona, Bush found herself hitting fifth against Michigan.
Nemitz said she thought she tipped off the changeup that Bush blasted, but the power-hitting infielder said she didn't really know what pitch it was -- she just saw it come in and swung as hard as she could to send it back the other way. Good as a freshman, when she hit 13 home runs and drove in 41 runs, Bush has been ever better this season. Her average is up nearly 80 points and her strikeout-to-walk ratio has been cut in half.
"I think more than anything, it's just the way she plays with confidence," Florida coach Tim Walton said. "Everybody always talks about the hole in her swing, and they talk about this and they talk about that. But when she swings with confidence -- I don't know what pitch it was either because the kids don't throw real, true changeups; they throw kind of a deviation from an off-speed pitch. When you see her hit and then get long -- I saw her get long, and when she gets that swing, it's going. It just her confidence, no question."
So why was Bush hitting seventh or eighth for so long before Friday night? Because where else was she going to hit? Her move up the lineup card against the Wolverines was part of a series of moves that landed Kristina Hilbreth in the No. 8 spot and Kim Waleszonia in the No. 9 spot. Hilbreth had one of the highest averages of any hitter in conference play and Waleszonia was a first-team all-conference player the past two seasons.
There simply aren't any weak spots in this lineup. And so even when opposing pitchers shut parts of it down for an extended period, someone, somewhere will come up with the necessary run production.
Has Walton ever faced a lineup as deep as the one he torments opposing coaches with?
"I'd have a hard time finding it," Walton said. "Tennessee might have had it a couple of years ago; Arizona always has a deep lineup; UCLA this year has a deep lineup. But to me, we've got some tough outs. We struck out nine times and, I think, eight [Thursday] night, but we've got some tough outs. Your first hit is coming from your eight-hole hitter; Kim gets a hit. I mean, we're pretty tough. We're pretty pleased with where we're at."
Which is one victory from a chance to play for the national championship.
May, 29, 2009
05/29/09
1:24
AM ET
OKLAHOMA CITY -- If an NBA playoff series doesn't really begin until the road team wins a game, the Women's College World Series doesn't really begin until a team loses a lead.
Florida's 3-0 win against Arizona on Thursday night capped an opening day at ASA Hall of Fame Stadium that was long on blue skies and short on both the drama and the threat of thunderstorms that tend to accompany the start of play. It wasn't a bad day of softball -- it would take more than some perfunctory late innings to change that -- but it also wasn't anything that's likely to linger in the memories of those unassociated with the four winning teams.
Georgia couldn't quite stay even long enough, or get a lead of its own, to put Washington and Danielle Lawrie under pressure.
Arizona State sucked the life out of Missouri's momentum with a barrage of singles and small-ball runs in the first two innings.
Alabama's listless play turned a potential clash of titans against Michigan into a one-sided romp for the Wolverines.
And despite five innings of shutout relief from Sarah Akamine, Arizona couldn't get nearly enough going against a dominant Stacey Nelson to overcome an early 3-0 deficit.
"I really felt throughout the game that we were just a couple of baserunners from getting something going," Arizona coach Mike Candrea said. "But this is what the College World Series is all about, you know. You get games like this. Florida, definitely, we knew was a very good team, and Nelson did a good job, and I tip my hat to them."
And so it's on to Friday's games.
No. 10 Arizona State vs. No. 3 Washington, 7 p.m. ET (ESPN2)
It doesn't get any easier for Lawrie. Georgia couldn't seize control Thursday, but it made life more difficult than its one run against the Washington ace might indicate. Extending at-bats and making good contact, including one drive to within inches of a home run, the Bulldogs looked like a team that knew what to expect -- as you might expect from one of the only teams to beat Lawrie this season.
Another of those teams awaits Friday night. Arizona State beat Washington 9-2 in late April in Tempe, chasing Lawrie after the ace allowed a season-high six earned runs on eight hits in four innings. The Huskies pitched to Arizona State's Kaitlin Cochran, and in this instance, Cochran got the best of her fellow USA Softball Player of the Year finalist with a home run. And beyond that game, the Sun Devils were able to push Lawrie in all three games between the teams this season. In its two defeats at the hands of Washington, Arizona State still managed to collect 20 hits and five earned runs against Lawrie.
The bad news for fans of the Sun Devils is that despite putting up the day's high score with seven runs against Missouri, Arizona State's power game isn't in top form. And stringing together singles against Lawrie is a tough road to success.
"I am getting used to singles right now," Myers said. "For some reason, we haven't been hitting long balls lately. But with the mentality of what we are trying to do at the plate, we are trying to stay on top. We hit nine pop-ups, eight with runners in scoring position [against Missouri], and great teams don't do that."
No. 5 Michigan vs. No. 1 Florida, 9 p.m. ET (ESPN2)
Wolverines coach Carol Hutchins has long insisted her teams don't worry all that much about an opponent's strengths and weaknesses, instead choosing to expend their energy on making sure Michigan does what it does well.
Simply for the sake of sanity, that's not a bad idea for anyone scheduled to play Florida these days.
The Gators put together a win against Michigan earlier this season that looked remarkably like their win against Arizona on Thursday. Nelson shut down a good lineup, striking out nine and allowing just three hits, while her offense chased starter Nikki Nemitz with four quick runs and then failed to do much more against Jordan Taylor.
That last part is one reason Hutchins' pitching decision is so intriguing. She's a long-term advocate of a two-pitcher system, and followed through on that by starting Taylor in the second game of last week's super regional against Baylor. Against Alabama, Nemitz looked like the kind of pitcher a team could ride for a lot of games in Oklahoma City, but Taylor offers a much different style, bringing movement from a variety of looks.
If Hutchins and her staff saw something in the first game that convinced them that Taylor's success and Nemitz's lack thereof was more than coincidence, the former could get the call.
May, 27, 2009
05/27/09
7:30
PM ET
OKLAHOMA CITY -- Florida sophomore pitcher Stephanie Brombacher is unlikely to suffer her first career defeat during her team's stay at the Women's College World Series.
The Gators are also the most likely team to end up holding the championship trophy.
[+] Enlarge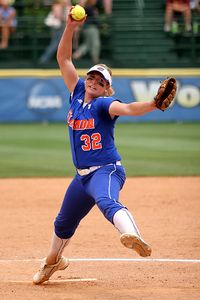 J.P. Wilson/Icon SMIThe Gators might not use Stephanie Brombacher in the WCWS despite her 41-0 record.
That there is no cause and effect between those two probabilities says a great deal about both the long-term and short-term state of the softball program in Gainesville.
Brombacher is 41-0 in two seasons in the circle for the Gators. It takes 75 decisions to qualify for the NCAA record books in career winning percentage, but she could go a modest 21-13 in her next 34 starts and still crack the top 25 all time. None of which will likely help her see much -- if any -- time in the circle in Oklahoma City. Not as long as senior Stacey Nelson keeps adding to one of the sport's all-time résumés, including the seventh most career victories (133) in NCAA history.
"She's done well," coach Tim Walton said of his young understudy's development in Nelson's shadow. "I think overall, when you look at where we're at now, with the one-game-on-one-day format, Stacey's going to get the ball as much as possible."
It's a delicate dance for Walton to master. Winning a championship is a task that necessitates a certain maniacal focus on the moment, especially in this setting. But building a championship caliber program also requires the kind of long-range planning that sometimes comes at the expense of that moment.
After going 20-0 with a 1.40 ERA as a freshman last season, Brombacher spent most of Florida's five World Series games watching from the dugout. But while Nelson started all five games, Walton made a conscious effort to get Brombacher a few innings of experience, mostly with a lead against Texas A&M and knowing he would need Nelson again later the same day if the Gators won.
It's been more of the same measured indoctrination this season, in which Brombacher is 21-0 with 186 strikeouts and a 0.77 ERA. She started an SEC tournament semifinal against Tennessee. She started again in the NCAA tournament opener against Florida A&M. And she started the second game of a super regional against California. She didn't have a lot of slack to work with -- she lasted just one inning against Tennessee and two innings against California -- but Walton had his reasons.
"No. 1, she's 41-0 and she's very, very good," Walton said. "And No. 2 is I've got a program we're trying to build; we're not trying to just do this over a two-year period, so we've got to keep her moving and keep her progress moving along. She's understands, she gets it. She wants the ball -- of course she wants the ball -- but she really does a good job of understanding the big picture, too."
At 5-foot-10 and armed with both a nasty backdoor curve and what may rank as the loudest and most consistent grunt in the college game when she releases the ball, it won't be easy to miss Brombacher if she does get in a game here. But even if she doesn't, she will be heard from in the future.
That Florida has a sophomore who is 41-0 in her career says something about where the program is headed. That the Gators might not need her in the World Series says a lot about what Walton has already built during his time in Gainesville.
And you never know what might unfold in Oklahoma City.
"Stacey will get the ball as much as she possibly can," Walton said. "But Stephanie's got some good pitches and she matches up well with some certain lineups, so we'll see what happens."
• Sitting on a podium Wednesday alongside Arizona's Mike Candrea, Michigan's Carol Hutchins and Alabama's Patrick Murphy, Walton made a point to acknowledge his appreciation at being among such luminaries in the college game. But if Walton is chasing all three in career wins in his seventh year as a head coach, he seems to have jumped out to a lead on many of his peers in at least one category.
Florida's coach has hit Twitter.
"My players don't even do it," Walton said. "They're making fun of me because they don't even understand it."
Launched Monday, with a surprising number of exclamation points from the coach, Walton's page has about 100 followers right now, a figure that could rise at a meteoric rate if things go well on the field.
"The big thing was just getting everybody excited about our program and knowing what we're doing, other than what you just see on TV," Walton said.
May, 9, 2009
05/09/09
7:12
PM ET
KNOXVILLE, Tenn. -- As if to remind the two teams atop the softball RPI rankings that nothing is inevitable on the road to Oklahoma City, the remnants of a weather system moving through Tennessee delayed the start of Saturday's SEC championship game between Florida and Alabama.
And as if to suggest it won't mind waiting out anything anyone wants to throw at it during the next three weeks, Florida seized control when Megan Bush lined the 15th pitch of her first-inning at-bat over the fence in left field for a grand slam and a 5-2 lead.
[+] Enlarge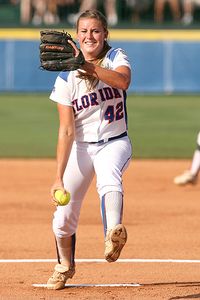 University of Florida Athletics Stacey Nelson struck out eight against Alabama.
Even Mother Nature has some work to do when it comes to slowing the Gators.
Bush's blast wasn't quite enough to provide the winning margin, but it set the day's theme early in forcing the Crimson Tide to play from behind. And when a late rally proved to be too little, too late for Alabama, Florida had an 8-5 win and its second consecutive sweep of the conference regular-season and tournament titles.
"I think Florida is by far the best team in the country," Tennessee coach Ralph Weekly said of the team that earlier eliminated the host Lady Vols by an 11-3 margin in the semifinals. "There's no question about it. It's kind of like playing the New York Yankees."
The championship game itself was anything but a classic, unless you enjoy watching an umpire handle the strike zone like a circus carny setting up the bottles on the ring toss -- no matter how wide the plate looked from the circle, it wasn't big enough to accommodate a softball. The first inning and a half took an hour to play, littered with four walks and three hit batters, as both pitchers tried to work the inside corner -- the only place anyone stood a remote chance of getting a pitch called a strike.
"I don't think I would have wanted to be a pitcher today," Alabama catcher Ashley Holcombe said. "Because sometimes you just feel like you don't know what you have to do to get a strike called. But we had the same situation the first inning -- we had bases loaded with one out. And they hit the grand slam and we didn't."
But if circumstances prevented an aesthetically pleasing show Sunday, the Gators spent their three days on the field in Knoxville shaking off any signs of competitive rust after clinching the regular-season conference title on April 18 (or such competitive rust as existed after winning their final seven regular-season games by a 60-1 margin).
Against Auburn in a quarterfinal, the Gators struck out seven times and walked just once in pulling out a 3-0 win. A day later in an 11-3 semifinal run-rule rout against host Tennessee, they walked five times and struck out once. And it's no coincidence that the one walk they drew against Auburn came to lead off the bottom of the first inning in what became a two-run frame against a quality pitcher in Anna Thompson.
It's not that the Gators necessarily rely on walks (although they did lead the SEC in free passes per game), but when they're drawing them, it's an indication they aren't getting themselves out at the plate. And so far this season, they've had more success getting themselves out than all but a handful of pitchers have fared with the same challenge.
"I thought [in the quarterfinal against Auburn,] we were taking too many good pitches and then we'd go up there and maybe swing at a couple of bad pitches," Florida coach Tim Walton said. "[Against Tennessee,] I thought we did a good job laying off the tough pitches and swinging at the good pitches. You could tell by the walks and the number of hits we had, we did a good job; when they threw strikes over the plate, we were looking for them."
And when the walks were there for the taking early against Alabama, Florida took them and made them count when Bush's shot -- the only hit of the inning -- cleared the fence.
"The hand-eye coordination, that obviously you're born [with]," Walton said. "But I think more than anything, the approach is taught. And that's the approach of our team; we're looking for pitches. You very rarely see us swing at pitches out of the zone in good counts."
The flip side of the equation is the Gators can afford to be patient more than any other team. Among major-conference teams, Arizona and Arizona State average more runs per game than the Gators, but there may not be a more balanced lineup from top to bottom.
With the exception of No. 9 hitter Michelle Moultrie, the eight other hitters in Walton's lineup entered Saturday's game with on-base percentages between .380 and .493 (and seven of them were between .419 and .493). Six starters entered with slugging percentages of .548 or better and six starters entered hitting between .329 and .387.
On and on go the numbers, but in the land of Tennessee whiskey, the truth is easily distilled.
"We've got probably 11 of the toughest outs in the country," Walton said.
Now we can only wait and hope this was only the middle act of a three-act play between these two teams, regardless of what day and what scenario might await a rematch in Oklahoma City at the Women's College World Series. Because even as Florida showed off its offense, Alabama's production hinted that its midseason funk is gone for good.
"I thought it was the best offensively we've done against [Nelson] in two years," Alabama coach Pat Murphy said. "So they should take away a lot of positives from this game."
But like the SEC regular season before it, and likely the overall No. 1 seed in the NCAA tournament ahead of it, those positives don't include the tournament title.
With Florida in the picture, the Crimson Tide will have to wait their turn for those.