Category archive:

Princeton Tigers
March, 1, 2012
03/01/12
7:52
PM ET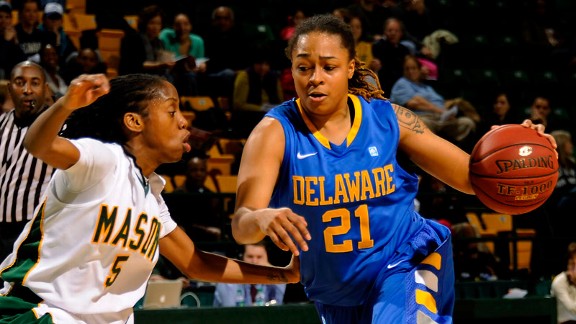 Rafael Suanes/US PresswireTrumae Lucas and Delaware (27-1) already have set a school mark for wins in a season.
1. Delaware (26-1 overall, 17-1 Colonial Athletic Association)
Delaware is the best mid-major in the nation because it has arguably the best player in the nation, mid-major or otherwise, in Elena Delle Donne. But it's also No. 1 because of the players around Delle Donne. A season ago, Delaware averaged 8.7 assists and 16.7 turnovers per game. Entering this postseason, the Blue Hens average 14.7 assists and 13.9 turnovers per game. That's not all Delle Donne. That's Lauren Carra cutting her turnovers in half and Trumae Lucas, eligible after sitting out last season as a transfer, already totaling more assists than any player did last season. The Blue Hens are shooting 44.6 percent from the floor this season, up from 39.3 percent last season. That's because Delle Donne is healthy, shooting 52.4 percent and drawing double- and triple-teams, but it's also because players like Danielle Parker (41.4 percent last season, 51.8 percent this season) are making those open looks count.
Who they need to look out for: Drexel did as good a job as any team of slowing Delle Donne and the Blue Hens. Delaware won both meetings in the regular season, 60-49 at home and 40-39 on the road, but Delle Donne shot a season-worst 4-of-19 in the second game (those who contend she doesn't always get the same calls from officials as smaller players would note she had just seven free throw attempts in those two games). The good news for the top seed is that the CAA tournament takes place on a neutral court in Upper Marlboro, Md., close enough to Newark, Del., that the Blue Hens should have the loudest group of fans in the building.
• CAA tournament bracket
2. St. Bonaventure (27-2 overall, 14-0 Atlantic 10)
[+] Enlarge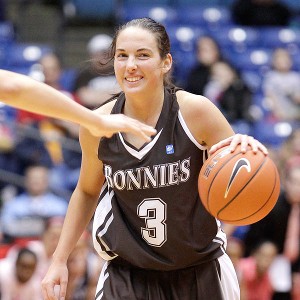 Tim G. Zechar/Icon SMIJessica Jenkins, one of 30 Naismith finalists for player of the year, ranks 18th all-time in NCAA Division I with 321 3-pointers.
This is the third season in a row the Atlantic 10 produced an undefeated regular-season champion, but it's difficult to imagine a contrast more stark than that between the Xavier teams of the past two seasons and this squad. Where those Xavier teams were built around two players, Amber Harris and Ta'Shia Phillips, with the size and skills to play anywhere, the Bonnies are built to the specifics of coach Jim Crowley's unique system. They have a star, Jessica Jenkins, who is in the top 20 in NCAA history in 3-point field goals, but balance is their calling card. Five Bonnies attempted between 74 and 88 free throws, and only one of them shot worse than 72 percent from the line. That total doesn't even include the team's leading scorer, Jenkins, who hit 59 of 61 free throws during the regular season. As an aside, with victories at West Virginia and St. John's, the Bonnies also have better road wins than those Xavier teams.
Who they need to look out for: Temple and Dayton are the big threats in the Atlantic 10 tournament, but only one can make the championship game. A more immediate stumbling block could come in the quarterfinals from tournament host and No. 5 seed Saint Joseph's, should it advance. The Bonnies won the regular-season meeting 68-61 at home, but the Hawks limited Jenkins to 2-of-8 shooting and forced the champs into an uncharacteristic 16 turnovers.
• A-10 tournament bracket
3. Green Bay (25-1 overall, 15-1 Horizon League)
In a place where the culture of team is as ingrained as the accents and the fondness for deliciously unhealthy foodstuffs, it takes someone special to make celebrating the individual acceptable. Julie Wojta, freshly backed by her own website put together by Green Bay, is someone special. The senior put up 27 points, 13 rebounds, 5 assists and 6 steals in her final regular-season home game, and that wasn't even her best line of the season. In fact, it was kind of average for someone putting up 19.4 points, 10.4 rebounds, 3.6 assists and 3.7 steals per game. As is the case with Delaware, individual brilliance overshadows a strong supporting cast of guards, Adrian Ritchie, Lydia Bauer, Sarah Eichler and Megan Lukan, who shoot well from the 3-point line, defend well in the team's trademark 2-1-2 trapping zone and don't turn over the ball.
Who they need to look out for: The Phoenix will play on their home court as the Horizon No. 1 seed. The obvious sleeper is Detroit, which was responsible for Green Bay's lone loss on Feb. 9, but Wright State is also in the mix. Tied for second entering the final weekend of the regular season, Wright State has a good post threat in Molly Fox (15.9 ppg, 9.8 rpg) and a boom-or-bust freshman guard with Big Ten athleticism in Kim Demmings (17.6 ppg, 4.4 apg).
• Horizon tournament bracket
4. Florida Gulf Coast (27-2 overall, 18-0 Atlantic Sun)
The Eagles do two things really well, one better than any other team in Division I. The latter relates to the 3-pointer. No team hits more of them per game than Florida Gulf Coast at almost 11 3-pointers per game, and not many teams shoot them more accurately than nearly 36.8 percent in the regular season. Six players average at least one 3-pointer per game, a list that doesn't include leading scorer Sarah Hansen. Florida Gulf Coast's other specialty is forcing turnovers, something it did 20.7 times per game in the regular season. The team's leading scorer and rebounder in the regular season, Hansen also doubles as the Atlantic Sun's Scholar Athlete of the Year.
Who they need to look out for: The Eagles got past the first postseason hurdle in Wednesday's Atlantic Sun quarterfinal against East Tennessee State, a rematch of a close game from the past weekend. Stetson and Belmont, the Nos. 2 and 3 seeds, respectively, both gave Florida Gulf Coast good games away from the latter team's home gym. The conference tournament takes place on a neutral court at Mercer, which didn't qualify for the games.
• A-Sun tournament bracket
5. Princeton (21-4 overall, 11-0 Ivy League)
[+] Enlarge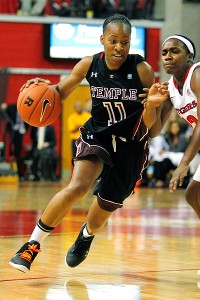 Jim O'Connor/US PresswireShey Peddy leads Temple with 17.0 points per game.
Princeton plays in the same gyms as the rest of the Ivy League, but it doesn't play the same game. The Tigers mauled league opponents by an average of almost 33 points in wrapping up the conference title in 11 games. They limited conference opponents to 29.7 percent shooting and beat them on the boards by 19.4 rebounds per game in those contests. But take out that domination, and Princeton still measures up with just about any team on this list. Against a quality nonconference schedule, coach Courtney Banghart's team still outscored opponents by eight points per game and held a distinctly non-Ivy-like edge on the boards (5.8 more rebounds per game than its foes). The core players of this team -- seniors Lauren Edwards and Devona Allgood and juniors Niveen Rasheed, Lauren Polansky and Kate Miller -- are headed for their third NCAA tournament, and they play like it.
Who they need to look out for: Actually, it's more of a what than a who. With the Ivy's automatic bid already wrapped up, Princeton needs to navigate the fine line between avoiding injuries and losing momentum.
6. Gonzaga (25-4 overall, 14-2 West Coast Conference)
How has life been without Courtney Vandersloot? All things considered, pretty darn good, especially compared to Xavier, the other mid-major power that lost All-American talent after last season. Gonzaga remains a team that pushes tempo, takes care of the basketball and plays an athletic game -- it's the only mid-major program to rank in the top 20 nationally in both scoring offense and rebound margin, joining the likes of Baylor, Connecticut, Duke, Maryland, Notre Dame, Stanford and Tennessee. Transfers Haiden Palmer and Taelor Karr have saved the team on the perimeter, accounting for 80 of Gonzaga's 129 3-pointers.
Who they need to look out for: The top two seeds in the West Coast Conference tournament advance automatically to the semifinals, so the candidates are limited. The other team in these rankings, BYU, is the logical choice after the teams split blowout wins during the regular season. But San Diego, which is a potential semifinal opponent for BYU, is one to watch, too. While it lost both games, it kept Gonzaga below its scoring average in both regular-season meetings.
• WCC tournament bracket
7. Temple (20-8 overall, 13-1 Atlantic 10)
Temple paid the price for a rugged nonconference schedule, losing five games in a row and seven of 10 at one point in November and December, but it righted the ship in conference play. It's always difficult to separate actual improvement from diminished competition when mid-major numbers rise in conference play, but Shey Peddy's resurgence seems linked to the team's rise. Peddy is shooting 52.5 percent from the floor in A-10 play, including 38.4 percent from the 3-point line, with an assist-to-turnover ratio of better than 2-to-1. That's in contrast to 43.1 percent shooting out of conference and essentially a 1-to-1 assist-to-turnover ratio.
Who they need to look out for: Temple's ability to play with opponents like Ohio State, Texas A&M and St. John's speaks well of its ability, but close losses don't guarantee at-large bids to the NCAA tournament. Charlie Creme had the Owls comfortably in the field in his latest Bracketology, but it would behoove them to get past a potentially tricky A-10 quarterfinal against Duquesne (should that team beat George Washington in its first game). Temple committed 23 turnovers and barely escaped with a 67-64 win at home against the Dukes in January.
• A-10 tournament bracket
8. Middle Tennessee (24-5 overall, 16-0 Sun Belt)
The Blue Raiders are not a statistically impressive bunch, at least not by the standards of a program that produced box-score stuffers like Chrissy Givens, Amber Holt and Alyssa Clark. This team doesn't shoot particularly well from the field or the free throw line, doesn't score like many of Rick Insell's teams, doesn't dominate the glass and gives away a lot of turnovers. What this team does with unerring consistency? Win. The Blue Raiders haven't lost since dropping a 58-47 decision against Georgia Tech on Dec. 11, an 18-game winning streak that includes a victory against Kentucky. Give credit to a defense that is holding opponents to 40.2 percent shooting, best since the 2003-04 season.
Who they need to look out for: Potential quarterfinal opponent Western Kentucky gave Middle Tennessee one of its toughest games during conference play, on the latter team's court, but the Blue Raiders won going away in the rematch. With the conference tournament in Hot Springs, Ark., the obvious challenger, No. 2 seed Arkansas-Little Rock, is that much more obvious.
• Sun Belt tournament bracket
9. Fresno State (23-5 overall, 11-1 WAC)
If you want 3-pointers out of your NCAA tournament sleeper but Florida Gulf Coast isn't your cup of tea, Fresno State is your team. The Bulldogs are third in the nation in 3-pointers per game and 19th in the nation in 3-point accuracy. Their four most prolific shooters from long distance all hit at least 35.9 percent of their shots from behind the arc, paced by freshman Madison Parrish at 42 percent (42 of 100). Yet it's interesting, and perhaps encouraging, that they hit just 7 of 24 shots from behind the 3-point line in a win against Oklahoma, their signature result of the season. Not unlike Florida Gulf Coast, the Bulldogs balance out their shooting by taking care of the ball and forcing oodles of turnovers.
Who they need to look out for: Fresno State dropped out of the top 60 in the RPI after a loss at San Jose State over the weekend, the team's first loss in conference play. That's a good indication that an at-large bid is an iffy proposition should the team fail to win the WAC tournament. The Bulldogs still have a regular-season game left against Louisiana Tech on Thursday, and a strong showing by the Lady Techsters will have people itching for a third meeting.
• WAC tournament bracket
10. BYU (24-6 overall, 12-4 West Coast Conference)
February wasn't kind to BYU, which went just 4-3 in the shortest month and watched Gonzaga race past it, literally, in a 77-60 win for the Bulldogs in the regular-season finale, for a conference title. But the Cougars simply do too many things too well to bump them completely out of the top 10. No other team in the running for this spot can compete with BYU's field goal differential (the Cougars shoot 43.8 percent and limit opponents to 34.4 percent) or its assist-to-turnover ratio. None of the other contenders has a point guard like Haley Steed, either, the sixth-year senior deservedly earning a spot among eight finalists for the Nancy Lieberman Award. Kristen Riley averaged 11.8 points and 7.9 rebounds per game overall but earned WCC Player of the Year honors by averaging 14.4 points and 9.3 rebounds in the league.
Who they need to look out for: The Cougars are very much a bubble team if they fail to win the WCC tournament. That likely means beating Gonzaga in a final on a neutral court in Las Vegas, but it also likely means beating San Diego a third time in a potential semifinal.
• WCC tournament bracket
Next five: Missouri State, Dayton, Marist, UTEP, South Dakota State
February, 26, 2012
02/26/12
9:36
PM ET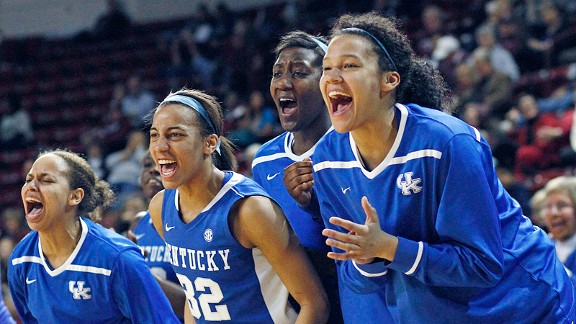 AP Photo/Kerry SmithKentucky opens the SEC tournament on Friday, facing the winner of Auburn-Florida.
A chance to be one of the best players in the nation.
That's how Kentucky coach Matthew Mitchell described what the future might hold for A'dia Mathies not long before her sophomore season began. Almost two seasons later, her exact place on such an inexact list remains up for debate, but she is the go-to player on the first Kentucky team to win an SEC regular-season title in her lifetime. It's a pretty good label in its own right.
Mathies didn't turn in a spectacular line in Sunday's 76-40 win at Mississippi State, a victory that clinched Kentucky's first regular-season title since 1982, but the Wildcats didn't need individual brilliance to get by the Bulldogs. With what is essentially an 11-player rotation, the Wildcats rarely turn one player loose on the box score, relying on that depth and collective defensive effort to force nearly 23 turnovers per game. But from her freshman season, when she scored 32 points in her first NCAA tournament game, and added 21 more in a subsequent win against top-seeded Nebraska, Mathies hinted at a knack for knocking out soliloquies, even in a supporting role alongside Victoria Dunlap.
There have been 14 instances of a Kentucky player scoring at least 20 points in a game this season; Mathies is responsible for 10 of them. Sure, a handful of those came against the likes of Northeastern and Southern Miss, but Mathies also put up 20-plus points in victories against Arkansas, Duke, Louisville and South Carolina. She also turned in a performance that ranks near the top of any list of the best singe-game efforts of the season with 34 of her team's 61 points in a one-point victory against Tennessee. Mathies' shooting percentage remains almost unchanged from an inconsistent sophomore effort, but in more than doubling her 3-point output and dramatically improving her long-range accuracy, she has become a much more efficient scorer. She's not a perfect player, nor is a Kentucky team that recently lost three in a row a perfect champion. But only Baylor need worry about perfection right now. For everyone else, it's about being better than those in the other uniform.
It took three decades for Kentucky to get a chance to celebrate a second conference championship. It shouldn't take much more than 24 months for the Wildcats to welcome a second SEC player of the year to program lore.

Making a case for March: Duke. While we're celebrating regular-season conference titles, full credit to Duke for a March-like performance in beating Miami and North Carolina in roughly the span of 72 hours to clinch the ACC regular-season title.
The math seems to add up to Duke earning a No. 2 seed, no matter the weekend results and no matter what happens in the ACC tournament, but the Blue Devils are trying to keep the calculators working right up to the final hour. More importantly, they showed both a toughness and an offensive efficiency in the two victories that they'll need regardless of seeding. As was the case in a loss against Maryland, rebounding remains an issue without injured starter Richa Jackson -- Miami piled up 19 offensive rebounds and North Carolina totaled 15 against a team that entered the weekend allowing just 12.3 offensive rebounds per game. But the champions, bedeviled so often by offensive inconsistency in recent postseasons, shot 49 percent against the Hurricanes and 52 percent against the Tar Heels, with point guard Chelsea Gray putting an exclamation point on things by setting the single-season assists record.

Novosel
Best individual weekend performance:
Natalie Novosel, Notre Dame. South Florida went on the road and made life difficult for Notre Dame over the weekend, just as it did against Connecticut four weeks ago. And just like Connecticut, which turned to Tiffany Hayes for a big scoring day, Notre Dame turned to a senior to get it out of trouble. Actually, two of them, but Devereaux Peters (17 points, 18 rebounds) has been piling up double-doubles by the bundle in recent weeks. The less predictable boost, at least by recent standards, came from Novosel, whose 32 points nearly matched her total from the previous four games combined and came after a stretch of eight games in which she hit double figures just three times.
Novosel hit all 12 of her free throw attempts against the Bulls. One of the best at getting into seams around the basket and either finishing or drawing a foul (rivaled by few this side of teammate Skylar Diggins in that regard), she's averaging 4.6 free throw attempts per game this season. That isn't bad by almost any standard, but it is down from 5.9 attempts per game a season ago. She's scoring at almost the same overall rate as a season ago, and her team is winning at an even greater rate than it did last season, so Novosel and the Fighting Irish are still doing just fine. But the more whistles you hear, the more likely it is she's driving opponents to distraction.

Best team weekend performance: Princeton. What did Princeton do to merit this? Did you see any other teams clinching berths in the NCAA tournament over the weekend? Or doing so for the third season in a row, for that matter? The Tigers spent the weekend doing what they have done with impressively numbing regularity in Ivy League play in recent seasons, beating Harvard by 30 points and Dartmouth 37 points to wrap up another conference title. That they did it with three games still to play in a league that doesn't hold a tournament is just Princeton's style. A strong contender for the weekend's top individual honors, Niveen Rasheed put up 24 points, 16 rebounds, five steals and four assists against Dartmouth, but she split the vote with teammate Lauren Edwards, who scored 29 points in the same game, including 7-of-10 from the 3-point line.

Raterman
Saving her best for last:
Justine Raterman, Dayton. Raterman's career would not have been diminished had the final week of her final regular season gone differently, but the Flyers senior did what program greats are supposed to do. Raterman scored 25 points in 23 minutes in her final home game, a rout against Xavier, but the performance that mattered most came on the road Saturday against Duquesne. Behind her 32 points (on 12-of-21 shooting), eight rebounds and three steals, the Flyers came away with a 74-69 overtime win. While the No. 3 seed in the Atlantic 10 tournament was already a given, the win keeps a team hovering around 40 in the RPI in the mix for at-large NCAA tournament consideration.

Lending a helping hand: Casey Garrison, Missouri State. Injuries took a toll on several potential mid-major powers this season, most notably those that took the likes of Northern Iowa's Jacqui Kalin and Toledo's Naama Shafir off the court. But the small matter of an injury to her shooting hand isn't stopping Garrison from fueling Missouri State's run in the Missouri Valley Conference. As the Springfield News Leader recounts, Garrison (who already donned a mask this season to play through a broken nose) simply started shooting with her left hand when she sprained the thumb on her more familiar shooting hand. Her first game as a southpaw? She scored 20 points. A lefty off the court, shooting with that hand was apparently nonetheless a relatively new experience. With Garrison leading the way, Missouri State owns first place in the league and 10 victories in a row, including Sunday's 80-76 win at second-place Illinois State.
The week ahead (Monday-Friday)
Notre Dame at Connecticut (ESPN2, 9 p.m. ET Monday): Are we headed for a season in which neither Connecticut nor Tennessee win regular-season conference titles? Kentucky already locked up the SEC, and Notre Dame, which already clinched a share of the Big East title, can go for its first outright title with a win in Hartford. Of course, it might also be just the first of two games between the team in Hartford in the next eight days, if the conference tournament leaves them opposite each other in the final. Skylar Diggins and Natalie Novosel combined for 19 free throws when the Fighting Irish won an overtime thriller in South Bend earlier this season. In 15 games since, only one Connecticut opponent -- the entire team -- attempted as many as 19 free throws (Louisville's 21 attempts on Feb. 7).
Baylor at Texas A&M (ESPN2, 7 p.m. ET Monday): Forget the 12th man; Texas A&M could use a sixth player. In five meetings between these two since the beginning of last season, Texas A&M's bench scored a total of 21 points (17 from Karla Gilbert). That worked out on the fourth try a season ago, and it's not like the Aggies roll bench points against everyone else. But without Danielle Adams and Sydney Colson around, it's a tough way to go about stopping the nation's No. 1 team.
St. John's at Georgetown (Monday): There are still matters of Big East tournament seeding at stake, in addition to a chance for St. John's to post the program's best league record, but this one is big for momentum alone. St. John's didn't win a true road game until Jan. 11 at Syracuse, but wins at Rutgers and, as you might have heard, Connecticut beefed up that road profile. With Da'Shena Stevens coming off a 21-point effort over the weekend, it's worth noting no St. John's player has hit more than five field goals in a game against Georgetown since the 2007-08 season.
Appalachian State at Chattanooga (ESPN3, 7 p.m. ET Monday): It's a chance for Appalachian State to clinch the outright Southern Conference regular-season title, but only if it can beat third-place Chattanooga on the road. Appalachian State's Anna Freeman is one of those quintessential do-everything mid-major players, averaging 15.1 points, 6.3 rebounds, 3.7 steals, 2.7 assists and 2.1 blocks per game.
Florida Gulf Coast versus East Tennessee State (ESPN3, 12 p.m. ET Wednesday): Get Championship Week started by watching a team that has the potential to do something in the main draw -- if it can take care of business in the Atlantic Sun tournament. Florida Gulf Coast faces East Tennessee State in a quarterfinal. This game comes just four days after the same teams met to end the regular season, a 71-64 win for the Eagles that was one of just four wins by single-digit margins in an unbeaten conference season.
Kansas State at Iowa State (Wednesday): There isn't much doubt Kansas State will be in the NCAA tournament, but an overtime loss at Missouri raised more eyebrows when it comes to a team that already seemed to have an inflated RPI. For a team that has shown an ability to go on the road and win, notably at Marist, South Dakota State, Kansas, Oklahoma State, Texas and Texas Tech, adding a win in Ames, Iowa, would be a boost. On the other side, Iowa State needs a win badly, if not desperately, to shore up its own at-large r´esumé.
Oklahoma State at Kansas (Wednesday): Both teams need victories in the struggle for NCAA tournament at-large consideration. Kansas got a badly needed result with a win at Texas Tech last week, fueled by 20 points and eight assists from Angel Goodrich. But the Jayhawks are just 3-8 in their last 11 and playing without Carolyn Davis, do they need to sweep Oklahoma State and Oklahoma?
Louisiana Tech at Fresno State (Thursday): Such is life for a mid-major like Fresno State, that all of the work of a 12-game winning streak and clinching at least a share of the WAC regular-season title can be partly negated by one tough loss. But a 62-61 loss at mid-table San Jose State does damage Fresno State's NCAA tournament at-large potential. Before they can worry about that, or even the conference tournament, the Bulldogs face the best women's basketball rivalry in the WAC. Ki-Ki Moore scored 20 when Fresno State won 61-59 in Louisiana.
February, 13, 2012
02/13/12
1:54
PM ET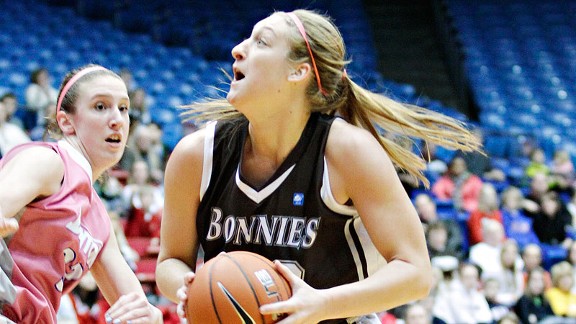 Tim G. Zechar/Icon SMISt. Bonaventure, which hasn't lost since Dec. 29, has won 13 consecutive games.
1. Delaware (22-1 overall, 13-0 Colonial Athletic Association)
That Delaware had at least a little something going for it even before Elena Delle Donne showed up was clear when coach Tina Martin picked up career victory No. 300, all at Delaware, in Sunday's win at Georgia State. And even while Delle Donne was busy collecting 31 points, 8 rebounds, 2 blocks and 2 steals in just 25 minutes in Sunday's game, there were hints of why this is a team with the right supporting cast for a once-in-a-lifetime star. Lauren Carra scored 19 points, including 3-of-6 shooting from the 3-point line, Danielle Parker totaled 11 points, 8 rebounds, 6 assists and 6 steals, Trumae Lucas finished with 9 assists and 1 turnover and the whole cast limited Georgia State to 36 percent shooting and forced 25 turnovers. Georgia State isn't a good team, but with Delaware facing challenging road games this weekend against teams that do fit that label, Hofstra and Drexel, the Blue Hens used the warm-up game to offer a nice reminder of why there's more than one reason to like them.
2. St. Bonaventure (24-2 overall, 11-0 Atlantic 10)
The Bonnies remain perfect in 2012, and the math starts to look pretty simple to complete a perfect conference season and claim the No. 1 seed in the Atlantic 10 tournament. All that remains for St. Bonaventure is home games against Xavier and Fordham and a road trip to Rhode Island, teams with a combined 5-25 A-10 record at the moment. Along with an earlier win at Temple, Saturday's 56-55 win at Dayton might have been the most impressive of the conference slate (although those nonconference road wins at West Virginia and St. John's also gained some sheen after those teams went to Notre Dame and Rutgers, respectively, and won Sunday). Against Dayton, the Bonnies got just three points from Jessica Jenkins, but showed they have other go-to options (17 points, 8 rebounds by Megan Van Tatenhove) and plenty of depth (13 points off the bench from CeCe Dixon).
3. Green Bay (21-1 overall, 11-1 Horizon League)
Losing one regular-season game every 14 months ought to buy a team leeway, but Green Bay falls from the top spot after a 70-58 home loss against Detroit. Playing without injured starter Sarah Eichler, one of its best one-on-one defenders, Green Bay saw several streaks come to an end against Detroit, including a 40-game regular-season winning streak, 27-game home winning streak and 36-game conference winning streak. So how did the Phoenix respond two days later? How about what might be the line of the year in college basketball from should-be-All-American Julie Wojta: 30 points, 20 rebounds, 8 steals, 5 assists and 4 blocks in a 64-59 win against Wright State, the league's third-best team.
4. Florida Gulf Coast (23-2 overall, 15-0 Atlantic Sun)
Since a five-point loss against NC State in Hawaii on Dec. 28, Florida Gulf Coast has won 15 in a row, 12 of those games by double digits. That probably says something about both the Eagles and the Atlantic Sun, but if the past week in women's college basketball proved anything, it's that winning isn't ever a given. Florida Gulf Coast hit just two 3-pointers in Saturday's win against Belmont, missing 17 shots from the arc, but such shooting woes for the nation's most prolific 3-point shooting team don't matter much when you limit the league's third-place team to 34 points and 31 percent shooting.
5. BYU (22-4 overall, 10-2 West Coast Conference)
BYU scored 46 points in the second half of its conference showdown against Gonzaga. It could have skipped the first half. A 70-40 victory for the Cougars on Feb. 9 goes down as one of the more eyebrow-raising scores of the season, mid-major or otherwise, even if the Bulldogs still hold a half-game lead in the standings (with a game remaining against BYU on Feb. 25 in Spokane). BYU is as balanced as any team in the nation when it comes to finishing; four players have attempted between 217 and 236 field goals. But there's one hand distributing most of the makes. Haley Steed has double-digit assists in back-to-back games and is closing on the top five nationally in assists per game.
6. Princeton (17-4 overall, 7-0 Ivy League)
Expect the Tigers to keep saying all the right things about the Ivy League, and Friday-Saturday back-to-backs aren't easy regardless of the opponent, but there isn't much left to challenge this team until the postseason. Princeton rolled through the often-tricky Dartmouth-Harvard road trip without a worry over the weekend, winning by 31 and 28 points, respectively. It's not hurting them at the moment, so perhaps it isn't a problem, but it's interesting that a team that was so strong in assist-to-turnover ratio in recent seasons is currently working with a mediocre 0.80 ratio.
7. Fresno State (20-4 overall, 8-0 WAC)
Their opponents shoot a better percentage from the floor than they do. Their opponents get more rebounds than they do. So how do the Bulldogs keep rolling along? The winners of nine in a row, including five road games in the past three and a half weeks, the Bulldogs keep getting more opportunities than the teams they play and make those opportunities count for more. Not since the fifth game of the season has an opponent had fewer turnovers than Fresno State, which ranks in the top 10 nationally in turnover margin. Throw in the chance to hit 18 of 29 shots from the 3-point line, as Fresno State did against Nevada on Saturday, and it's easy to explain this ranking.
8. Middle Tennessee (21-5 overall, 13-0 Sun Belt)
The wins haven't come easy, with three of Middle Tennessee's four February victories by single digits, including a 67-64 escape against Western Kentucky, but they have come. With just two reserves averaging more than seven minutes a game, the Blue Raiders need at least one of their familiar faces to step up at all times. Icelyn Elie has done so of late. The team's third-leading scorer topped 20 points in three of the past four games. The Blue Raiders can lock up the best record in the Sun Belt with a win Saturday against Florida Atlantic (ESPN3, 4 p.m. ET).
9. Gonzaga (22-4 overall, 10-2 West Coast Conference)
With a 1-2 record against BYU and Saint Mary's, including that 30-point rout at the hands of the Cougars, Gonzaga is not on firm ground here, owing its standing in large part to neutral-site victories against Georgia and Dayton in December. The good news is the remaining three regular-season games are all at home, including the Feb. 25 tilt with BYU. Also on the positive side of the ledger, Gonzaga is running a positive assist-to-turnover ratio at the moment, with 450 assists against 400 turnovers. Why is that worth noting for a team that ranked among the national leaders last season with 245 more assists than turnovers? Because take away Courtney Vandersloot, and last season's team actually finished with a negative assist-to-turnover ratio.
10. Temple (16-8 overall, 9-1 Atlantic 10)
Temple returns on the strength of nine consecutive wins in the Atlantic 10, keeping the Owls at least nominally in the race for the top seed in the Atlantic 10 tournament, despite St. Bonaventure's torrid pace. Other than a loss at Northern Illinois, there aren't any head-scratchers on the Temple résumé, with only Villanova an NCAA tournament question mark among the seven other teams to beat Tonya Cardoza's team. Conference play has been a boon to all involved, but Victoria Macaulay more than most. The 6-foot-4 junior center is averaging 10.5 points, 8.5 rebounds and 2.2 blocks per game in Atlantic 10 games.
Next five: South Dakota State, UTEP, Marist, San Diego State, Central Arkansas
January, 25, 2012
01/25/12
1:11
AM ET
1. Green Bay (17-0 overall, 7-0 Horizon)

The Phoenix -- one of only two mid-major teams in the top 10 nationally in scoring margin, along with Florida Gulf Coast -- keep rolling. So, too, does All-American candidate Julie Wojta, but Green Bay is much more than one player. Coach Matt Bollant talked recently about wanting his players to be more aggressive going to the rim, rather than relying on the 3-pointer, but it's easy to see from whence the temptation comes. One reason the Phoenix cracked the top 10 in the coaches' poll for the first time is they are a better outside shooting team than last year's Sweet 16 edition, particularly given the new 3-point line. Led by Lydia Bauer (40.8 percent from behind the arc) and Adrian Ritchie (35.4 percent), the Phoenix are hitting 6.6 3-pointers per game at 36.6 percent, compared to 5.3 per game at 35.7 percent a season ago. Yet they also average 19.2 free throw attempts per game, exactly the same mark as a season ago because Bauer, Ritchie and Sarah Eichler have each already topped last season's attempts.
2. Delaware (16-1 overall, 7-0 Colonial Athletic Association)

After averaging 33 points per game over a three-game stretch to begin the new year, Elena Delle Donne is averaging "just" 20.3 points in her four most recent games. Trouble for the Blue Hens? Not so much. Delaware's opponents are shooting just 34.9 percent this season, and that's down to 32.9 percent in Colonial play. Delle Donne remains the only player averaging double digits for the season, but Lauren Carra is averaging 10.7 points per game in seven conference games. And tied for eighth in the conference in assists? That would be Delle Donne. She's not bad.
3. St. Bonaventure (18-2 overall, 5-0 Atlantic 10)

The Bonnies didn't take the easy route before conference play, winning big games on the road against the likes of St. John's and West Virginia, and they aren't taking the easy route to the top of the Atlantic 10. Charlotte, Duquesne, Richmond and Temple are a combined 0-4 against St. Bonaventure and 12-2 against the rest of the Atlantic 10. The Temple win Jan. 11 and the Charlotte win Jan. 21 are part of an 8-0 road record for the Bonnies this season. Along with road games at Duquesne and Dayton in February, Wednesday's home game against Saint Joseph's looks on paper like one of the few hurdles remaining between this team and a No. 1 seed in the conference tournament.
4. Florida Gulf Coast (17-2 overall. 9-0 Atlantic Sun)

For Florida Gulf Coast, it's live by the 3-pointer or, well, win by slightly less by the 3-pointer. The nation's most prolific team from behind the arc suffered through a 7-for-31 night in its most recent game at Stetson, the team closest to the Eagles in the Atlantic Sun standings. On the road and shooting 23 percent on their bread and butter? What seemed like a sure recipe for a loss was instead a 59-55 win. Granted, Florida Gulf Coast probably isn't going to pull many March upsets if it isn't at its best from the 3-point line, but good teams find ways to win on bad nights.
5. Princeton (13-4 overall, 3-0 Ivy League)

Most of the teams on this list have little difficulty winning conference games, but Princeton is taking it to extremes in Ivy League play. The Tigers, who are in the middle of their annual midwinter schedule lull, won their first three Ivy games by an average of 41 points per game. The Tigers are crushing conference opponents on the boards, holding an advantage of better than 25 rebounds per game, but that isn't entirely new. Despite playing a tough schedule out of conference, the Tigers own a nearly double-digit rebound margin per game for the entire season. Credit that mid-major rarity to Niveen Rasheed and Devona Allgood inside, but also to a group of guards who rebound well.
6. Gonzaga (17-3 overall, 6-1 West Coast Conference)

Since beating Georgia and Dayton in Las Vegas just before Christmas, Gonzaga has run off seven wins by double-digit margins, including five on the road in conference play. Unfortunately for its cause, it also lost a game in that stretch against Saint Mary's, its only game against the other teams currently in the top three in the WCC. Oregon State transfer Haiden Palmer and Kansas State transfer Taelor Karr continue to keep the Bulldogs in business from the 3-point line. On the season, they account for 63 of the team's 95 3-pointers.
7. BYU (18-3 overall, 7-1 West Coast Conference)

The Cougars entered the AP Top 25 this week, making the WCC the only mid-major league with two ranked teams (Saint Mary's is receiving votes in the AP poll and beat both BYU and Gonzaga already, only to fall a half-game off the pace in a buzzer-beater loss at San Francisco on Monday). BYU has yet to play Gonzaga and lost at Saint Mary's on New Year's Eve, but it did earn a road win of value at San Diego on Jan. 14. Redshirt sophomore reserve Stephanie Vermunt doesn't have the necessary attempts to qualify for the national lead, but she's putting together a memorable season from the 3-point line, converting at 55.8 percent on 29-of-52 shooting from long distance.
8. Bowling Green (16-3 overall. 6-0 Mid-American)

The season started slowly for Bowling Green, at least by its standards, as the program sought to replace Lauren Prochaska and Tracy Pontius. They narrowly missed an upset against Purdue and dropped games at Dayton and Creighton, their three best nonconference opponents. But there's no secret as to why the Falcons now look like a team that might get to play postseason basketball in their new building, a first- and second-round NCAA tournament site. Duke transfer Alexis Rogers is averaging 20.3 points per game in conference play, up nearly 10 per game over nonconference action, giving Curt Miller a viable one-two punch with junior Chrissy Steffen (14.6 points per game).
9. Middle Tennessee (16-5 overall. 8-0 Sun Belt)

Another familiar name is reclaiming familiar territory in the top 10. The Blue Raiders haven't looked back since beating Kentucky just before January arrived, winning seven in a row since as part of an overall 10-game winning streak. Ebony Rowe remains a force, averaging 17.3 points and 9.6 rebounds per game overall, but she has had plenty of help in Sun Belt play. Assists leader Kortni Jones had at least a share of the scoring lead in five of the first eight conference games, including important road wins at South Alabama and Florida Atlantic.
10. Fresno State (15-4, 3-1 Western Athletic)

A 73-71 loss at UNLV early in January was a setback for a team that would have liked a quality road win to go with its home upset against Oklahoma earlier in the season. Still, that defeat didn't derail the Bulldogs. They close out January at home against San Jose State and Hawaii after winning their previous four games by an average of 21 points per game. Ki-Ki Moore remains the go-to option, but sophomore Taylor Thompson had a hot hand in the first three WAC games, averaging 13 points, 4.7 rebounds, 3.0 assists and 3.0 steals per game. The team's leader in assists, Thompson has just 30 turnovers in 582 minutes this season.
Next five: Hofstra, UTEP, Marist, San Diego State, St. Mary's
December, 26, 2011
12/26/11
8:14
PM ET
1. Green Bay (10-0)

The Phoenix remained unbeaten on the season with a win at Wisconsin on Dec. 23 and improved to 32-1 in the 2011 calendar year. When the only team that beats you in a 12-month period has Brittney Griner in the middle, you're doing something right. Julie Wojta (20.7 points, 9.9 rebounds, 3.4 steals per game) remains a marvel and tormented new Wisconsin coach Bobbie Kelsey as much as she did old Wisconsin coach Lisa Stone, scoring 29 points in a 65-49 victory against the Badgers. And while this team isn't quite as reliant on takeaways for defensive success as that other team that plays in Green Bay, the Phoenix remain among the best in the nation at making you give up the ball.
2. Delaware (9-0)

The road to an unbeaten regular season still runs through road trips to James Madison and Hofstra, among other challenging Colonial Athletic Association stops. But the game that could define Delaware's season will be against Maryland on Dec. 29 -- if, and only if, those teams beat East Carolina and Lafayette, respectively to reach the final of the Terrapin Classic. As if she didn't have enough amazing numbers, Elena Delle Donne has played 293 minutes and taken 165 field goal attempts and 66 free throws -- and turned over the ball just 12 times.
3. Gonzaga (10-2)

Las Vegas was kind to Gonzaga, with wins against Georgia and Dayton in the Holiday Hoops Classic providing much-needed quality results for a team with two games remaining against BYU and little else of RPI consequence. Katelan Redmon topped 20 points in both victories in Vegas, while Kansas State transfer Taelor Karr totaled 11 assists and just three turnovers in 62 minutes. Karr and Haiden Palmer are shooting a combined 39.5 percent from the 3-point line (34-for-86). The rest of the team is shooting 18.9 percent (17 of 90).
4. St. Bonaventure (11-1)

The only loss came in November at the hands of Delle Donne and Delaware (and she was at least forced to take 26 shots to get her 26 points in that game), and a win against Marist adds another prize to a list that includes victories at St. John's and West Virginia. It's time to take the Bonnies seriously in the crowded Atlantic 10 race. This week's game against Villanova will likely have a lower score than most bowl games -- and potentially some hockey games -- but like some of Harry Perretta's best teams, Jim Crowley's Bonnies are masters of their own style.
5. Florida Gulf Coast (8-1)

Florida Gulf Coast opens the post-Christmas portion of its schedule against NC State in Hawaii, but it had little trouble dispatching another ACC foe to wrap things up before the brief holiday break. The Eagles hit 17 3-pointers in a 69-41 victory against Virginia Tech on Dec. 21 and have reached double digits in that category in every game since an opening loss at Seton Hall. Kelsey Jacobson went for 17 points against the Hokies, including five 3-pointers. She has taken 87 shots this season; 79 of them have come from beyond the 3-point line.
6. BYU (11-2)

The Cougars enter their first West Coast Conference season with a 10-game winning streak, including neutral-site wins against Arizona and Syracuse and a home victory against Utah. Guard Haley Steed had a noteworthy line in an 82-53 win against Nevada before Christmas, totaling 11 assists without committing a turnover or attempting a field goal or free throw in 23 minutes. A sixth-year senior finally getting a good run of health, she scored 15 points in her second college game against Stanford -- and a lineup that included Candice Wiggins and Brooke Smith.
7. Duquesne (10-2)

A 62-49 loss at Florida to close the pre-holiday schedule was a definite downer for the Dukes, but they get a chance to erase some of that sting with road games against Pittsburgh, James Madison and St. Bonaventure before the first week of January is in the books. A big comeback against West Virginia on Dec. 17 helped keep them in the top 10, as does the belief that they can't possibly repeat an 0-for-19 shooting performance from the 3-point line against Florida.
8. Hofstra (9-2)

With wins against St. John's and Marist, Hofstra at least has control of the Hudson River (and that's not even counting a victory against Manhattan's Kansas State). Shante Evans came up big in the mid-major battle against the Red Foxes on Dec. 22, going for 29 points and 18 rebounds -- 13 of them on the offensive glass. With a star in Evans, a steady senior point guard in Candice Bellocchio, a scoring threat in Katelyn Loper and an X factor in Nicole Capurso, who has scored 20 twice this season despite 29.5 percent shooting, the Pride bear watching.
9. Fresno State (10-3)

Mid-major programs aren't supposed to beat Oklahoma the season after losing the star player who was a first-team, all-conference selection three years running, but that's exactly what Fresno State did on Dec. 8. Exit Jaleesa Ross, enter Washington State transfer Ki-Ki Moore, who averaged 17.7 points and 8.8 rebounds in six December wins, including four in a row after the victory against the Sooners. A Jan. 6 game at UNLV won't generate big headlines, but it's a good road test before Fresno State enters WAC play.
10. Princeton (8-4)

December was unkind to the Tigers, and January doesn't offer many opportunities for redemption with just three games on the schedule because of those pesky Princeton academics. (The Tigers do have December games remaining against Hofstra and Drexel.) But other than a loss at Navy, losses against Delaware and DePaul at home and Stanford on the road aren't entirely negative. One problem? Princeton can't buy a 3-pointer. A team that shot 41 percent on 17 attempts per game a season ago is shooting worse than 30 percent on similar attempts this season.
Next five: Hampton, Missouri State, Tulane, Dayton, UNLV
November, 30, 2011
11/30/11
12:10
PM ET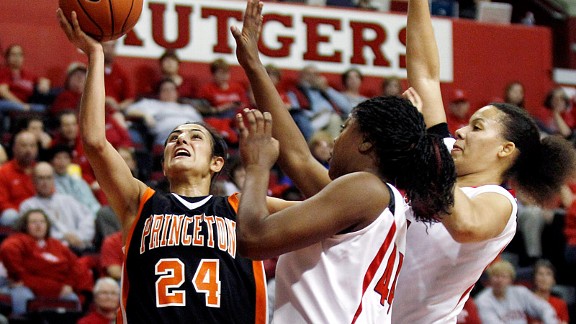 AP Photo/Mel EvansNiveen Rasheed and Princeton play Delaware on Thursday in a mid-major showdown between unbeatens.
1. Gonzaga (4-1)

The No. 1 team holds down that spot in part because of its lone loss, not despite it. Gonzaga dropped a 76-61 decision at Stanford on Nov. 13, but in leading the Cardinal at halftime in that game and looking like they belonged all game, the Bulldogs again showed that they're playing with major talent at the mid-major level. But that only goes so far. Three more significant tests remain on the nonconfernece schedule, beginning with a visit from USC this Sunday, and neither that game nor neutral-site games against Georgia and Dayton come with credit for moral victories.
2. Green Bay (5-0)

The Phoenix extended their regular-season winning streak to 25 games with two victories in Puerto Rico over the holiday weekend. Taking care of business in an 82-62 win against Illinois was a good opening act -- Green Bay should beat Illinois, and it didn't dawdle in taking a 38-25 halftime lead and shooting 50 percent for the game. But the big victory came against No. 25 Georgia Tech. Down 54-48 with 1:24 to play, Green Bay forced overtime on an Adrian Ritchie 3-pointer with two seconds remaining, and then came back from five down in the extra period to win, 67-62. Julie Wojta (20.8 points, 9.0 rebounds, 3.4 assists and 3.4 steals per game) remains as underrated a player as there is in the top 25.
3. Delaware (4-0)

A season ago, Delaware was a middling team with a magnificent player. So is jumping them all the way to No. 3 an overreaction to a few good, early wins? Perhaps, and Thursday's game against Princeton is as meaningful a mid-major showdown as the calendar offers. But this team appears to be more than just Elena Delle Donne (whose 40-point performance in a victory against Penn State is the early frontrunner for game of the year). The biggest statistical difference for the Blue Hens comes from Florida transfer Trumane Lucas. Through four games, she has 15 assists and nine turnovers for a team almost even in assist-to-turnover ratio. A year ago? Try 297 assists and 568 turnovers.
4. Princeton (6-0)

It's worth noting that Delaware started out last season with five wins in a row before an 18-point loss at home to Princeton derailed things. The Tigers look every bit as good this season, if not better. Coming off last season's knee injury, Niveen Rasheed is averaging 17.7 points and 8.2 rebounds per game, including 19 and 12 in a victory against Villanova and 18 and 11 in a win against Marist. And for a team that shot better than 40 percent from the 3-point line a season ago, it's worth noting the strong start this season comes despite little success from the new line.
5. San Diego State (4-1)

Courtney Clements is making an early case for Mountain West honors, all-mid-major honors and just about any other accolade you can come up with. The Arizona transfer is averaging 19.2 points per game in her second season with the Aztecs, shooting 47.9 percent from the floor and 44.8 percent from the 3-point line. She matched Keisha Hampton nearly point for point in a victory against DePaul in Hawaii, and did it without turning the ball over in 37 minutes. A loss to Portland in that tournament keeps San Diego State from climbing higher, but a win at home against Washington on Nov. 26 was a nice recovery.
6. Florida Gulf Coast (3-1)

The season began with a missed opportunity in a 57-51 loss at Seton Hall, but if not exactly a threat in the Big East, Anne Donovan's team is perhaps no longer a mere speed bump. And the Eagles made up for that Seton Hall result with a 59-58 win against Michigan State the week before Thanksgiving behind 20 points and 13 rebounds from Sarah Hansen. Like more than a few markswomen, Kelsey Jacobsen is off to a slow start from the 3-point line, whether or not it's related to the new distance. But well-regarded freshman Whitney Knight is filling the void (5-of-11).
7. Oral Roberts (5-1)

A loss at home against Missouri State over the weekend was the first bit of bad news this season for Oral Roberts, which couldn't stop Casey Garrison. But that doesn't erase the positives of double-digit wins on the road at Wisconsin and at home against Louisiana Tech. As might be expected, Kevi Luper is scoring, hitting for at least 22 points in every game until the Missouri State loss. But Luper also has 12 assists, no small matter for someone who had 29 assists in 34 games a season ago. Road tests at Arkansas and Kansas remain before Christmas.
8. Northern Iowa (4-1)

It's difficult not to imagine what might have been had Jacqui Kalin stayed healthy, but Northern Iowa isn't letting the preseason loss of the reigning Missouri Valley Conference Player of the Year stop it. Other than a four-point loss to Iowa in a game it led with 36 seconds to play, Northern Iowa has steamrolled to wins by an average of 19 points per game. A different player led the team in scoring in each of the wins, a good way to make up for losing one great player. Rachel Madrigal looks positively Kalin-like in averaging 15.4 points, 4.6 rebounds and 3.1 assists per game while shooting 54.9 percent from the floor and 44.8 percent from the 3-point line.
9. Tulane (5-1)

The Green Wave are well on their way to claiming in-state bragging rights with a 4-0 record against Louisiana teams. The biggest of those, of course, was a 65-62 overtime win against LSU on Nov. 19. The Green Wave committed 24 turnovers in that game, but they beat the Lady Tigers on the boards -- freshman Adesuwa Ebomwonyi is averaging five offensive rebounds per game, forming a formidable partnership on the glass with veteran post Brett Benzio.
10. Temple (2-4)

Yes, that's a 2-4 record, and yes, fans of UC Davis, UTEP, James Madison and a host of other unbeaten teams are free at this point to grumble. The Atlantic 10 has been a mystery to this point. In terms of talent, Temple, Duquesne and Dayton still look like locks to make this list by the end of the season. But they also have eight losses between them (Duquesne's only on the hook for one of them, but it was at North Dakota). Temple stays and the other two go for now. That's mostly because aside from an inexplicable loss against Northern Illinois, Temple has taken its turn against worthy competition and held its own. The Owls trailed Ohio State and St. John's by two points in the final minute and Texas A&M by four points with less than three minutes to play.
Next five: Duquesne, UC Davis, Hartford, Marist, James Madison.
January, 4, 2011
01/04/11
1:11
PM ET
1. Xavier (10-2)
What to do with Xavier? Would any team on this list have fared better against Stanford than the Musketeers did in a 89-52 loss? Well, the game wasn't at Maples, but Gonzaga, for one, had the Cardinal tied late in the second half, so maybe. But based on Stanford's subsequent work against Connecticut, it's pretty clear the Cardinal are on top of their game at the moment. And while nothing went right for Xavier in California, it's still worth noting that Kevin McGuff's team came out of back-to-back road games at Duke and Stanford with a net rebounding margin in the black (11 rebounds). As long as Amber Harris and Ta'Shia Phillips are in the lineup, it's going to take a conference loss to dislodge the Musketeers from this spot.
2. Marist (10-2)
Weather denied the Red Foxes a final nonconference showdown, when a game at Arizona State was canceled because of a winter storm that trapped them in the wrong time zone. As a result, an 81-65 win against Rider to open MAAC play is the team's lone result since the last rankings. Erica Allenspach scored 21 in the Rider game, meaning she has totaled 75 points, nine assists and a turnover in her past three games.
3. Bowling Green (12-1)
The Falcons have played once since the last rankings, registering a 73-64 win at Butler in a game that wasn't really as competitive as the single-digit margin might indicate. The Falcons beat the Bulldogs on the boards, the third game in a row in which the Falcons had the edge in rebounding. They aren't big time in the post and they definitely revolve around the perimeter trio of Lauren Prochaska, Tracy Pontius and Chrissy Steffen, but their ability to rebound as well as they have this season speaks to the effort by players like Maggie Hennegan and Jen Uhl and the attention to detail in the program.
4. Green Bay (13-1)
Green Bay's move back into the national rankings this season is all the more notable because preseason Horizon League player of the year Kayla Tetschlag wasn't producing quite the numbers fans at the Kress Center have grown accustomed to seeing out of her. The bad news for opponents is Tetschlag might be back. She put up back-to-back double-doubles when the Phoenix opened conference play with victories against Detroit and Wright State. She even made her 1,000th career point count, reaching the milestone on a key late basket against Detroit.
5. Gonzaga (12-4)
It was an opportunity missed in a 70-61 loss against Notre Dame in Seattle, much as it was an opportunity missed against Stanford earlier in the season. But the emergence of Kayla Standish (20 points and 8.3 rebounds per game over the past seven games) alongside Courtney Vandersloot and Katelan Redmon means the Bulldogs remain on track to make some noise in March. Conference play isn't going to present a plethora of challenges, but it's valuable time for Kelly Bowen and Janelle Bekkering (who hit 7 of 11 shots in a win against Southern Utah on Jan. 3) to find their stride. Coach Kelly Graves admits he's still not sure which buttons to push to get the two talented 6-foot wings to play to their potential.
6. Duquesne (12-2)
A big game looms against Pittsburgh on Wednesday, but the holiday season was good to the Dukes, capped by a 71-67 win at Ohio State on Dec. 28. Freshman Wumi Agunbiade fouled out late in the game against the Buckeyes but hung around long enough to put up 17 points and 10 rebounds against Jantel Lavender and OSU. Agunbiade is showing no signs of struggling to adjust from the Canadian high school ranks, averaging 12.3 points, 8.1 rebounds, 2.3 steals and 1.6 blocks per game. Sophomore starter Jocelyn Ford might only average 2.4 points per game, but she put up one of the lines of the early season with 12 points, 10 rebounds, eight assists and nine steals against Ball State on Jan. 2.
7. Florida Gulf Coast (10-0)
A 13-day holiday break between games didn't seem to leave Florida Gulf Coast showing much rust in a 79-39 win against Belmont on Jan. 3 to open conference play in the Atlantic Sun. The Eagles have one of the more pronounced turnover differentials in the nation (they have 23 more assists than turnovers; their opponents have 126 more turnovers than assists). Along those lines, Tom Brady has nothing on Kelsey Jacobson when it comes to taking care of the ball. In 325 minutes in which the sharpshooter has launched 97 shots and assisted on 24 field goals, she has turned the ball over just six times.
8. Middle Tennessee State (10-4)
It has been a season of close calls as much as of upsets for some of the best mid-major teams, and Middle Tennessee added its voice to that chorus with an 81-72 loss at Kentucky on Dec. 29, in which the Blue Raiders led by 10 points with fewer than eight minutes to play. Turnovers proved a big part of their undoing that night (27 in all), as did losing senior Anne Marie Lanning to fouls just as Kentucky turned on the afterburners against Rick Insell's otherwise young team. But spilt milk aside, Middle Tennessee bounced back to open Sun Belt play with a road win at South Alabama, getting 26 points from Lanning and 26 points and 16 rebounds from Ebony Rowe. Perhaps as important, the Blue Raiders got a season debut from Emily Queen, who started 24 games in 2008-09 but battled injuries last season and much of the first half of this season.
9. Princeton (10-3)
From the correction file: Princeton wasn't supposed to fall completely out of the most recent edition of these rankings, merely down a few spots after a double-overtime loss at Saint Joseph's. So consider this reclaiming the spot they were cheated out of last time. The Tigers bounced back from the loss (and the slight) with wins at Davidson and Wake Forest. They have two more games, including the Ivy opener against Penn this weekend, before a nearly three week break from games during finals. The win at Wake Forest came without leading scorer Niveen Rasheed, who suffered a knee injury against Davidson and is to be evaluated this week.
10. Dayton (9-5)
Things are starting to come together for the Flyers, who earned their third victory in a row by beating No. 25 Boston College 89-77 on the ACC team's court on Monday. Point guard Patrice Lalor scored 22 points to lead Dayton in the win, the second time this season a player who last season averaged 5.6 points per game in 32 starts topped 20 points against a BCS opponent (Lalor scored 25 in a win against Minnesota). With a team that returned all but one rotation player from a group that advanced to the second round of the NCAA tournament last season, coach Jim Jabir made a bold decision, dramatically altering his offensive approach to incorporate elements of the style Mike D'Antoni ran with the Phoenix Suns and Paul Westhead has run at various stops and continues to run at Oregon. One obvious result? Dayton has gone from an average 3-point shooting team to an elite one, led by Kristin Daugherty (27-of-45) and Justine Raterman (33-of-64) making the most of all the open looks that come from transition penetration and tired defenders too slow to close out.
Next five: Nevada, Tulane, Charlotte, Houston, TCU
December, 7, 2010
12/07/10
5:38
PM ET
As a kid growing up in Ohio, Lauren Prochaska liked few things quite so much as staying outside and shooting a basketball, no matter how much her parents tried to convince her that it was time to come in for the night.
Left to deal with the result on college basketball courts around the country, teams such as Vanderbilt probably wish the Bowling Green senior still showed such an aversion to coming inside. And that her teammates didn't seem so willing to follow her aggressive lead.
[+] Enlarge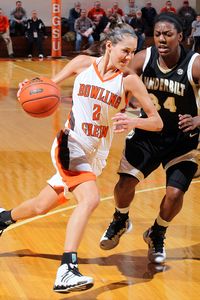 Brad Phalin/BGSU Photo ServicesLauren Prochaska and Bowling Green (8-1) beat then-No. 23 Vanderbilt last week.
Long one of the flagship mid-major programs under coach Curt Miller, Bowling Green is again rolling toward a date with the NCAA tournament. After a surprising season-opening loss at Evansville, the Falcons have rolled off eight wins in a row heading into Thursday's road game at Western Kentucky (where Bowling Green will manage the geographically curious feat of playing on the road in Bowling Green). Highlighting the run was last week's 79-68 victory against a Vanderbilt team ranked No. 23 at the time, the fourth win in program history against a ranked opponent and the second season in a row it earned one against the Commodores.
The result was the embodiment of one of Miller's oft-repeated mantras, and one in particularly sharp focus after the Evansville loss, in which the team attempted just six free throws.
"One of the biggest things that Coach talks about a lot is our toughness," Prochaska said. "I think the tougher we get, the better team we will become. If we really learn to battle and fight on every possession, that will just makes us a better team."
To that end, Prochaska led the way against Vanderbilt in distinctive Prochaska fashion, hitting five 3-pointers and all 10 of her free throws on her way to a game-high 31 points. She already is the school's all-time leader in 3-pointers and is second in free throws made, having converted 69 of 70 attempts from the charity stripe in nine games this season. Her ability to mix the finesse skills of a marksman with a willingness to absorb punishment in the paint and dole out punishment of her own to overzealous defenders looking to take away her outside shot is a blueprint for how the Falcons compete against all comers.
She's not alone. The senior backcourt duo of Prochaska and Tracy Pontius was a big reason Bowling Green entered the season with the profile of mid-major power, but the lineup's two new starters are big reasons the Falcons still look so good a month into the season.
A transfer from St. Louis who was voted a team captain before playing her first game for the Falcons last season, redshirt senior Maggie Hennegan has stepped in for Tara Breske and filled the role of undersized post. She led the team with 11 rebounds against Vanderbilt and is part of the reason a team that annually operates with a rebound surplus of one or two per game finds itself beating opponents this season by nearly eight rebounds per game.
"Maggie's our warrior," Prochaska said. "She battles and fights every possession of the game. When she's outmatched in the post, she still finds ways to score and get offensive rebounds for us. I think her presence in the post has been a big deal for us since Tara left."
And filling the starting spot vacated by Tamika Nurse, sophomore Chrissy Steffen adds perimeter size, defense and shooting at 6 feet -- the same height as Hennegan inside.
"Chrissy is really long, a good athlete," Prochaska said. "She's a great defender; she gets a lot of steals with her long arms. And on the offensive end, she's a good shooter, but she also gets to the hoop really well. I think her all-around game is what's been impressive so far this year."
Bowling Green can't afford many more games like Evansville, in or out of conference. There are no more ranked teams on the schedule, and wins against Vanderbilt, Creighton and Arkansas-Little Rock might not be enough to build an at-large profile for the NCAA tournament, should the need arise. But if their reality is that of a mid-major, the Falcons still will look to make any such debates moot by playing hard, playing tough and playing like one of the best teams in the country -- whoever is on the other side of the court.
"I think it's an honor to be labeled as one of the top mid-major programs," Prochaska said. "It's a credit to the coaching staff and all the players who played here before us, so that's an honor to us. But we still want to be one of the elite teams, not just a mid-major."
Mid-major top-10 rankings
1. Xavier (8-0): There was a close call against USC, but Amber Harris and Ta'Shia Phillips responded with 48 points and 30 rebounds in a 69-66 win. The Duke and Stanford road trips later this month loom large, but this week's game at Middle Tennessee might be no easy task with Katie Rutan still battling an ankle injury. Rutan's absence would mean another chance for freshman Ashley Wanninger to prove herself a long-range option off the bench.
2. Green Bay (8-0): A trip to Cancun offered a chance to get some quality competition on a neutral court, and the Phoenix rolled over Hartford and Utah and outlasted Penn State to improve to 3-0 against the Big Ten. It's early, but Sunday's game at Marquette looms as the biggest remaining hurdle between Green Bay and a run at a perfect regular season. For a team already loaded with proven talent, sophomore Adrian Ritchie emerging as the leading scorer through eight games is a pleasant surprise.
3. Bowling Green (8-1): See above.
4. Princeton (5-2): The reigning Ivy League champs took another near-miss with a 74-68 loss at Vanderbilt, playing the Commodores largely even after a slow start and cutting the deficit to two points with less than six minutes to play. The good news is they were in that game at Vanderbilt's tournament because of a 60-59 win against USC. Addie Micir hit six 3-pointers in that game and is 12-of-22 from behind the arc in Princeton's past three games.
5. Tulane (7-1): The challenges of success became apparent immediately after the big win against LSU just before Thanksgiving. Tulane lost its next game against Portland State and lost Brittany Lindsey to a concussion. But the Green Wave bounced back with wins against Fullerton, Saint Joseph's and Detroit, not a murderers' row but worthwhile tests of focus. Brett Benzio pulled down 28 rebounds in those wins.
6. Charlotte (6-2): The team's best wins to this point are moral victories, but a 61-55 loss against Duke is worth noting, as is a 76-70 loss at Florida, to a slightly lesser degree. The 49ers held the Blue Devils to 30 percent shooting in their game and nearly matched them in rebounds (55-50). Eligible after sitting out last season as a transfer, Epiphany Woodson leads the team in assists (and had six assists and just two turnovers against Duke).
7. Gonzaga (6-3): It wasn't quite Virginia Tech playing James Madison in football five days after playing Boise State, but playing Ole Miss in Hawaii three days after a road game at North Dakota (and five days after a battle at home against Stanford) was a recipe for trouble. The resulting loss, in which Ole Miss piled up a 48-29 rebounding edge, prevented a rematch of last season's NCAA tournament game against North Carolina. The Bulldogs instead routed North Carolina Central and survived against Washington State (which they play again Thursday).
8. Dayton (5-3): The Flyers made Jim Jabir tops all time in wins at the school in fitting fashion, putting up triple digits in a 102-69 win against Toledo over the weekend. That makes three wins -- and 263 points -- in three games since a baffling home loss against Illinois-Chicago. The next three and a half weeks will reveal a lot, with games against Louisvile, San Diego State, Boston College and either USC or Colorado. For now, Dayton's good outweighs the bad in an up-and-down start.
9. Fresno State (6-2): Emma Andrews wasted little time making her presence felt in her first game back after suffering an injury this past spring. The Australian senior hit the game-winning shot to lift Fresno State past TCU over the weekend. Sophomore Rosie Moult, another of Fresno's plentiful Aussies, has stepped up in the early schedule, improving from 7.3 points and 4.9 rebounds per game as a freshman to 11.4 points and 6.8 rebounds this season.
10. Florida Gulf Coast (6-0): In a landscape where mid-majors are struggling to pick up wins against their major peers, Florida Gulf Coast can at least call on wins against the Big East (Seton Hall) and ACC (Virginia Tech). Kelsey Jacobsen might be the nation's leader in total distance on shots, firing off 52 3-point attempts in the team's first six games. And as long as she's hitting them at a solid 36.5 percent clip, it's easy to see why.
Next five: TCU, Illinois State, Missouri State, Houston, Drexel
March, 5, 2010
03/05/10
12:27
AM ET
1. Xavier (24-3, 14-0 Atlantic 10)
Notable wins: USC, Arizona State, Kansas, Minnesota, Middle Tennessee St., Temple, Dayton (twice)
Losses: Michigan State, Michigan, LSU
The frontcourt lived up to all expectations, especially as Amber Harris continued to make her way back from the knee injury that kept her out last season. She fell just six rebounds shy of giving Xavier two players who averaged double-doubles in league play (Ta'Shia Phillips managed that feat for the third season in a row). But the outside shooting provided by Katie Rutan, Tyeasha Moss and Special Jennings was also noteworthy. The Musketeers shot 37.7 percent from the 3-point line overall this season, up from 32.5 and 31.5 percent the previous two seasons, respectively.
2. Gonzaga (25-4, 14-0 West Coast Conference)
Notable wins: USC
Losses: South Dakota State, Stanford, Baylor, Texas A&M
Did Gonzaga do enough to merit an at-large bid to the NCAA tournament should it fail to win the WCC's automatic bid? It missed out two seasons ago after going 23-7 during the regular season, including 13-1 in the WCC, but that team didn't beat league opponents by more than 30 points per game, as this edition did in sweeping the slate. In addition to leading the nation in assists, Courtney Vandersloot overcame an early-season shooting funk to hit 57.5 percent of her total shots and 44.2 percent of her 3-point attempts in conference games. And for all the attention Vandersloot and Heather Bowman get and deserve, Vivian Frierson gives the team a third spotlight player.
3. Hartford (25-3, 16-0 America East)
Notable wins: Temple, Bowling Green, Vermont (twice)
Losses: Providence, Connecticut, Marist
The state of Connecticut nearly had two teams allow fewer than 50 points per game during the regular season, the Hawks nearly matching the undefeated team from Storrs in that regard. Erica Beverly and Diana Delva don't have the size of Xavier's Harris and Phillips, but they're perfect complements for each other. Delva is a terrific offensive rebounder with a good touch around the basket and Beverly is a phenomenal defensive player. If they hit some outside shots -- and Jackie Smith came on strong from the 3-point line in America East play -- the Hawks can make some noise the first weekend of the NCAA tournament.
4. Princeton (23-2, 11-0 Ivy League)
Notable wins: Delaware, Lehigh, Drexel
Losses: UCLA, Rutgers
Without a conference tournament in the Ivy League, Princeton still has some regular-season work to do, but the league hasn't proved much of a challenge for the Tigers thus far. Led by a freshman with nearly unlimited potential in Niveen Rasheed but also possessing good balance, a strong post presence in Devona Allgood and a steady, pass-first point guard in Lauren Polansky, there are some similarities between this Princeton team and the Marist team in Rachele Fitz's freshman season -- the one that advanced to the Sweet 16 before losing to eventual national champion Tennessee.
5. Fresno State (25-5, 16-0 WAC)
Notable wins: Louisiana Tech (twice)
Losses: USC, TCU, Stanford, West Virginia, Boston College
The Bulldogs have a distinct style and one they execute well, averaging nearly 25 3-point attempts and forcing 20 turnovers per game. They aren't necessarily equipped to win games in March in the paint -- they were outrebounded in four of their five high-profile losses, often by significant margins -- but they still finished with a positive rebounding margin for the season. That accomplishment, combined with the perfect conference record, seems suggestive of a team that isn't going to lose focus or beat itself. Junior star Jaleesa Ross fits that bill, doing pretty much everything well.
6. Dayton (23-6, 11-3 Atlantic 10)
Notable wins: Michigan State, Georgetown, Purdue, Temple
Losses: Louisville, Toledo, Vermont, Saint Joseph's, Xavier (twice)
How does a team respond to adversity? Dayton dropped a tough game at home against Louisville early in the season and bounced back to beat Georgetown and Purdue on consecutive days. It lost a surprising decision at Saint Joseph's in league play and obliterated a pretty good Richmond team 83-31 three days later. It lost twice to Xavier, once in a rout and once in an overtime heartbreaker, and came back with wins against Charlotte and Temple, respectively. This is a tough, deep, adept defensive team that can play with a lot of postseason-caliber teams when it gets some shots to go down.
7. TCU (22-6, 12-3 Mountain West)
Notable wins: Texas A&M, Fresno State, Kansas, BYU, San Diego State, Utah (twice)
Losses: Oklahoma, NC State, Minnesota, Wyoming, New Mexico, San Diego State
The Mountain West was not an easy league this season, and the Horned Frogs still finished two games clear of the closest competition. Helena Sverrisdottir is a stud in any setting. One of the few worrying signs for the Horned Frogs was a 6-5 record on the road (7-6 including neutral-court games). Perhaps that's not fair for a team that nearly beat Oklahoma in Norman and survived four overtimes at Utah, but it can't be ignored after last season's postseason flame out in the conference and NCAA tournaments.
8. Arkansas-Little Rock (24-5, 17-1 Sun Belt)
Notable wins: Middle Tennessee
Losses: Nebraska, Oklahoma State, Drake, Mississippi, South Alabama
Nebraska and Connecticut are the only perfect teams over the entire season at the moment, but they aren't the only team perfect in 2010. Arkansas-Little Rock has been rolling since a loss at South Alabama on Dec. 16. Like league rival Middle Tennessee, it's a team constructed perfectly around a star. Chastity Reed averages 24.8 points and 7.9 rebounds, but she's complemented by three guards in Kim Sitzmann, Asriel Rolfe and Shanika Butler. Sitzmann and Rolfe provide 3-point cover and the trio has combined to total 333 assists and just 139 turnovers, astounding ball control.
9. Green Bay (25-3, 14-3 Horizon League)
Notable wins: DePaul, Wisconsin, Marquette
Losses: Loyola, Illinois-Chicago, Detroit
The heady times when Green Bay appeared headed toward the top 10 nationally (and the slightly less heady feat of topping these rankings) are long gone, but the Phoenix have quietly gone about righting the ship after a midseason slump. They still need to win the Horizon's automatic bid to make the NCAA tournament, but they've won five of their last seven games by 19 or more points, the lone single-digit victory a 61-54 win at Butler with first place on the line. All but two of their opponents in those seven games shot worse than 40 percent from the floor, and one of the two that fared better turned over the ball 30 times, noticeable improvement for Green Bay's defense.
10. Middle Tennessee (22-5, 17-1 Sun Belt)
Notable wins: Kentucky
Losses: LSU, Tennessee, Xavier, South Dakota State, Arkansas-Little Rock
It was a long climb back from what was a bit of a disappointing start for a team with tremendous potential. It wasn't the losses so much as the scale of defeat that surprised. But with the constant of All-America candidate Alysha Clark to rally around, the Blue Raiders started doing what they can do so well -- bury teams who pay too much attention to Clark from the perimeter. Middle Tennessee shot just 29.2 percent from the 3-point line out of conference, including just 29-for-108 in four nonconference losses. In Sun Belt play, it hit 41.9 percent of its 3-point attempts.
Next five: Illinois State (22-5), James Madison (23-6), Vermont (23-6), Old Dominion (16-12), Marist (23-7)
February, 15, 2010
02/15/10
1:32
AM ET
1. Xavier (20-3, 10-0 Atlantic 10): It dealt with a scare at home against Saint Joseph's -- a three-point game with less than a minute to play -- but Xavier mostly keeps rolling through the Atlantic 10. After a bit of a rough patch, Special Jennings had 18 points and only three turnovers in 30 minutes at Duquesne. A game at home against Charlotte near the end of the month can't be overlooked, but the biggest hurdle remaining between the Musketeers and a sweep of the conference is Wednesday's Ohio derby at Dayton.
2. Gonzaga (21-4, 10-0 West Coast): Another installment of mid-major rankings, and another record for the Bulldogs. This time it's point guard Courtney Vandersloot taking possession of the assists record in the West Coast Conference -- midway through her junior season. The wins also keep coming, and although the margins shrank in recent tilts, winning three straight by double digits on a road swing through Saint Mary's, Portland and San Diego isn't easy. Tiffanie Shives hit 10 of 17 from behind the arc in the three games.
3. Hartford (21-3, 12-0 America East): Entering Thursday's game against Binghamton, Hartford has held back-to-back opponents to fewer than 40 points and its past eight opponents to fewer than 50 points. Sparking things on the other end, Jackie Smith had 16 assists and just five turnovers in three games since the last rankings. Three of the Hawks' final four games are at home, including the regular-season finale against Vermont. (The America East tournament is also a home affair for them.)
4. Princeton (19-2, 7-0 Ivy League): The biggest conference tests for Princeton come in the first week of March, with trips to Harvard and Dartmouth on back-to-back nights as per Ivy League scheduling norms, but the Tigers keep taking care of business. Dartmouth kept things close at Princeton on Feb. 6 but still came out on the wrong end of a double-digit margin, something true in each of Princeton's first seven league games. Freshman Niveen Rasheed is averaging 13.3 points and 9.4 rebounds per game in conference play.
5. TCU (19-5, 9-2 Mountain West): TCU finally got a big win on the road in conference play, outlasting Utah 105-96 in a four-overtime thriller at Utah that landed Utes star Kalee Whipple on "SportsCenter" for one buzzer-beating 3-pointer to prolong the night. Tuesday's game at San Diego State could effectively wrap up the regular-season title for the Horned Frogs. Stretching over the past four games (she played all but two minutes in the four-overtime game), Helena Sverrisdottir has just five turnovers in her past 134 minutes of basketball.
6. Fresno State (20-5, 11-0 WAC): Here's how Fresno State coach Adrian Wiggins made his case recently: "If you flipped and put our name on Arizona State's stats or UCLA's stats and changed the names, I think you'd be amazed at what you'd think about our team." He has a point. The lack of a signature win hurts in raising the profile, but the Bulldogs played Stanford close into the second half and acquitted themselves well on the road at TCU and USC without guard Emma Andrews early on. The next hurdle comes with Nevada, second in the WAC, at home on Saturday, followed by trips to Louisiana Tech and Boise State in the week that follows.
7. Dayton (20-5, 8-2 Atlantic 10): The game against Xavier in Cincinnati two weeks ago ended up a rout, but home court and keeping point guard Patrice Lalor out of early foul trouble this time could at least give the Flyers some sense of optimism. Lalor has 19 assists against just six turnovers in four games since the Xavier loss, and the Flyers are averaging just 12 turnovers per game in their past three games, all wins.
8. Green Bay (20-3, 9-3 Horizon): The Phoenix have more important things to worry about than mid-major rankings or even Top 25 rankings. They trail Detroit by 1½ games in the Horizon standings and don't have the luxury of another game against the leaders in the race for potential hosting duties in the conference tournament. (The teams split their games this season, each winning on its home court.) It's very strange to look at conference statistics and find Green Bay next to last in field goal defense.
9. Illinois State (18-5, 11-1 Missouri Valley): The Redbirds beat Missouri State on Sunday, their 11th win in a row and a result that keeps them two games clear of Creighton in the loss column in the Missouri Valley. (The Bluejays handed Illinois State its only conference loss, a decisive 69-44 decision in early January, and the two teams meet at Creighton during the final weekend of the regular season.) Missouri State's Casey Garrison might be hard to displace, but Illinois State's Ashleen Bracey is making a run of her own at player of the year honors. Bracey is second in the league in points and rebounding and shooting 37 percent on 3-pointers.
10. Arkansas-Little Rock (20-5, 13-1 Sun Belt): A preseason contender, Arkansas-Little Rock dropped off the radar a bit after early losses to Oklahoma State, Nebraska, Drake and Ole Miss, and again after the Trojans lost their conference opener at South Alabama. But since that last one, more than a week before Christmas, Arkansas-Little Rock hasn't done anything but win, and the streak stands at 13 after Saturday's victory over Western Kentucky. Chastity Reed is averaging 24.6 points per game, while guards Shanika Butler and Asriel Rolfe are averaging a combined 8.2 assists against just 3.0 turnovers per game.
Next five: Vermont, Old Dominion, Drexel, Middle Tennessee, Marist