Category archive:

Oregon State Beavers
January, 23, 2012
01/23/12
12:44
AM ET
Monday morning headline: Duke makes a statement.
Folks in Durham have been calling Chelsea Gray "The Closer" for some time now, and you know, it just might catch on. Gray's 3-pointer with 2 minutes, 56 seconds remaining in Sunday's game against Maryland put the visiting team's comeback on the ropes. Another jumper and two final free throws from Gray finished the job against a resilient opponent.
[+] Enlarge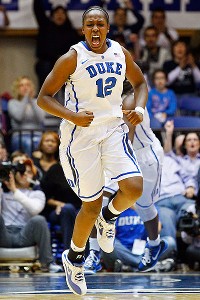 AP Photo/Gerry BroomeChelsea Gray had 17 points and 11 assists Sunday in a 80-72 victory over Maryland, Duke's 10th straight win.
What's more impressive is that, at least on this day, Gray's late shots were 50/50 propositions.
The Blue Devils shot 50 percent from the field for the game -- 50 percent in the first half and 50 percent in the second half. They finished with 16 assists, 11 from Gray, and just nine turnovers in the 80-72 victory. They played like a championship-caliber offense against a defense they couldn't simply overpower or overwhelm. It was just the fourth time in the past four seasons a Duke team shot even 40 percent against a top-10 opponent, just the second time one shot better than 42 percent in such a game.
In five games last season against teams ranked in the top 10 at the time the ball was tipped, the Blue Devils compiled the following field goal percentages: 30.9, 26.8, 28.4, 38.7 and 25.4. They turned over the ball 77 times against 45 assists in those games. That they won three of them -- against Texas A&M and Xavier in the regular season and DePaul in the NCAA tournament -- showed what a team can do with great defense.
The end result of the season, as when their offense deserted them late in a regional final against Baylor a season earlier, showed the limits of that.
The Blue Devils still have defense, particularly with Elizabeth Williams on the floor. Maryland shot just 36.4 percent in the second half in Cameron Indoor Stadium. And no, they aren't going to get 21 points on 10-of-12 shooting from Haley Peters every night. But with another even bigger test looming at home against Connecticut next Monday, perhaps we're seeing a Duke offense that can close games on its own.

Best team weekend performance: Oregon State. Really, Oregon State? Sure, South Carolina is a deserving candidate after improving to 4-2 in the SEC with a road win at No. 22 Vanderbilt on Sunday. Ditto for Iowa State breaking a Big 12 drought with Saturday's victory against No. 20 Texas Tech. There's definitely something to be said for No. 21 Penn State holding off Iowa on Sunday, what was a tough day for a lot of people in State College, Pa., after the passing of Joe Paterno.
But in beating USC 65-61 in overtime Saturday behind 17 points from Sage Indendi, thus earning a split of its trip to Los Angeles after a 69-60 loss at UCLA, Oregon State continued a remarkable climb toward respectability from the depths of Division I.
Say what you want about the advantages offered by the Pac-12, but there's a case to be made that Oregon State was the single worst program in Division I when Scott Rueck took over prior to the 2010-11 season. Mass defections amidst an ugly end to LaVonda Wagner's reign left the Beavers with almost no top-level experience. They went 2-16 in conference play and won just three road games all season, one in the Pac-10. The win against USC was already their third in the Pac-12, splitting every weekend save the California-Stanford trip that most of the league drops. Maybe 3-5 in a league of questionable depth doesn't look like much, but it's a long way from a deep hole.

Best individual weekend performance: Courtney Osborn, Miami (Ohio). Western Michigan's least favorite player at this moment is Osborn. Second on that list is any Bowling Green player who guarded Osborn earlier in the week. One of the most prolific mid-major scorers (18.6 points per game, 23.3 in league play), Osborn produced like someone on a mission in bouncing back from a rare off night with 34 points, eight assists and two steals in Miami's 82-67 win against Western Michigan on Sunday. That came three days after Bowling Green claimed control of the MAC by holding Osborn in check in a win against Miami (the Falcons strengthened their conference claim with a weekend win against Eastern Michigan). Osborn was as efficient as a player can be in Sunday's game, hitting 11-of-15 shots, including 6-of-7 3-pointers, and either scoring or assisting on 19 of her team's 29 field goals.

Best weekend helping hand: Jericka Jenkins, Hampton. How do you keep your teammates from giving you the evil eye when you hit just 4-of-18 shots in a game? Jenkins kept everyone in a Hampton uniform happy, despite her cold shooting, by totaling a career-high 17 assists in a 92-43 win against Norfolk State. That gives Jenkins 29 assists in her past two games and moves her to second in the nation in assists per game (7.6). Throw Hampton's game at Howard on Monday night into the upcoming week's must-follow action. Howard (5-1) is just a game behind unbeaten co-leaders Hampton and Florida A&M in MEAC play.

Shocking turn of events in the Missouri Valley: Wichita State. Look around at the teams with perfect conference records after at least seven games and there are a lot of familiar faces. Duke, Notre Dame and Stanford are hardly surprises. Among mid-majors, teams like Delaware, Green Bay, Marist and Middle Tennessee aren't exactly shockers. Wichita State? Well, yeah, the Shockers are a bit of a surprise at 7-0 in the Missouri Valley. Then again, Wichita State has been trending upward ever since coach Jody Adams arrived four years ago. After a 3-5 start this season, the Shockers have won 10 in a row, including the first even in league play. Chynna Turner led the way Saturday with 24 points in a 78-68 win at Southern Illinois.
The week ahead
Tennessee at Notre Dame (ESPN2, 7 p.m. ET Monday): Less than a year after knocking off Tennessee and Connecticut in back-to-back NCAA tournament games, Notre Dame will look to accomplish something almost equally rare in beating both in the same regular season (even if Baylor beat the Fighting Irish to it this season).
Rebound margin is just about the only meaningful team statistic that favors Tennessee in this game. That isn't to say the Lady Vols are deficient when it comes to the likes of turnover margin, assist-to-turnover ratio, field goal defense, field goal offense or scoring margin, but Glory Johnson and Vicki Baugh could at least theoretically give them an inside presence that Kentucky and Connecticut were never really able to establish in recent competitive losses in South Bend. Remember, Skylar Diggins' late-game heroics in the Elite Eight last season fit that description in part because, with Devereaux Peters in foul trouble, Tennessee was able to stick around with 20 second-chance points in a game that saw the Lady Vols shoot just 33 percent from the floor and 21 percent from the 3-point line.
Michigan State at Purdue (Monday): The Boilermakers are the Big Ten's lone unbeaten and have allowed just five opponents to reach 60 points this season. But with road games remaining at Iowa, Ohio State, Michigan State and Michigan, continuing to defend their home court is a must. Purdue's seniors have never beaten Michigan State, and Brittany Rayburn is just 12 of 55 from the field in those games. But with Michigan State coming off a loss against Minnesota, the same team Rayburn torched for an NCAA record-tying 12 3-pointers on Jan. 12, is the time right?
Chattanooga at Davidson/Charleston Southern at High Point (Monday): It's a double dose of conference showdowns in the state of North Carolina. Chattanooga (8-1) leads Davidson (7-2) by a game in the Southern Conference, with Appalachian State (7-1) wedged in the middle after handing Chattanooga that lone league loss over the weekend. In addition to averaging 14.4 points and 9.2 rebounds per game, Davidson's Sophia Aleksandravicius is one of just eight players in Division I averaging at least three blocks per game. In the Big South, High Point puts a perfect league start (6-0) on the line two days after Cheyenne Parker's 14 points, 22 rebounds and eight blocks against Coastal Carolina.
Texas Tech at Kansas (Wednesday): Texas Tech might still be ranked in at least one poll when the teams meet, but which one is the real contender? Kansas point guard Angel Goodrich had 28 points on 11-of-16 shooting to keep the final score respectable in a loss against Texas A&M over the weekend, but the nation's assists leader also had 11 turnovers. With games looming at Baylor and Texas A&M and home against Oklahoma, this might be the game that determines whether the Jayhawks go into a tailspin. The Lady Raiders are already there after four losses in a row, the weekend loss at Iowa State the first of those that came by more than eight points.
Hofstra at Delaware (Thursday): There's never a bad opportunity to watch Elena Delle Donne in action (be it on the court or in a flash mob), but pitting her against Hofstra's Shante Evans makes for a particularly compelling duel. Evans had 21 points and 13 rebounds in a weekend win against Northeastern that gave coach Krista Kilburn-Steveskey her 100th career win and is averaging 18 points and 10.4 rebounds. At 6-1 in the Colonial, Hofstra is just a game behind Delaware.
Baylor at Oklahoma (Thursday): If there is a loss coming for Baylor, where could it be? It seems unlikely to come in Waco -- well, it seems unlikely to come anywhere, but even more unlikely at home. And other than a Feb. 27 trip to Texas A&M, this trip to Norman could be the biggest stumbling block. The Lady Bears squeaked out an 82-81 win in this game a season ago when Danielle Robinson's potential winner rimmed out, that despite Baylor hitting 13-of-27 shots from the 3-point line. It would be easier to think this one could be close if the Sooners still had Robinson, but they are the Big 12's most accurate and prolific 3-point shooting team.
Georgia at Vanderbilt (Thursday): Vandy presumably won't be ranked by the time the teams meet in Nashville, but with wins against Oklahoma and Florida State about all the Commodores have on the "for" side of the ledger at the moment, it's time to worry more about at-large credentials than poll credentials. Vanderbilt is averaging 10.7 assists and 21.5 turnovers per game in SEC play, compared to 19.2 assists and 15.1 turnover per game beforehand.